Hi again,
Would you share a seed source with us, please, Abner?
Thanks, Pepe
It looks like the blue Curley kale I grow.

The red Russia is also good but a little stronger.
Good day Pepe,
we plant or leave tobacco plants in the garden and green house because it atracts the white fly. These flies love tobacco flowers and in consecuence they leave others plants intact.
The seed of the curled cabbage was given to us by a russian visitor on his way to Ecuador, we apreciated it very much. We cook hem and let hem ferment for some days and they are
delicious and very healthy for the gut.
Sorry Bill I answered Pepe with your question
Raspberries seem to handle drought well. Freezer is already packed with them.
But not until resently, with some rain, chantarelles start popping up.
Took wife and dogs for quick a DOW-about in the woods.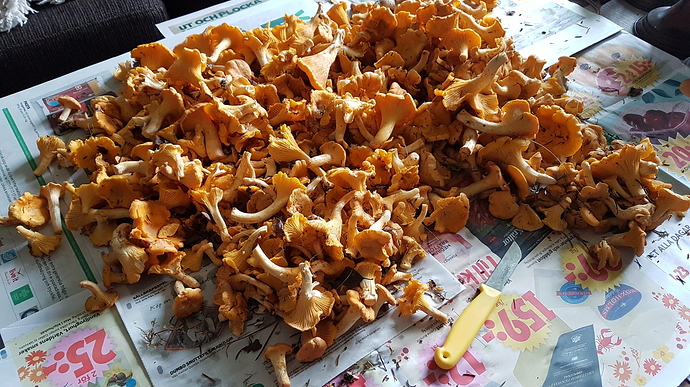 Hi JO
Looks like you have some good eating.
We pick them here to, my wife was asking about your favorite way of cooking them.
She also likes your schnauzers and was wondering if you were on some of the schauzer sites. Her schauzer is nothing but a big spoiled baby.
Nice hrvest! Out of maybee 300 edible vorietys in our woods l only like 3, those are one of them. They are called "foxes" in translation.
Jim, traditionaly here they are used in mushroom stew (along with 1-20 other mushroom vorietys, depending on what you find in the woods

) or how l like them more, in a sauce for a good roast.
Does anyone of you guys have this one?
My personal favorite is just fried in butter ans some salt, still warm on a piece of bread.
Otherwise we parboil them quickly, put them in small plastic bags and freeze them. They give fantastic taste to all kinds of stews and sauces all year around.
Another favorite is to add them to a creamy potato gratin. Makes you want to eat more potatoes than steak.
Schnauzers. Tell your wife to look up Marie Bäcke Olsson on Facebook (it's all about the dogs

) and she will accept. Also she just recently started a Youtube channel (about the dogs). It's called Folke och Göte. So is her Instagram btw.
Yup. We call it "Stolt fjällskivling" (Proud mountain gilled mushroom)
Macrolepiota procera
Obviously they can get as big as 40 cm in diameter. I've never tried them though. I try to stay away from most gilled mushrooms. Too easy to be misstaken.
So do l. This is a exception. This is probably the best mushroom there is. It has a incredibly savory smell and taste. Roasted or fryed its like a steak. Cut in strps and made in to soup, it looks just like tripes.
Hi All,
Our normal cool weather garden harvest are finally all coming to maturity now here in our turned cool and wet-ish August.
My wife's cauliflower heads are tremendous this year.
After having eaten now some excellent cauliflower substitute-for-potatoes dishes; and some really excellent substitute-for-wheat cauliflower crusts and biscuits, I am looking at cauliflower heads in a far different light.
Can't grow wheat, or oats here.
Can't ever get maize/corn, or rice, or sunflowers to matured dried here.
Can't even get potatoes to maturity without going full anti-blight all-out chemical here.
Sure can grow peas, green beans, cauliflowers, carrots, and in-ground beets here.
Carbohydrates calories. Vitamins. And trace minerals.
"learn to love the one's you got" pine not for what you not.
S.U.
Gathered some Chanderells last week, fried in butter, hot peppers, and onions.

Getting a little laugh-out-loud hoot from my wife's latest social-contribution.
Her Ladies Auxiliary of the VFW veterans service group has put out a call to make up a seasonal vegetable&fruit basket to raffle ticket off at their annual meeting tomorrow. They've found these generate more money than housewares and frou-frou (pretty, frilly, fragrant things) raffle basket collections.
Wife said they all looked at each other, and had to one by one admit not putting in home gardens anymore. Age. Busyness's. Successive crop failures.
Ha! This basket "group" contribution will be coming 90% out of our own garden. With me (the 71-72 era draft dodger) as the primary garden weeder/picker.
Wife did have to roadside garden stand buy out some corn ears. Ours will not be ready for weeks yet if the Sept frosts hold off. Odd. They had no carrots either.
The wild edibles will be our birds planted cooking apples, now ripening black berries, remaining raspberries and blueberries.
So see all of you D.I.Y'ers?
Something, anything, Done is better than, the Done-Nothing, in real works, lazy excuse-makers. The just leave-it-to-the-professionals worshipers.
You can't eat, or warm, or power with excuses.
smiling, fresh berries eating
Steve Unruh
we have to deal with insects anyway. Just rotate after a couple rounds. Also, we have sacrificial "patches". Most of the time if we plant small rows of many things and keep re planting as they finish, then when the bugs hatch out they may attack one thing or another. We don't fight them too much. If they want this row of squash, we let them have it, and they usually will be leaving alone the things around it. Seems to work pretty well.
Glad to hear from you Abner.
Bill, we use tobacco to make a natural insecticide. I have trouble finding seed though.
Up here most of the pests will winter kill if you clean up the garden waste. But that does require you get freezing temperatures. I would guess down there bugs are much more persistent.
A while back we were discussing hopper and or rail condensate for garden bug control. Anybody using that yet?
And up here all that stuff winter kills. I've never seen a squash or cucumber bug.
But I like the strategy of interplanting and sacrificial patches.
For tobacco seed, and a massive collection of medicinal plants etc, check out Richter's US division.
https://www.richters.com/show.cgi?page=requst2.html
Their catalog is worth getting just for the description of medicinal properties and ways to use various plants. They also have a decent vegetable selection, including some rare stuff.
I can send you some squash bugs cucumber bugs and potatoe bugs if you want I have plenty to spare…
I'd need a greenhouse or special spot to overwinter them, wouldn't want to be cruel. I can probably get the gist of the experience from YouTube videos…