I would like to draw attention to the particularity of the Rex gasifier, that it has a concrete crown, which aims to accumulate energy and gives a radiation on the fuel that makes it rise to a temperature above 1000 °,
Much more concrete, on the small Rex, I will use a 2000 ° alumina.
Hi @f_pal,
this mixer should really mix gas and air well, although I'm not sure if this is necessary for just one cylinder engine.
@gasman
Absolutely no need to excuse. I have to thank you for clarifying me regarding the amount of usable heat.
This is done more or less "automatically" in updraft gasifiers with a high gas exit, as you draw the gas through the bed of coal in the hopper (think of Bruce's MG or Don's GeoTracker). Thus the hot gas "give" its heat to the coal.
Good heat economy but problematic with low quality charcoal with remaining bits of tar
For a cross-draft or down-draft, the gas is not in contact with fresh coals before the exit (or just a very short distance) and can't exchange heat with the coal in the hopper. Thus it leaves the hearth quite hot. This is also true for an upstream gasifier with low gas exit (think of Kristijan's Charcoal-Mercedes).
Less problematic with low quality charcoal (especially the down-draft is Francois is building it), but you can only heat the primary air in a heat exchanger.
Hope that is helpful for you.
Thank you Til
your explanations are very appreciated, always very clear and in a perfect English (I particularly appreciate this last point for the easy translation in my native language)
Thierry
2 inch sprocket on motor, 8 inch sprocket on axle, 24 inch bicycle tire equals 51 miles (85 km) per hour at 3000 rpm engine speed. Am I close with those figures? Scary ride?
Don, would the diameter of the wheels also play as a factor?
Yup, - approx 6 feet per revolution.
The gear ratio is 1 in 3 and the development of the wheel is 2 linear meters.
I think you might want to allow space for an intermediate shaft (Jack shaft). That will give you an easier way to try different gear ratios until you find the best one for your conditions. You might want to make a way to minimize friction in case of using only pedal power to move the whole bike / trailer system. I am looking forward to seeing good results, and I am a fan!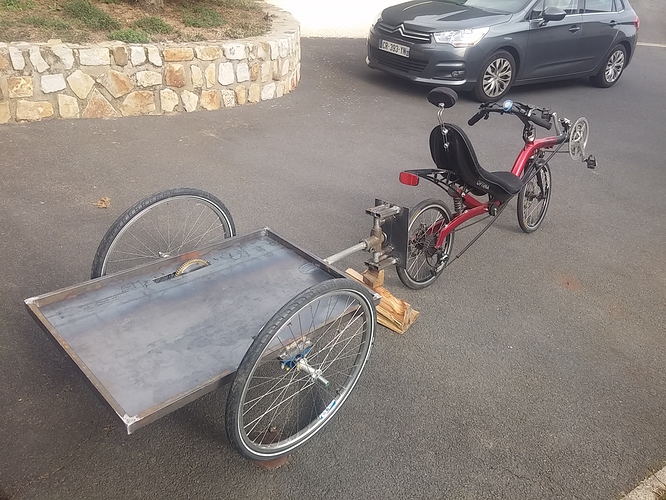 Given that Koen is more than optimistic about the performance of my gas trailer, I do everything in proportion, it is true that 2 ml circumference divide by 3 gear ratio, multiply by 3000 rev / min, multiply by 60 seconds, in theory, we arrive at 120 KM / h … we have to build very well …

Even with my gas engine on my motorized trailer on my recumbent bike, I will not go faster than this person from the attached document.
I assume the trailer will also be able to have brakes?
I can't speak about this gentleman's bicycle speed record but I do remember that one person claimed the record for many years. He did it by following a motorcycle that was pulling something flat like a door which created a tremendous vacuum behind it and he road in that vacuum. He did pedal the bike to the speed but he was helped with the wind being broken and actually having the vacuum to ride in. TomC
François Pal,
Looking at the Villiers Engine, I see what I believe is a centrifugal clutch mounted on the crankshaft, and then a fixed gear ratio of 3:1.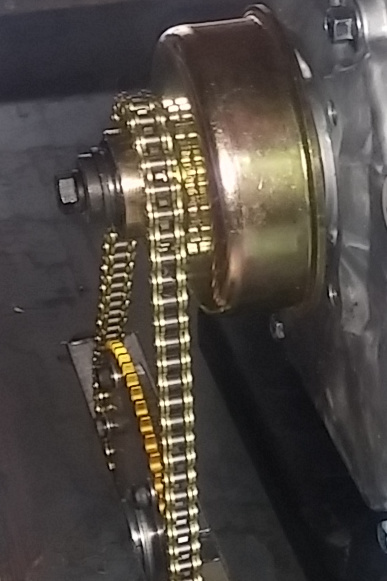 I am trying to visualize you getting the engine running and warmed up on the charcoal gasifier, probably with the trailer wheels lifted off the ground. Then you reduce the engine speed to an idle, get seated on the recumbent bike, and open the throttle on the Villiers 163cc engine which is supposed to accelerate with the weight of a concrete topped charcoal gasifier, the trailer plus hitch, the bike, and the weight of a person on the bike. Lacking a gearbox, I don't see how this is going to get started. (I will be following your build carefully to see how this works out.)
I suggest using a torque converter such as this one, which only cost 70 USD:
https://www.ebay.com/itm/Go-Kart-Torque-Converter-Kit-3-4-034-Comet-TAV2-30-75-218353-12T-41-12T-Clutch-/301977025918
One of my projects used a larger and more expensive Comet torque converter that could be built with different springs and cam followers that would change the drive clutch engagement RPM. The choices were 1600, 2000, 2200, 2400, 2600, and 3100 rpm. Once the clutch was engaged, the torque converter would change the pulley ratios as speed increased.
I am looking forward to more posts on your project. Keep up the good work!
In my poorest and crazyest days of highscool, when my moped was stolen, l had to come up with a nother vehicle for transportation so l got a litle old 2stroke engine, about 30ccm, restorated it, made a carbourator and fit it on a bicicle. The engine powered a steel roler that friction fited straight on the back tire. No transmotion or clutch. It worked like a dream, got the old bike up to 45kmh. In order to start the engine, one was required to pedal a few meters and the wheel wuld turn the engine. At a stop, the engine allso stoped and upon kicking the pedal a couple of times started again. Start&stop system redneck edition


The point is, althugh it required some practice to drive, l had absolutley no problems with it. Looking forward to the resault of this project!
I think an electric clutch would allow one to rev the engine before engaging the clutch. The downfall is, they cost more.
On my charcoal powered motor bike I used a primary belt drive with a hand operated belt tentioner. I used a jackshaft to a final chain drive. I used what I had on hand. It is geared to high for my liking. I have to help it a little to get it rolling and it is too fast for he origianl 65 yo tires.