Hi again the fact that the pellots are about as good per size as hardwood allso has a benifit of not needing too refill so ofton, and one could auger pellots too a smaller hopper and increase distance without needing refuel all the better.https://youtu.be/gT4BB2Bm4SM
This is a nice explanation how pellets are made. But see you ever walk away that woman? They even mix the wood with soya! After chipping, the grinding takes place, maybe some drying in between so your screen doesnot get stuck, Then some more drying or wetting (depends on your wood) mixing, warm up your mill, cooldown the pellets. I have several augers, mixers, conveyer belds etc. As it goes for energy, about 1 kW for 20 lbs is needed to make pellets. That goes the other way to, if you make dust from wood, it takes another 1 kW for 20 lbs. Another rule in pelletmaking machines, the bigger the better.
Matt, your clients want an easy to use installation, they best buy pellets then. But here in europe they are prices around 20% less then fossile. I don't know how it is overthere. IMHO it is not worth the hassle of gasifying for that 20%. You have to go all the way like Steve says, it is a way of living that you want, or not. Really, stay away from pellets unless you need a hobby.
The energy Im going to use is free and I will automate this full process, this what I do.
Here pellets sell in 40 lbs bags. current pricing is $5.50. So you are about right, a 40 lb bag is the rough equivalent of 3 US gal of gasoline.
You guys just wait, you forget who your dealing with

Its way more than just "easy to use"
There is machine cost, run time capability and performance.
This machine CAD Model will have a 10 hour run time and produce 5 kW of power. It will sell for around $10,000.00 USD. This machine has a foot print of 1 meter x 1 meter this is extremely compact for a fully integrated machine output 5 kiW of power.
It would be impossible to to do this with any other biomass fueled machine in this foot print and compact size. The cost would be nearly twice this for the chip machine counter part. If you think that lady is putting in hard labor running that pellet mill that is nothing compared to sorting and dry chips.
Then if you are relying on this this for a daily off grid solution, and your constantly fiddling with it and dealing with engine stalling. You'll get it.
Can you build a machine to run like this one here in the video? Do this on other fuels? Do this for the same cost?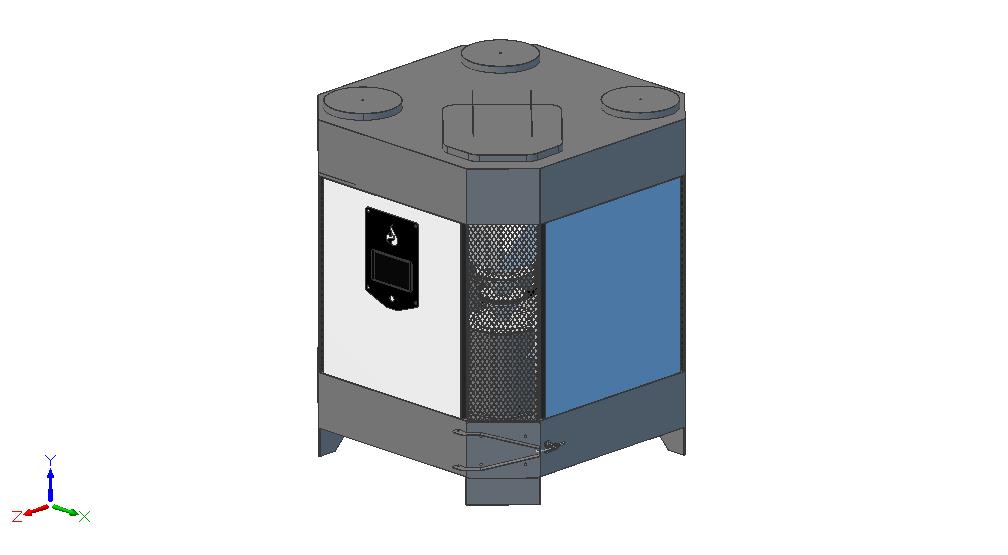 Hi matt The main questain i have for us poor folk wood chunkers, is what kind of wood crusher mill will turn wood chips non sorted intoo saw dust ready for pellot mill, most of the low end hammer mills had too sort wood chips too feed the mill too get clean sawdust. WHAT am i missing here. ? THANKS. P.S Your new shop yard looks nice and roomy.
Build that rock crusher its the same thing
Have you tryed the rock crusher yet on regular bulk wood chips yet.
If it can crush rocks it can crush chips.
Are you speaking of the hammer mill with the short chains welded too the shaft, i dont think the other vidio had no designs features showing.
Here if you want make a pellet mill. this is the cheap and easy way to do it.
Here is your how too video. If this hand grinder can do this, I refuse to believe that this is "high energy input" 600 watts to do what that grinder does in seconds!!!
If there was a local outlet too test green dump wood chips in, it would be worth building,? Ware too test a hammer mill , maybe farmers use different types of hammer mills, or same type.? different blade arangments for different feedstock types.??
post withdrawn by auther.
Thats pretty pricy, even this is a bit expensive but this and a little chipper is all you need.
Im going to make mine; $350.00 bucks for the 5" die set is hard to beat. I can make the rest pretty easily.
You could make one and sell if make momey at it. Do the pellots need be dryish too work good while makeing.? I wounder if reback chunker size wood would work better in the hammer mill too make sawdust shaveings.
yeah I dont know. Im trying to keep it simple and just use my cheap ol Harbor Freight Chipper. If it dont work Ill make it work. I cant afford a rebak so the HF chipper will have to work for me.
A hammer mill is as simple as it looks dont over complicate it. Try building just like in the videos. If it dont work try different chains or something. Maybe chainsaw chain?