Working the old truck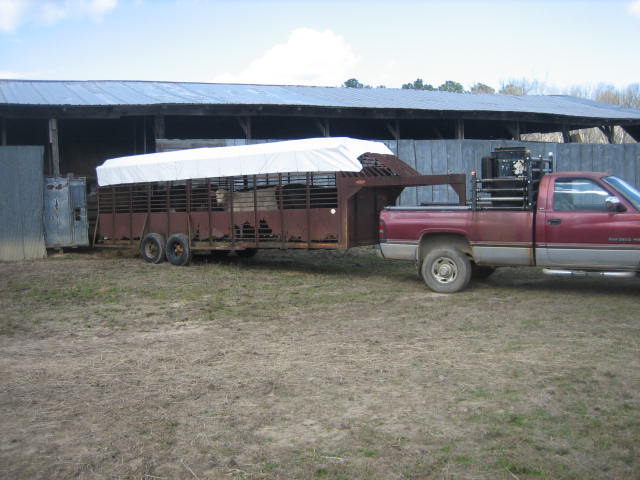 hey wayne, i know you have covered this before buried in this thread somewhere, but with the wk gasifier for your ram and dakotas, what kind of collection tank or way do you store the wood gas when you shut the gasifier down? doesn't the gasifier run even hours after you shut it down? could it possibly build pressure in the system enough to blow up? thanks, tyler.
Hello Tyler ,
When you shut down a gasifier and close all your valves it is kinda like covering a camp fire . Oxygen can't get to the fire and it will go out after a while . If needed you can uncover and bring the fire back to life if you don't wait too long.
I find if I am using dry hard wood I can start the gasifier without relighting up until about 3 hours .
A small amount of gas might linger in the system but not much .
Sometime there might be a burp out of the hopper and seems it may happen more at start up than any other time .
(could it possibly build pressure in the system enough to blow up? thanks, tyler.)
There will be too many places for any pressure to leak out .
ok, as with other systems i've seen, it is a tight sealed unit, i knew you would think of that in the design stages, just making sure. thanks again.
What are the two gages that you zeroed in on at the end of the first video? TomC
Hello Mr. Tom .
The gauge on the left is the temp in my crossover pipe from gasifier to drop box . It is set to beep and flash on and off at 1000 F.
The gauge on the right is the fuel hopper temp. It is set to flash on and off at 200 F.
The old truck keeps on putting the miles down (I like it ) Ran several miles in overdrive when not going up hill.

https://www.youtube.com/watch?v=ky_qgfi6p4Q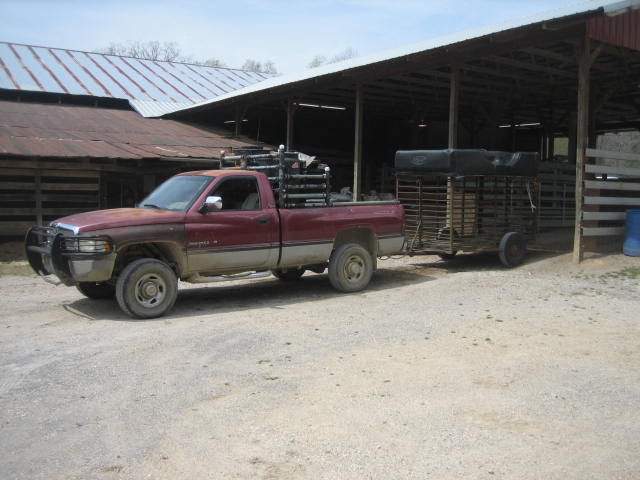 Looking good Wayne K , keep them vidios rolling along, every VIDIO reminds me how lucky i am too have met you and your wood gas design and team. Thanks for all your posted vidios. It take some time and chuncking tools too learn the 75 percent, i am Glad i am in that learning phase here at DOW.
Hello Wayne
Just got done watching your video. It sure is cool to see how smooth you cruise down the road without missing a beat. I have been searching DOW web sites looking for information on which is the best truck to woodgas and correct me if I'm wrong but it looks like the 92-95 Dakota with the 318 is the best. I have run across a 97 Dakota with a 318 engine but from what I'm reading it sounds like it would have an OBDll which is not recommended.I would appreciate your thoughts about the 97 Dodge Dakota.
Hello Conrad.
Thanks for the nice comments .
1992 - 96 dakotas are my choice but you can go later if the motor is a 318 or 360. If you go on up to 97 - 99 and maybe later there is a shock absorber that will need relocating .
Kevin DeLonay has a 97 dakota that is running great . A video of his truck can be found at wood supply post 1781
Thank's Wayne
I appreciate the fast response.
Sunday afternoon idling around in the work truck
Good evening Wayne Keith, Thanks for sharring your wood gas driveing experiance, and your excellent design, its all a good proven design. MY WK design gasifier is still working good. even though i built it like a tank, the design still works very well. And nothing at all like driveing with out petro. And running as good as it does on wood converted gas.
Out working the wood burner this morning

I was in a rush trying to get the hay hauled to the barn ( about a 10 mile round trip ) and racing a thunder storm .
I got all the hay rolled of the trailer just out side the barn and also got the tractor hauled home for stacking the hay inside when the thunder storm hit . Maybe better luck next time .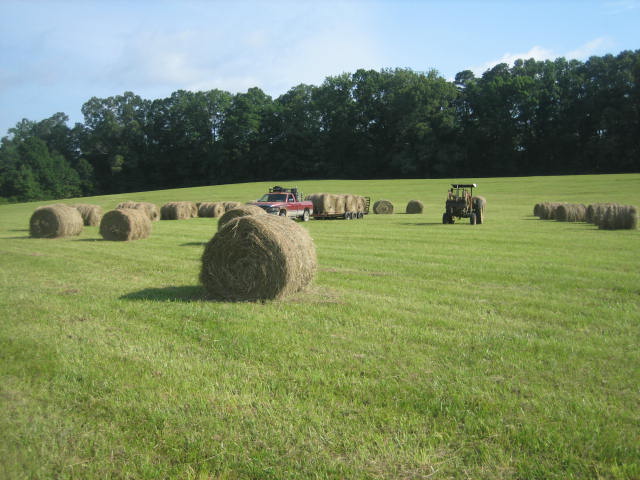 WayneK,
I keep around three now well used 30'x40' sections of 6 mill black poly for these kind of needs-quick occasions.
Ha! 'Dickens to tarp over in a wind solo!
S.U.
Thanks Mr. Steve .
The winds that came with the storm was near 40 mph

The hay is in the barn now . I expect some to mold .
The weather has not treated farmers in the SE very nice this year.
I thought your barn was a drive through?
But maybe plugged up with all the wood chunks!
Hello All.
I haven't been doing a lot of posting but have been burning a lot of wood!!
I didn't want to bore anyone with more videos but have run about 300 pounds of wood through my work truck just over the weekend hauling in hay , moving equipment and running back and forth to the hay fields which is about a 10 mile round trip .
By using the wood I may have saved myself 15-20 gallons of petrol

Wood is not free but it is inexpensive ( around here ) and I get to control it

We had some wind to come through a couple of days ago and laid down a big white oak

in rock throwing distance of my wood chucker . The tree is big enough to fuel my trucks a couple years .