I saw this many years ago and even exchanged some emails over it with fellows because I thought there was something here that could be useful, and I still do…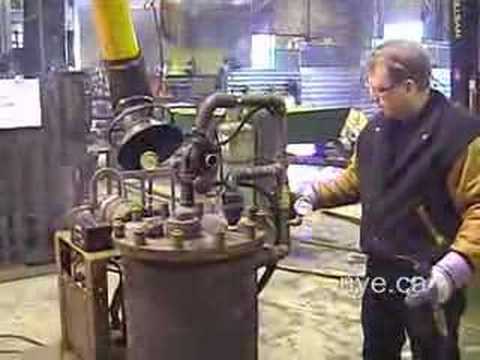 Problems we bump up against in solid fuel gasification are related to efficiency and power loss.
We lose power to pumping losses in the engines as we use the engine itself to drive the process.
We are limited to how hot we can run the systems because the combustion air expands as we heat it and our fuels can not take the heat without pyrolizing before they should in the bunker.
We need to operate at higher temperatures and pressure.
We need to run under boost.
Drive an undersized turbo off a large enough engine to develop as much boost pressure as possible and force feed the gasifier hot air ( and super heated steam ).
Make everything smaller form the tuyers to the combustion and reduction zone in order to concentrate that heat.
Regulate that heat with the correct amount of steam to prevent a melt down.
Now things become a little simpler.
A waste gate control can keep the system under regulated boost.
A demand regulator can lower the pressure from filter outlet and feed the gas to a proportioning valve.
The calorific value of the fuel can be regulated by increasing or decrease steam injection.
The combustion air is kept at atmospheric pressure and mixed with the above combination into the naturally aspirated engine.
Higher efficiency, less power losses better consistent quality fuel gas…