For posting Don, keep them coming!!
And those were the clean hands that made dinner. Just kidding
Bill
Did you get your pic from me?
Yes Tom thank you. I have to wait till I get to a computer to unload it up. It turned out great thank you
That looks like my coat. Well I got my hands cleaned off now but my pants caught the tar from the monorator drain when I got that to flow after I got back. Enough for one day … Truck and trailer ran great both ways … I only ran it on the back roads so as not to piss anyone off. Hot shower and bed … (hopefully) … I lived in my clothes the whole event. I even slept in my coat the first night. I measured 35 degrees on the roof of my truck last night and some of the early risers said there was frost on the grass. The corn is up 3 or 4 inches in some areas there. They are still just planting here … M
OK here is another one.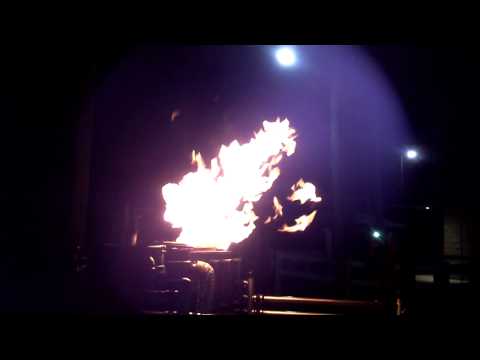 This video is showing Chris's truck flaring out of an open hopper lid. Just goes to show these WK gassifiers can make a lot of gas!

I had my Tracker loaded and started out for Argos but had to turn back a couple of miles when I noticed a trailer tire creating black smoke behind. It seems I had a bad axle from a previous overload that made the tire rub the fender. I had to turn back, unload and leave the Tracker home. Bummer!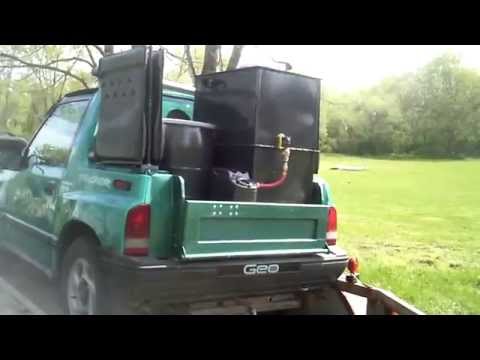 Hi Wayne, I hope you are home OK now. … I got to meet Kathy on the phone earlier today. She sounds just like Lisa … Said she is 2 years older. Thanks for the call this morning. I think one of the most exciting parts of my trip home was when I stopped in a "black" neighborhood in northeast Illinois. I had to give a class on gasification to several men and several women along with about 8 or 10 kids. They all had ipads or smart phones and kept taking pictures and videos. They initially thought I was smoking some kind of meat and when I explained I was actually driving on it … well, you know … I spent most of today fixing things that broke on the trip. Lots of railroad tracks to cross on my route. I have to get back to the grindstone tomorrow … Some of Chris' pictures are slowly loading … Forget videos … M
Hi Don ,sorry your tracker didn't make it to Argos, very cool conversion.
Ron L.
I sure would've like to see it.
Pic 1
Wensday in the rain at McDonalds somewhere in Kentucky
Pic 2
Picking Dr. Larry Winiarski ( inventer of the " rocket stove" ) up at the South Bend air port .

Trucks and tractor ( Friday )