Thanks Chris. I'll put my guess in at 165#
Getting my chunker framed in.

it should be pushing in on the shaft, or it seems like it would be better that way. not sure how waynes chunker is set up,pushing or pulling on shaft while choping the wood, just checking ahead,What size are them heavy pullys.THANKS
Glad to see you making progress. Cold days are counting down north and south. 20's and snow here Monday!
I had to load these pictures to my Google+ account and then back to my desktop for sizing parameters.
I finally have been able to get my garage warm enough with this cheap wood stove made in Taiwan in the 70's. Somebody painted the damn thing thinking they would get more money for it when they sold it thinking it was an antique. So the first day had had it hot, I had to run it with the garage doors open.
I went to Home Depot for grade 8 bolts and the two people there looked at me like I was crazy. "What are grade 8 bolts?" The manager asked. The hardware representative hasn't heard of them either. I have to say I was completely surprised. 15 minutes later they found some bolts but only went up to 1/2". I bought these for the sake of forward progress and will change them out later. Next time I will go to Menards.

@MarvinW, I was assuming you meant a sleeve to pass through and the length of the thickness of the tubing.
That would be what I prefer. That was just another option depending on what you have available. That looks real nice Bill.
Marvin
Sorry Marvin, I stole that picture off the internet to see if this is what you meant. When you said sleeve, this is what I thought you meant until you sent that other picture. I will see what I can do.
@MarvinW
Okay, here's what I came up with.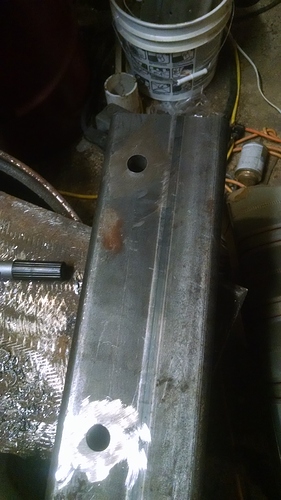 Look for a FastenAll store near you. They have everything.
I do have a Fastenal near me Carl.
I got a little more work done on the chunker today and yesterday.
I also threw some paint on it for those hard to reach areas. Well I had to throw a little paint on the fly wheel too. I may be a bit impatient.
I also tacked on the bottom rail.
Next on the to do list is the frame for the trailer.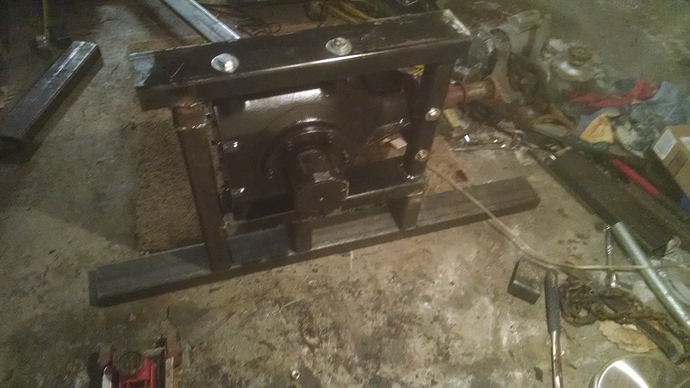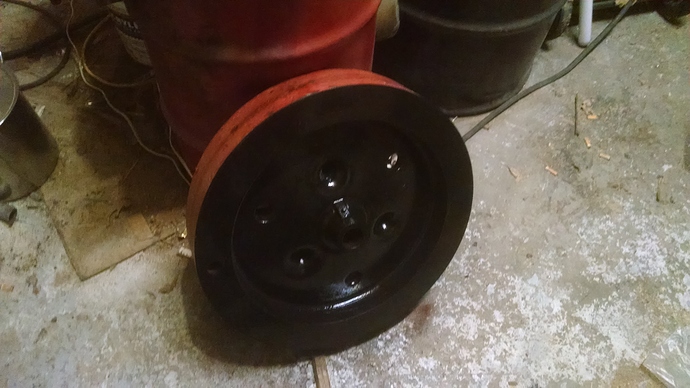 Deja vu…

Also:
Will do Chris.
Neither of those two links went anywhere for me. Not sure why?
The markdown didn't transfer properly when I quoted that other post.
Those are dummy links, just for an example.
   https://driveonwood.com/pics/some-picture.jpg  << two spaces
   [empty line]
   https://driveonwood.com/pics/another-picture.jpg

EDIT: this post is obsolete! Pictures will space themselves out.
Fired up the wood stove in the garage after work to get some work done on the chunker tonight. Between the cold and strong winds it stayed smokey in the garage. I've never had that happen before. I would think the heat would be enough to maintain a decent draft.
Did you check your chimney? I had a crow sit up on top once enjoying some heat and then got overcome by fumes and fell down and blocked the draft. Creosote will also plug it up.
@don_mannes, I did a visual check from below. I have a screened cap on the stack to keep critters out. There was some smoke coming out of it. Maybe I can talk my son into going up there for a more thorough check.
Went up on the roof yesterday after the garage filled up with smoke again. The chimney cap was almost completely plugged with dried creosote. I have class A insulated chimney from the ceiling to the chimney cap. The only buildup was right at the cap. I dropped it on the ground a few times and all the creosote broke loose.
The stove is breathing well now and the garage is warming up again. Thanks @don_mannes!