Anyone used wood gas on anything close to this?
Good morning Guy.
1996 is the newest year model I have gasified .
Looks like the 2003 chev has a plastic intake manifold that may not be a good idea to wood power .
@Jan has a plastic intake with his S10. Depending on the engine you may be able to find an aftermarket metal intake with new injectors or adapts to originals.
If you would rather keep the plastic intake you would need to remove it for cleaning instead of burning the junk out of the intake with the engine running.
@TomC I forget his year model but he also drives a GM truck.
Several aftermarket aluminum intake manifolds available for the ls engines
Thank You for the responses. I did find aluminum intakes, a little expensive.
I have aluminum intake pipes on my S10, but have never burned the soot out of this, I usually use the vacuum cleaner and clean the intake, do not know why you could not have plastic, would think it sticks less soot on the plastic than on aluminum.
This is what he has: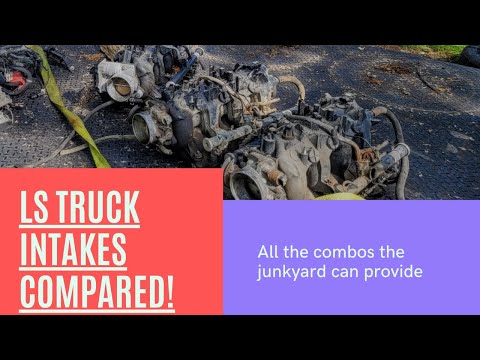 Very long paths with flow reversals internally.
Even most four cylinder engines sinch the early 2000's have plastic intakes with dual pathways and then flow shaping "tumble flow" convoluted internals.
All of these are cast and molded as one piece. No disassembly possible unlike the earlier gneration cast aluminum factory intakes.
The good news on your year of GM V-8 is as Marcus said availble metal welded up intakes available.
The good news is there are buyable PCM modifier overlay kits.
Better news is if you follow this Driveway Engineer fellow's GM LS topics info there are actual re-programmers (humans) who will reprogram the factory PCM's.
Go for it GuyM.
You are backed up with your LS engine for anyway you'd have to modify.
Steve Unruh
Thank for your help, I am trying to decide if I will trade my diesel pickup for the Silverado.