Bill, looking great!
We had a load of hazelnuts this year on 3 trees. All harvested by one ilusive squirel. I never had squirel before, well, now l had

Looking great on all fronts. The bugs may be subdued a bit tomorrow, change in the weather coming…
Hi Bill, those t-shirts would probably sell better than your syrup! I did respond to an email you sent shortly after the Argos gathering but you must not have gotten it. Joanne's dad ended up passing away in June and my own father passed away in July so these past few months have not been good to say the least. We are interested in buying some syrup from you but it may be too late this year. We will for sure put our order in before Argos next year if that is ok with you.
Wow Kevin, I'm sorry to hear that. That's a whole lot to take in such a short period of time. I pray you all are coping well.
Sorry to hear that Kevin.
I will be keeping you and family in my prayers.
Bob
Sorry to hear that Kevin. I'm not liking 2019 lost Bev's mom Jan 22 and mine Feb 24. Several friends since then. Just one of those years when things just seem to pile up. Just remember who is in control
Sorry to hear the sad news .
Our prayers are with you and family .
So, I had to drive into Duluth today to get some soffit and fascia from a big box store. It's over an hour drive so I thought I would kill some curiosity I had with my birch syrup. I stopped into a farm to garden restaurant to see if they were interested. The gentleman took a sample for the owner and head chef to taste. It seems like a good potential. After getting shut down by a few other restaurants, I stopped into a brewery that's been around since 1881. The second in command brew master was in and tasted the birch syrup and was so excited, he put it on the schedule to make a small test batch next week. He said it'll take 3-4 weeks and will let me know when it's done. I don't drink but he said he'll send me home with a growler for my friends to try. Also if it turns out, he wants to be first on the list next tapping season so they can make a big batch.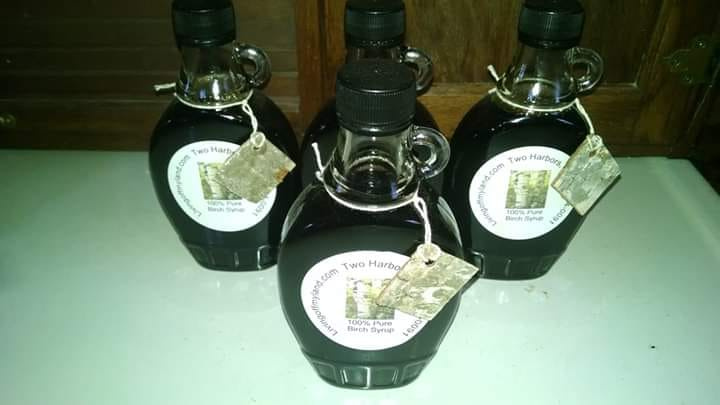 This is one of my projects this week.
It's another 10'x20' greenhouse. The wood is Tamarack. The total cost for a greenhouse this size is only $300. It the most economical way for me to protect our veggies that can handle a snow load.
We've be selling a lot of our flavored maple syrup. One of the biggest sellers is maple/jalapeno. The peppers need a shelter like this to keep the ground warm enough on our cool summer nights.
The biggest setback is driving 3 hours round trip to get the cattle panel fences from town.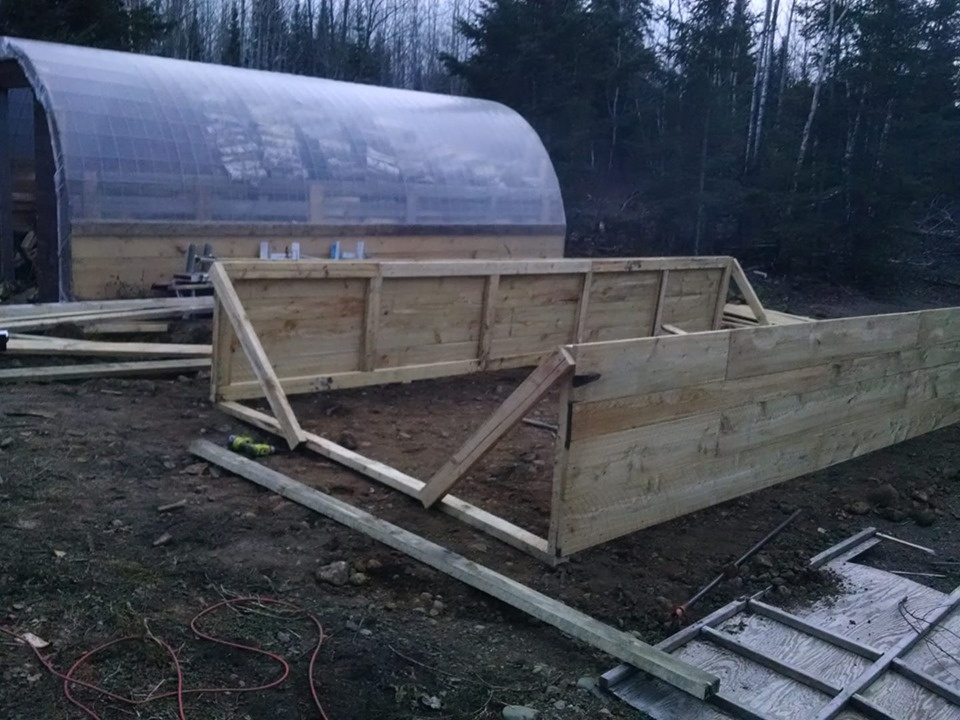 Bill, I like your greenhouse. I have found cattle fence and plastic buildings to be reliable and functional.
Thanks Jeff.
The greenhouse on the side of this one was built last year. I filled it with firewood. It should hold at least 2 years worth of firewood. I filled it to the top to support the snow.
I've been working on insulating my garage this winter. When I noticed the insulation sagging, I decided to put 1x10 rough cut lumber on the ceiling and walls. The garage is sitting on 3 shipping containers with 6' walls on top of them to make a 14' ceiling. I'm heating it with a barrel stove for now. The barrel is from the 1940's so it's about 1/8" thick. Finally I'm out of the weather and can produce enough heat to take the chill out.
Now I will have a chance to put up shelves and organize so I have room to work.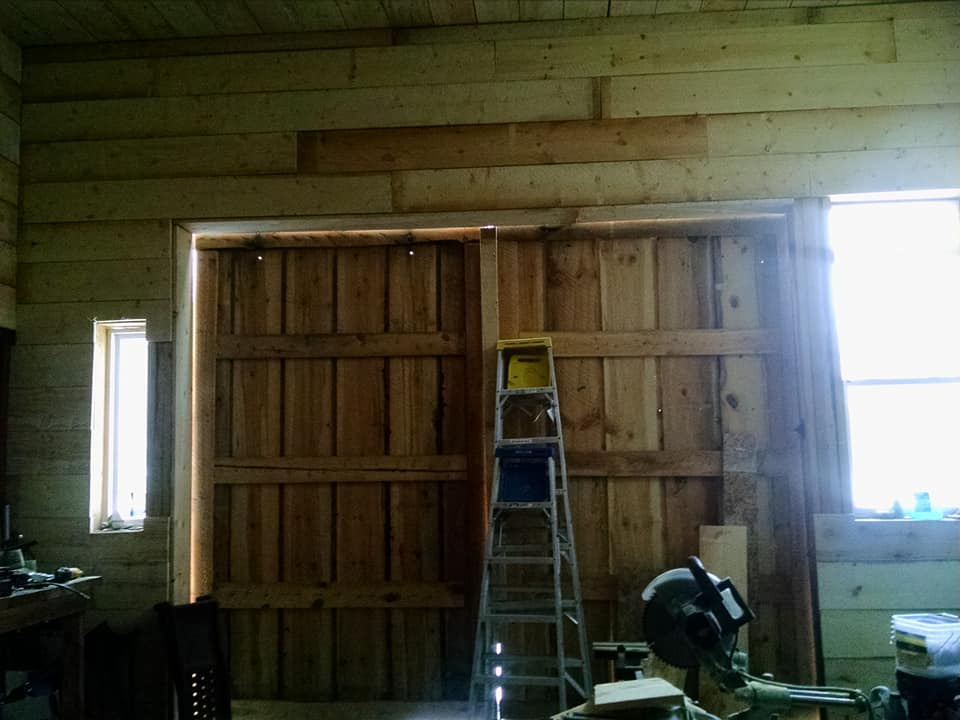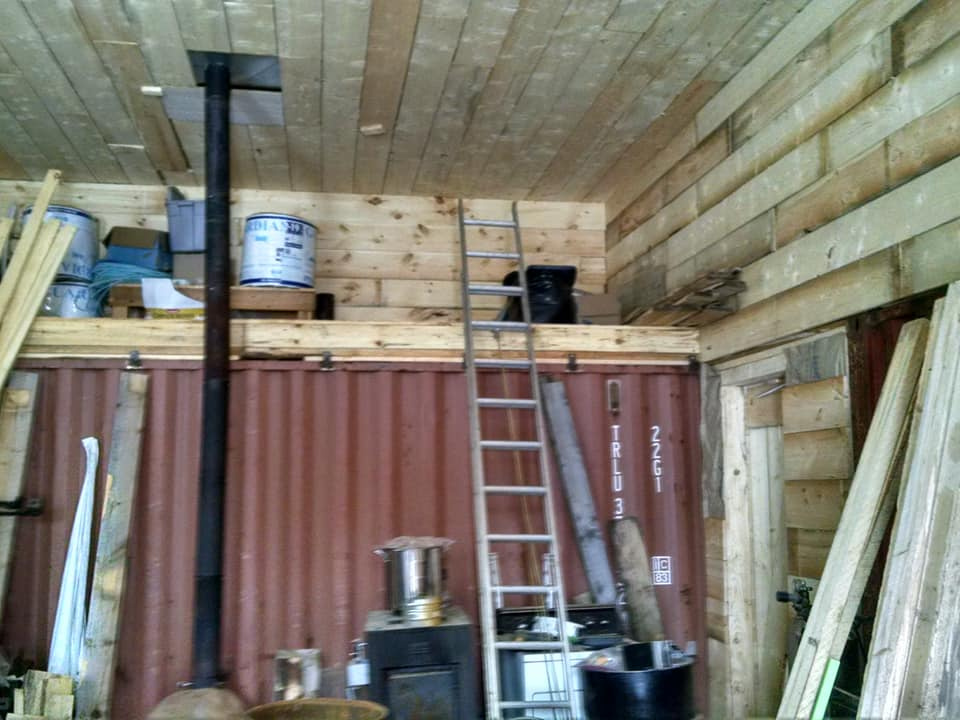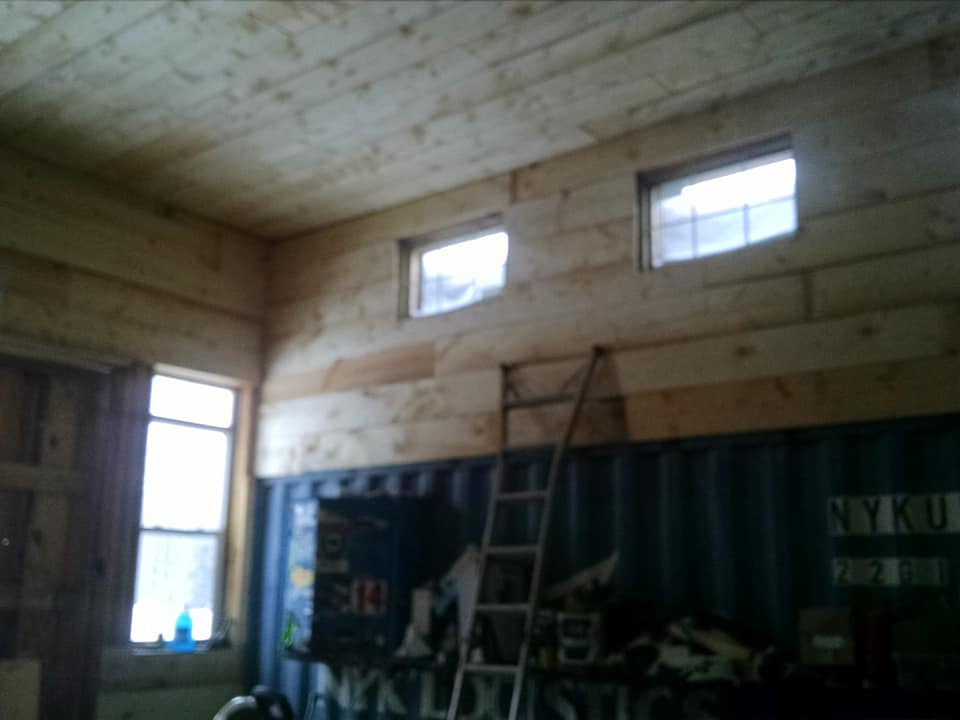 Looking good Bill, you really made a good solid shop of considerable size.Getting it finished sealing the insulation, nice contruction job. Caint beat haveing good insulated shop with long cold winters. My shop garodge i built in 05 has 6" glass and fully dry walled top and sides.32' by 28' feet.
Real nice all around Bill. Looks pretty free…except for all that cold you have to deal with. I am jealous of the nuts and syrup.
Finished my first batch of syrup. I just hope the weather holds out to my favor so I can continue to make more.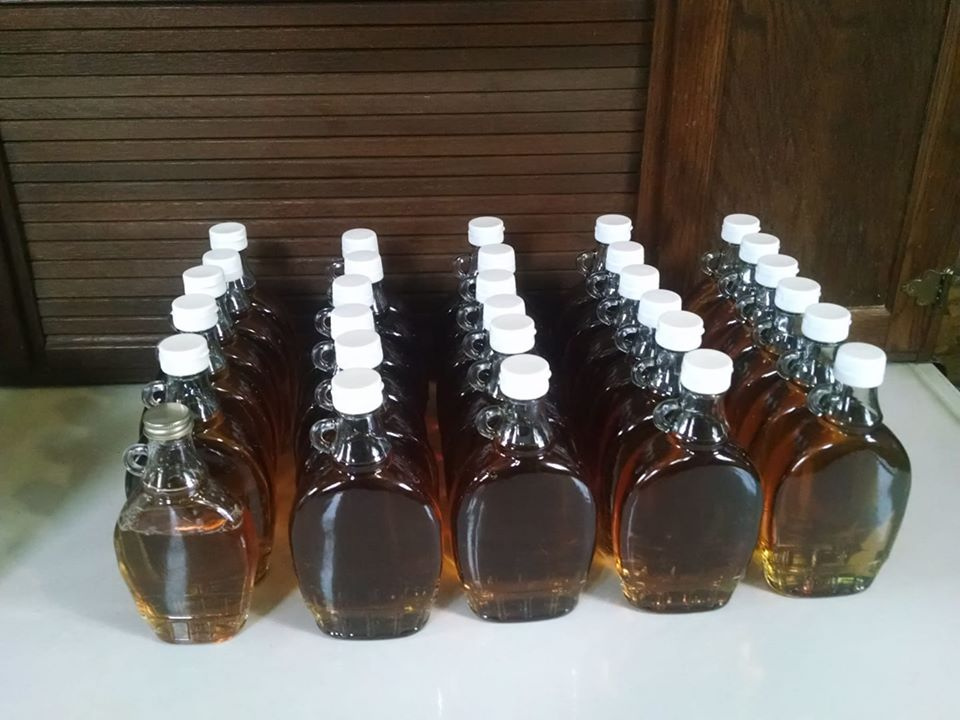 Mother Nature dictates which day I work. She doesn't know which day is the weekend or a weekday, I just have to ready when she's ready. A couple of days ago I was ready and woke up to this. Minnesota is a very tough state to make maple syrup in because of our weather.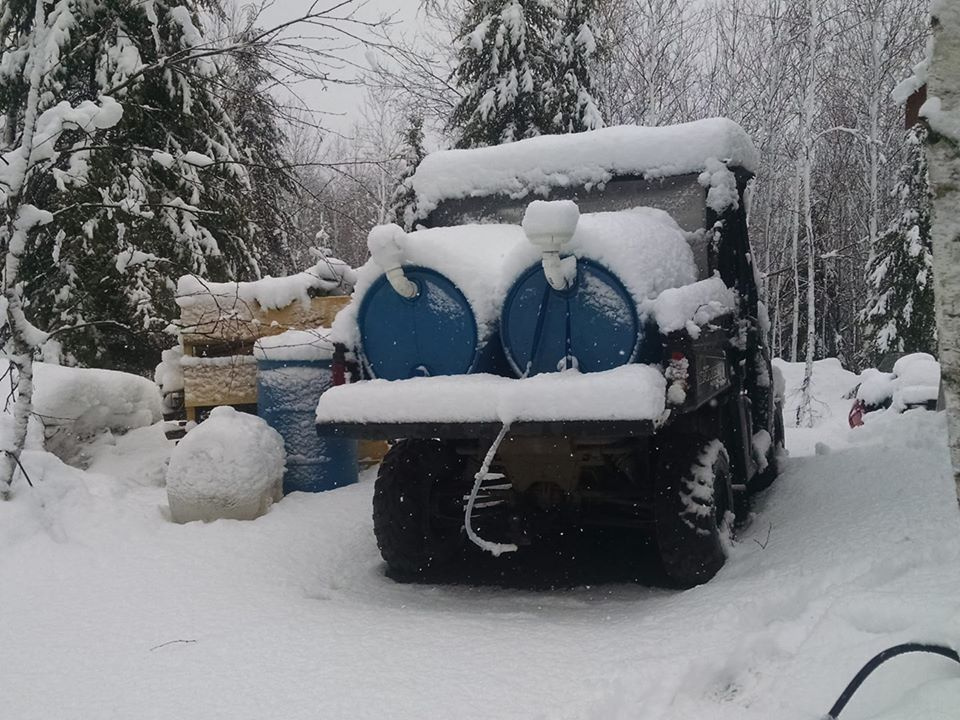 This is inside my sugar shack cooking down 120 gallons of sap with both evaporators fired up.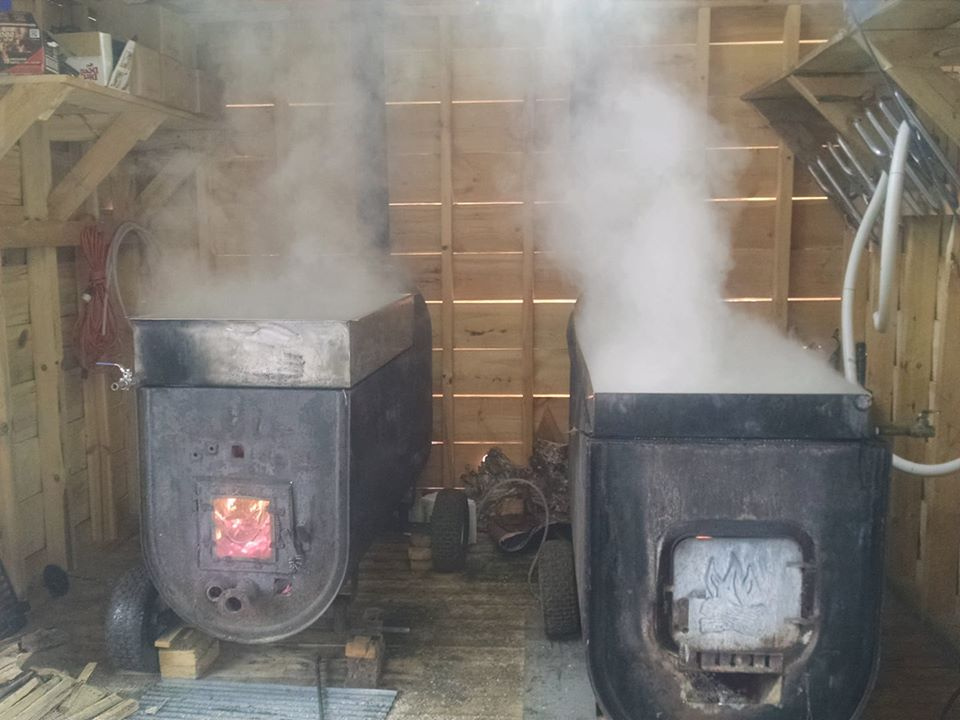 It finally warmed up again. The last time I collected was last weekend. There was some flow this week but the sap froze solid in the bags. Today was the first time I've been able to get the sap to pour out of the bags. I ended up collecting 300 gallons of sap.
Tomorrow morning I will be able to try out the reverse osmosis I built. I hope to reduce the sap down to about 80 gallons. I will be able to evaporate that in 4-5 hours instead of 2 days.