Mart, that is one of the best ways I have seen so far. Simple to build and it will work for larger chunks of wood too. Anyone that has tried to dry wood with hot sunny days turning into rain in the afternoon noon will appreciate this I know I will. I have come home to find my wood all wet again after two days of dying. Thanks for posting this, anything to make it simpler and easier to dry wood is great.
Bob
Thanks I have been looking over youtube for some time and I found a guy who used plastic to dry wood. Last year I had a sheet of plastic over the wood chips in my garden, I noticed that after a couple of weeks the chips were bone dry. It appears that warm moist air rises and the temps were over 90 - 100 degrees with a single layer of plastic when it was 50 deg outside. Then it hit me, I have found the way to dry the wet wood chips that smoke when I make charcoal for the simple fire.
That is neat!
i put wood in a barrel with a slits in the bottom and a nipple in lid, then an open top gallon can, with a hole poked in the bottom to fit over the nipple to increase drafting. Wood dries out pretty fast. I flip the can over if I know it is going to rain, but even if you forget, not much water gets in.
Mart,
One more to consider:
Stephen
Hi Steve, How would i tell how much water is in a 5 gallon bucket of regular keith size gasifier chunks.the ones i have been trying weigh 9 too 10 pounds after bucket weight.
I dry my woodchips on a large tarp in the sun. I turn them once a day and simply pull the tarp over them before the humidity of the evening sets in. (This reduces the tarp's footprint to half). The next morning I pull the tarp back to full size and rake the chips back across it. 3 days usually gives me chips that are 12% moisture or less. I used to dry the chips before I classified them, but now I classify (sort) them before drying, so I am not drying chips that I won't be using anyway. Then, since it is easy to do, I sort them a second time.
See the first couple of minutes of this video to see what how I lay them out: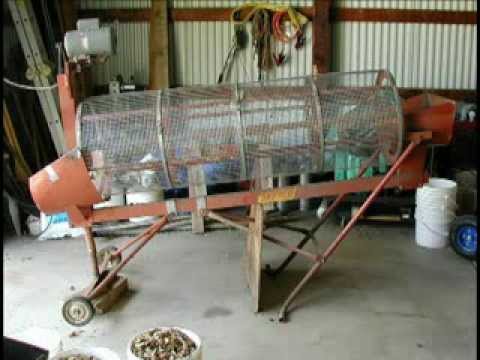 See minutes 2 to 3 of this video for a larger tarp setup and for an in-building method that I use as needed: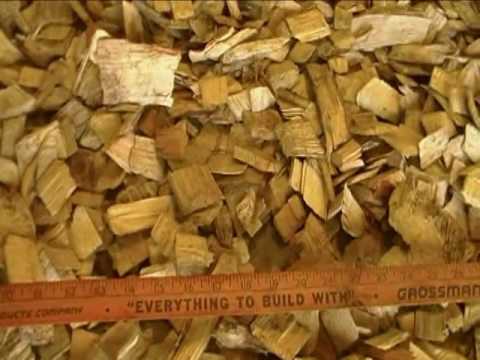 You will note that I changed the 1 inch X 1/2 inch "good chip" screen to a 1 inch X 1 inch screen since the earlier video.
To measure after-drying moisture content of my chips, I (net)weigh a 5 quart ice cream pails' worth of chips, heat them on a cookie sheet in the kitchen oven to 250°F for about an hour, check weight, do it again, check weight until no change, then compare before and after weights. My goal is 12% or less.
Pete Stanaitis
Thank you for that. Great testing, I guess what I should do is fill a 5 gal bucket with wood chips and weigh them, Then after I do that weigh the wood chip again after they have dried to get an idea of how much water I have pulled out of them.
I have been thinking about what if we used the exit heat of the gasifier ( the final exit from the engine ) to put thru a 5 gallon bucket as you have shown of metal. It would seem that the high heat would act just like a dryer…
I have found the clear plastic on top makes the process go even faster for me, once I see the condensation on the inside of the tarp, I open a hole so that the moisture can escape, I only make the hole big enough to the point I don't see condensation anymore. I found that wet air is lighter than dry air so it flows out nicely.
Mart,
Do not use the exhaust directly. It is full of steam which will condense on the cooler chips. Use a heat exchanger and fan to pull in warmed ambient air through the chips. This will create a super low relative humidity and good drying
Also…watch your temperatures. Exhaust gasses are hot enough to cause pyrolysis. You could create a smoking tarry mess.
Stephen
I would normally say that you are right about the steam, however, since I burn with charcoal, I doubt this would be much of a problem.
Ooops…My bad. I am wood guy. I'm too cheap to give up the tar heating.

I plan to do both. I am thinking of building a TLUD cob oven so I can make charcoal with the wood chips cooking in an oven, then dump them into my gasifier for making electricity on cloudy days.
It is nice to get wood chips. We can also use wood chips to make smokey food as long as we use safe and sweety wood chips to smoke meat.
Don't you still get steam in the exhaust from the humidity of the incoming combustion air?
Pete Stanaitis
That is a good point. I did not consider that. We have high humidity here in Florida.