Featured Project of the Month for June 2015 is Al Frick's slide in gasifier. Al has come up with a clever arrangement for his upcoming woodgas truck - a slide in unit! With no permanent attachment to the vehicle, he can easily move it to a different truck whenever he likes.
[Premium members can view the full build thread here: http://forum.driveonwood.com/t/al-fricks-slide-in-build/1168]
"I made this to slide in to my Dakota, 48 Ford F100, or on a small trailer. I have to plumb the Dakota, and I'm still putting the 48 together (lots to go on it)…That silver is chassis saver paint, should never rust."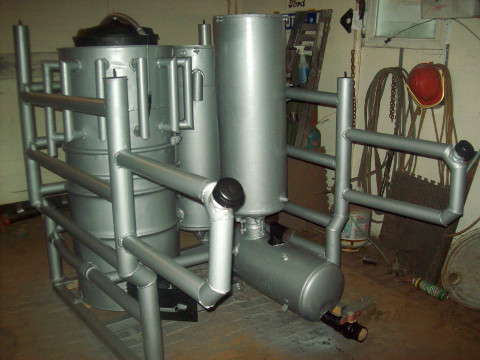 Al, if you could update us on the status of your gasifier, maybe post some new photos and a walkaround video below, we'd be grateful. Great work on this project!