I'm thinking about starting a side business selling firewood. I don't have an excessive amount of wood here on the property, and I've been very disappointed with the quality of local Craigslist firewood sellers. Nobody has a clue what "seasoned" wood should be, it's all wet and barely burnable. If I had my act together, I'd buy a couple years in advance, but I always figure by then I'll have my own supply sorted out.
So this seems like an opportunity. Sell actual dry firewood for about the same price as the local pickup guys, have a deep stockpile and dry storage, and work up towards the $$$ firewood processing equipment. I have 80 acres here to store wood on, so this business could scale up significantly before I run out of room.
I'm about an hour from three major cities and the rural area close by is very much wood-heated.
I have a technical edge too, because I know how to cut the dry-time significantly. A hoophouse (unheated clear plastic quonset hut) is great for starting plants early spring but gets too hot and stands empty all summer… unless you stack firewood in it. You'll have dry wood in less than 6 months. They are cheap to build and again, I have room. It could spawn a nursery business just to make use of the structures.
I'm thinking to simplify the handling, I'd like to use pallets and firewood bags like this: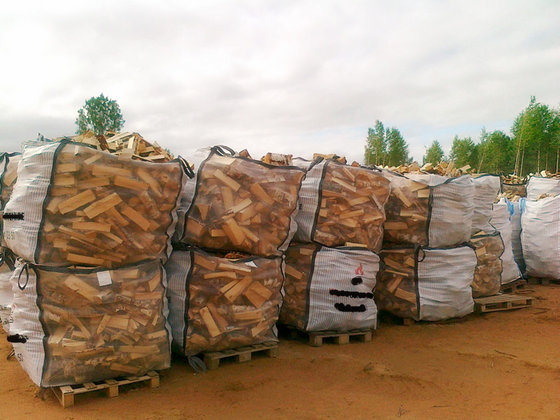 Logistics would suggest carrying a very large truckload of wood to one of the local cities and distributing it with a smaller truck. Probably woodgas powered!
Kiln drying is an interesting prospect which carries a big premium and gets you past the "don't move firewood" rules. However I'll start simple and just offer good dry wood locally.
I'm sure some of you have ventured into firewood before. What are your experiences and cautionary tales?