Continuing the discussion from About the Charcoal Gasification category:
Gary Gilmore had an idea on the way home from Argos in 2015 that inspired the design for this experiment. He was thinking about how a forge can survive metal melting temperatures without a so called nozzle. He posted some pictures on the Yahoo Charcoal site and also on his thread here about his 2004 ford Ranger.
That made me want to experiment with his concept too so I built my version of it and made a slide show of my efforts so far.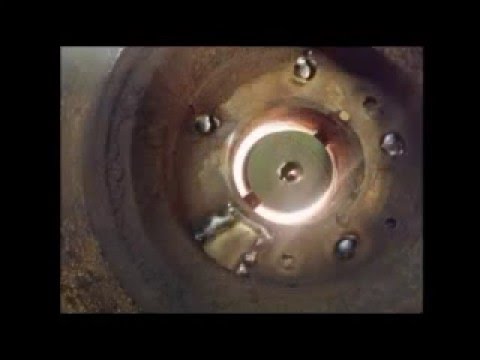 The concept is to have cooling air enter around what I call a "heavy slug" grate that is able to rotate to allow ashes and clinkers to break up and fall through to a collection box below.
I made my ash box out of an ammo can that opens up and also seals tight.
I had this 30 gallon gas water heater tank with a concave bottom but it was concaved the wrong way so I cut it and welded flanges so it could be assembled concave down. I noticed a small well or depression around the center chimney section and that became my steam boiler reservoir.
A brake rotor center hole happened to be exactly the same size as the center hole of the former chimney and 3 notches now serve as steam escape holes that injects the steam up into the center of the incandescent flame cone.