Thierry,
Looks like a beautiful solution to me, just make it fairly easy to inspect, and well-sealed from outside air.

Most guys just trust their regular paper air filter. The metal screen safety filters that I have read about recommend 25 micron or 400 mesh. I think about 100 square inches would be adequate, but have a replacement filter ready since cleaning the fine filter screen can take some time and effort.
thanks for the information Bruce
Thierry
Hello everyone
I built this automixer for my truck.
I think it's different from other automixers.
the transfer of the movement does this by a hinge in place of the longitudinal displacement of an axis
this design facilitates sealing and minimizes mechanical losses caused by friction
What do you think?
Thierry
Sounds interesting…
The video link doesn't work.
Excellent solution!
That should make things a lot easier.
Hi Thierry,
Thanks for sharing the idea and video, but I don't understand what I'm looking at. How about a sketch? I can imagine a hinge fastened to the diaphragm, but don't understand how you are sealing the output rod.
Excuse me time for the answer, I am very busy at this time of the year
Bruse here is what I use to seal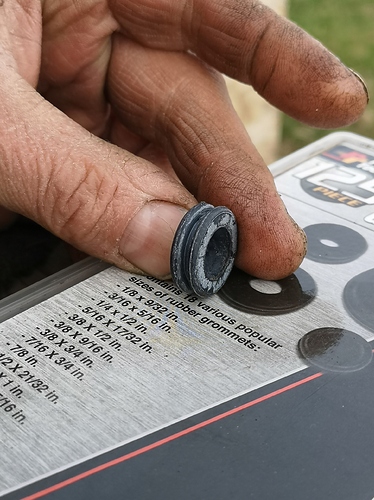 Another advantage of this automixer design is that it can also work horizontally
Thank you for taking the time to answer. Very Clever.
Hello everyone
I would like to replace my big 5 "cyclone with two small cyclones in parallel.
Or can I find the information to size cyclones of equivalent efficiency?
Thank , Thierry
I think l used 2 4" cyclones on my mb, worked well. Oh, that was paralell!
Dyson uses a huge array of smaller cyclones in their vacuums. They take their engineering pretty seriously so I don't think the cyclone arrangement is an accident.
The motivation could be more compact packaging but I think it has more to do with smaller cyclones having higher accelerations to help with separation efficiency. Now that I think about it… I'm sure there is plenty of academic literature on the subject.
Sounds interesting. Hoping to see more info about Dyson projects.
I think the Dyson design is efficient enough to remove smoke from air, but the bottom line is it does so with a major consumption of power. In a gasifier system that will amount to a big pressure drop, which will rob significantly from engine power. With a super charger that could be overcome.
But, in engineering there's such a thing as "too good", and I suspect this is one example. Max has described a sound system utilizing reheating and a final paper filter to minimize pressure drops.
Steve has theorized that turbulence causes CO to revert to carbon black. A Dyson would certainly put that to the test…
Well, they seems to be closed on perfecting it. Removing the smoke from air is a huge step already.
I use a Dyson cyclone canister with my inline filter pipe before the engine just to see what can be stopped from going into the engine and i have some very fine soot/charcoal fines in the bottom .it was a pain to make it air tight as my engine does not have the suction needed to complete the sealing between the container and the cyclones , so in the end i used silicon over every joint
Hi Garry
I am thinking of replacing my 5 "cyclone with 3 3 "cyclones in order to improve gas filtration without increasing the pressure drop of the system.


Is it a bad idea?


The cyclones would be downstream of an oil bath filter and a safety filter
I'm far from an engineer, but it sounds like you are probably on the right track.
I guess the proof will be to try to verify, and report back to the group.
Dave,
Please remind me. What are you using for a filter before the Dyson cyclone?