May anyone here elaborate about grateless gasifier. What are the pros and cons?
Sure.
The grateless concepts are promoted as better because of the elimination of a direct to hot glowing char piece that will be heat affected, eventually requiring maintenance changing out.
So what! Make the grid element drop-on, pull-out, easy changeable. Make it thick enough of a durable enough material to need this changing out at reasonable intervals.
Going grateless requires limiting to specific pre-formed woodfuel particles size and shape. Those fuel particles of a standardized mineral ash %. And the produced gasses flow rates held in a narrow operating range to use gasses velocity to hearth clear the exposed fuel-ash.
Going with a command activated grate system and you can use a wide range of woodfuels; in a variety of chunks sizes/shapes; with a wide range of base ash percentages.
A good comparison would be the much wider range of usage between an "old-fashion" modern wheeled vehicle system versus any of the seems-better darlings of hovercraft, rotor-wing-craft, mag-lev, etc.
All of these will work only better under a narrow range of usage, like over water, over mud, or on a specialized track. Better? Really? Not.
Wheeled will use less energy, haul more from point to point with better fall-back safety over a much wider range of conditions. Yep. Yep. The wheels and tire will contact wear and need restoring and replacing as a matter of course.
Good gasification question.
Steve Unruh
Hi, p sharma
6. of November 2016
An example, Imbert woodgasifier patented 1926 in Paris.
The number 2 of the Imbert type patents. (One throat)
A straight firetube, blown through a ring-slitz between the mantel-heated silo and the firetube.
The lower end "stood" on a pile of charcoal for ash collection,
from which the gas raised up outside the firetube and around the silo, out-take in the upper end.
Hi Max, I'm reading old topic threads, trying to get a better understanding of this grateless gasifier @KristijanL is building. When cleaning ash out the bottom, I take it, you don't clean all the ash/charcoal out? Just clean around the firetube and not under it, to maintain a good char bed and protect it when firing it up again? Is the insulating material you were talking about with Kristijan on the inside top floor or is on the outside of the gasifier ash/charcoal metal floor.
Bob
Hi, Bob!
24.9.2017
I have to make 3 skizzes over the versions at stake, but first a one night sleep…
First, 1926 Imbert: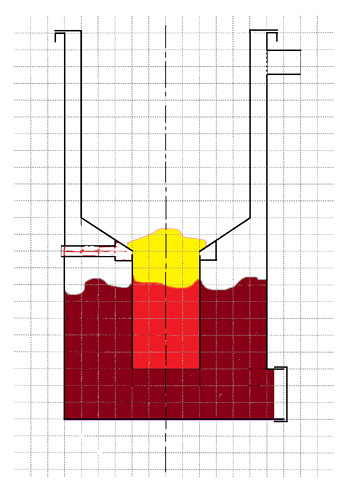 :::::::::::::::::::::::::::::::::::::::::::::::::::::::::::::::::::::
Imbert 1930 GMR: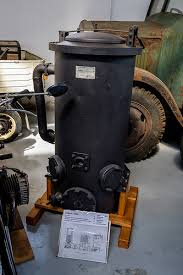 You see the shaker "horn" mowing with a ball joint in under the grate-edge.
To the left of the ash lid.
Magnify the picture to see the details!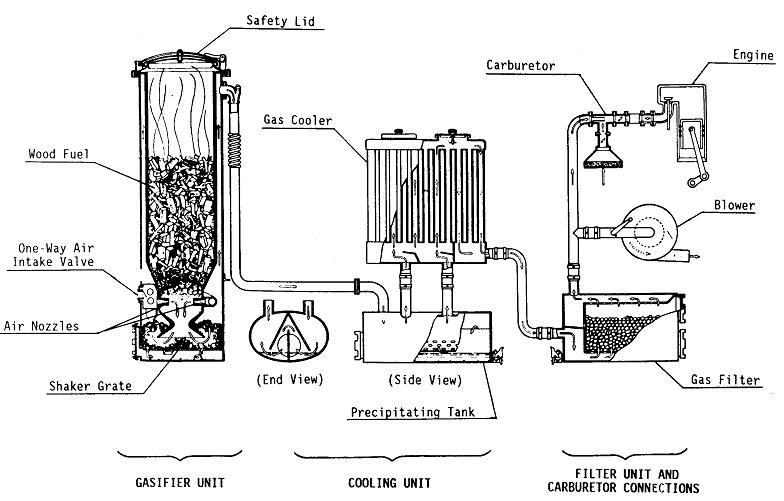 Imbert 1930 GMR (Grüne Minna Rüttelsieb) = meaning:
Green Minna Shakegrate
It got the popular name after a bus named "Grüne Minna"
at AVUS, an esplanade, in the western Berlin, from where a ~2 week long, over 10000 km long, international alternative fuel race started and went through 4 countries.
Grüne Minna won the race, with no difficulties on the road, but a broken wheelbolt!
::::::::::::::::::::::::::::::::::::::::::::::::::::::::::::::::::::::
And Kristijan's, as long as I have got it:
You better look up his excellent videos, it is well pictured!
My proposal is just to cover the bottom and sides (inside of course) with a
Whole covering sheet of SIPOREX.