Yes Patrick ,
Technology has come a long way and that power source is voice activated.
Pretty good for only one horse power
Patrick ,
A little of topic but I think you will enjoy this .
I think this guy could have been a PhD scientist or professor but he chose saw milling .
If we could introduce him to gasification in a few weeks time he could be teaching us a few things .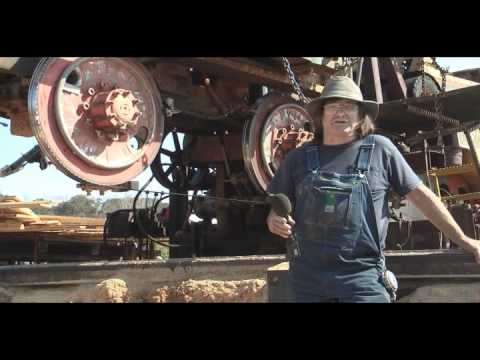 Gasification is not for everyone but it would fit this guy like a glove .
I found this to be an interesting morning distraction!
—Updated Information—
I did some searching and found multiple references on this device. It's called the Athens Mfg 1-Horse Treadmill
more info at; treadmill-horsepower.com
It looks like they are made by;
Athens Enterprises / Waldemar Design & Machine
1797 Matherly Rd
Liberty, KY 42539
(606) 787-8474
It appears a fellow by the name of Ammon Weaver Jr is the Builder. I also found references to a Mennonite owned company out of Pennsylvania making these - may or may not be the same device?? I also found some references to a 2, 3 and 4 horse model? The machine was demonstrated at Horse Progress Days last year (June 29-30). A great walkaround while in use video is available at; http://www.youtube.com/watch?v=GE-qMwFPGlE
They have it driving a hydraulic pump that powers devices with hydraulic motors - apparently to smooth out the power when loads were introduced.
I'm sure Patricks woodgas powered sawmill gets the job done quicker, but it's interesting to see things like this are still being made.
They had one of these horse treadmills making ice cream at the local Mennonite auction. It's pretty neat to see!
Liberty KY is 5 miles from where we used to live.
Hi Wayne
Have to agree with you, if he could build a saw like that, gasification would be a walk in the park.
Defiantly a can do attitude, no problem insurmountable, just a challenge with different parameters!
With the cost of fuel going the way it is, a horse powered treadmill is not a bad idea!
The most efficient mode of transport man has invented is a bicycle, now we just need to build one for a horse! Then we would be styling!
Thanks
Patrick
Wow, I really enjoyed the one about the 48" log, thanks for posting but it made me talk funny the rest of the day!!!
Yes Herb.
Down here our accents don't come over very well with emails and typing but the videos gives us away ever time .
Accent? What accent? Sounded perfectly normal to me . . .