Good point Ive been thinking of this.
@SteveUnruh Yeah, the retort coal gasification of historic town gas was very dirty, eh? Hydrogen sulfide, various other sulfur compounds, heavy metals, etc. Very dirty indeed.
I worked as a import mechanic in Selwood around '95, wonder if we used your shop.
According to the Wright-Malta paper, it looks like steam gasification of biomass at 200psi and 1100F would have very little residue. No tars, very little char, mostly ash. Clean enough gas to feed directly to a catalyst for methanol synthesis.
@Matt I was thinking of the high pressure vessel described in the Wright-Malta steam gasification paper . 200 psi steam with significant super heat at 1100F.
Every feel your brain melting down as you stand staring as a gigantic pile of chips or slash , mentally juggling all the variables trying to find the best path to a long term viable system that puts such resources to work for you and yours?
We're in the middle of a 40 acre commercial thinning project. Soon to be thirty foot high piles of slash dotting the landscape. A hundred acre woodlot and the old folks burn 400 gallons of oil a winter because it's thermostatically controlled (along with 7 cord of wood).
A hundred acre woodlot with more wood rotting each year than we could ever use and still need hundreds of gallons of diesel each year for farm operations.
Human nature being what it is, if you don't adopt a system with enough convenience and obvious long term benefit, it won't be used.
And that is where I feel woodgassers stand out of the crowd, a hardy group not afraid of hard work and a little gunk under the finger nails. Ha, from my own experience, life is not convenient. Don't mind if I take my time at my own pace to do as I please, and driving a little slower on woodgas suits me just dandy!
Ah ok you are brainstorming your version. Perfect!! thats what its all about

@Matt I'm on a similar track as you, sans gas storage. But yeah, capturing pyrosis gases from char making is very intriguing.
Steam gasification was just a possible answer for the OP, not something I'm currently pursuing.
I haven't figured out just how I'm going to capture the charcoal making heat yet so I very much appreciate your efforts.
I've leaned toward long run time generators instead of significant refined energy storage.
Store your energy as charcoal, trade engines for batteries.
Iron, oil, and spark plugs for lithium or lead.
I'm at a very reliable 11 hours run time, 10Kw/hrs and 33 gallons of softwood charcoal with a far from optimized co-gen system.
I think you could reasonably, comfortably, orient your off grid life around that.
The rest is 'just' fuel making and management. Call it 250 gallons a week, 1000 a month. That's a box 4x4x8… same volume as a cord of wood.
I'm currently thinking a small battery bank is necessary for almost any off-grid system. You are gonna want it anyway for 24/7 power and you get to supplement with solar.
I think you are correct to try to eliminate as much electricity reliance as you can, but a modern refrigerator uses very little and is the cheapest off the shelf option…
Yes exactly. Yeah I dont know about new refrigerators but my RV fridge will smoke my battery bank in a few hours time. But a 40 lb propane tank will last two months. Even if if the fridge is more efficient on electric its still a huge loss. This is because you lose 75% of the gas energy potential when you convert the gas to electric in a engine power generator. So it is still a huge efficiency gain to use gas over electric in this scenario. Besides you want to use that stored gas so the system produces enough daily charcoal. So balance will need to be assessed in order for it to be sustainable.
For anyone with deep chest freezers you can modify them into more efficient fridges with a temperature regulated PWM. I can't remember the brand exactly but there's tons of videos on it. It will cycle the freezer down to use less power, and the chest format helps keep the cold inside even with the lid opened occasionally. A regular fridge loses a lot of its cold even from short opening.
The energy balance is a key question.
Folks up north with significant heat needs will have an easier time with it because that lost 75% can be captured as space and water heat, much improving your overall efficiency (and perhaps simplicity).
Similarly, charcoal making 'waste' heat is directly useful six or more months of the year.
Co-gen is relatively easy and inexpensive, just moving low grade heat around.
The math might be different for every living situation.
I agree though, moving that energy from the 'lost' column to the 'useful for my life' column is key.
Cody, I've seen that chest freezer to fridge trick but never tried it. I even got the mini chest freezer but never convinced the wife we should get rid of the giant shiny box for the small efficient weird one.
Kids used to curl up in front of the fridge when they were toddlers 'cause of all the heat blowing out the front:)
Here is one real life example of the chest freezer to fridge conversion and the numbers they recorded:
About .51kw/hrs per day for a pretty small chest freezer. That looks like 21 amp hours on a 48V battery system for a 100% margin. Not bad.
Not much fridge though either.
Edit: wonder if it could go 12 hours without running at all. That would give you a pretty good window for avoiding batteries entirely.
I've played around with the Inkbird 308, finally found it to remember the brand. It will overshoot the desired temperature and idle off until it reaches a few degrees past the set temp, it starts it back up as soon as it's one degree off but it always takes time to bring it back. You can change the differential so if you're comfortable with a wider temperature band you can program it for that.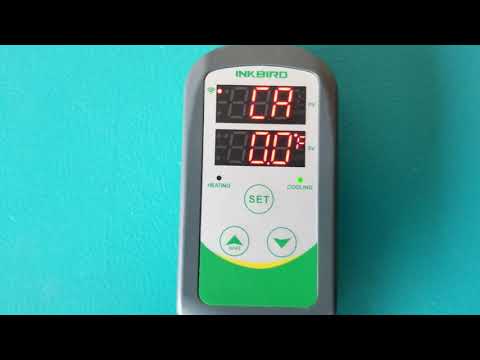 @SteveUnruh
I think I have the solution at least for my system as the full picture incudes a charcoal system. This will simply be the source for the water drip.
Tar will need to be mixed with something that it will dissolve in though.