Carry on…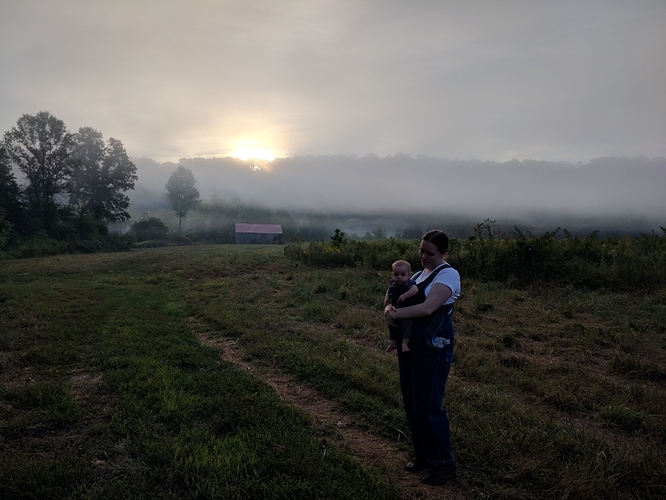 Continuing the discussion from Life goes on - Summer 2019
on the 11th of November we have a hot air balloon gathering, the trainings we started,
chris, a wonderful picture, a landscape that inspires calm and serenity and that is also found in your family away from the stress of the city.
My congratulations
Hi All.
I am coming to believe that I may come across as, "The hardware system does not matter. The operator can make any system work."
This is sadly, not true.
The hardware system establishes a range of possible usage. The Operators job is to discover and use that range.
Example.
My/our current local weather is rain, been-raining, is going to rain soon.
Mid-pacific weather systems means now of not-so-bad of only 45F lows, to highs of 50-54F.
So our house needs some heating, but much drying de-humidifying constantly. Me and the dogs in/out; the wife showering; us cooking; cloths washing creates at least 8-10 pounds of in-house moisture's to be gotten rid of.
I am in house wood stove 80% doing this with wheelbarrels of directly picked up now rains re-wetted 40% moisture Doug Fir limb wood, and green Holly stem woods.
This would normally be left just to rot down. Or, seasonal burn pile reduced. ZERO heating efficiency then.
So anything I can get in-house out of it is a gain by my values.
Just so long as I do not damage, or muck up our living systems. Meaning molds dragged into house from some of this visibly half-rotten wood. Chimney pipe clogging. Forced draft and too much direct forced charcoal burning warping the inside of the stove. Forced steaming internal metals erosion's.
Temperatures evolve down another 10F and I'll have to use dryer woods for a better net BTU output.
Hard cold winter temperatures and I'll have to use the best of dense dried wood shed woods to get my maximum net BTU outputs and 85% fuel use efficiency.
This is the fourth evolved wood stove I've had in this house with the same excellant chimney system in the last 25 years.
ONLY with this selected evolve wood stove model could I have this fuel use flexibly.
And that, ONLY once I did learn the gasification mantra of, "Take care of your char bed. And your char bed will take care of you." have I ever been able to evolve to using this wet of wood net effectively. once I get a good solid thick glowing char bed established then one layer of wet wood carries on. Quick char the outer wood surfaces and then outgas convert away. Amazing flames colors.
Ha! Some of the away cabins the wife has rented us have been a challenge to get their woodstove and fireplaces to do anything. Some like the open front fireplaces and one center of room 60's cneter of room hood type I refused to even try. Why bother without the very best of dry wood when having zero air control and poor, poor heat concentration retention, eh?
Actual wood gasifier systems I have operated are the same.
Using pre-hand set char beds, with perfectly sized dried fuel wood chunks, and anything can be made to work for short time. Even a straight piece of pipe. A very short time.
The better and better wood gasifier systems will have a wide fuel use flexibly in a wide, wide range of operating conditions. Requiring the least amount of maintenance's and use-repairs.
Be operator understandable. Be easy.
Regards
Steve Unruh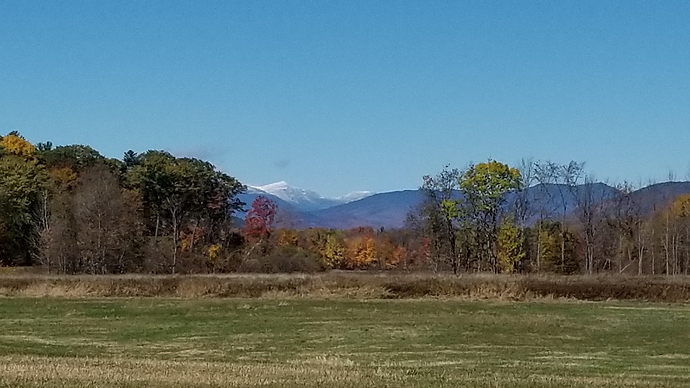 I was mowing some of my last hay for the year today and came around the edge of the field looking up at Mt Washington it definitely doesn't look like haying season. I have about 700 bales down right now and about as many more to cut which will finish off the field I am cutting for my cows. Looks like the end of the season is definitely not far away.
Wow,wow,wow that is real nice!
Thanks it is ironic sometimes i just take for granted how nice the views are here. All I was thinking as I took that was how it captured the cold I was feeling mowing hay at 50 F with a cold wind not just a breeze blowing at me off the mountains. My main thought was about how odd it seemed to be cold while haying…
JO. Nice looking conveyor system for stacking wood! TomC
It is a dark , wet and windy day in Alabama . My son is out all weekend deer hunting , wife is off visiting kin folks . I am stuck at home with a huge wood pile and nowhere to go

I think I will dump a couple sack of wood in a wood burner and just go out and drive in circles

Well if you drive far enough north it is nice and sunny today. I am headed out to do some barn repairs.
Better drive East as well as North. Wet and miserable here in NE Indiana as well.
delete this post it is not rite song.
Requalification of a district of Part Dieu in the city of LYon in France,
a monumantal ephemeral fresco representing a watch that anglouterit the building, obviously, concrete and steel will be recycled,
hopefully they will think of the man with more green spell and a more humane scale of urbanization.
Is that machine a Bombadier snow groomer??. I maintained a couple of machines like that for the local cross country skie club. Ours were two passenger TomC
Jan, you're having too much fun. I'd really like come visit and have a closer look on that machine. In exchange for a woodgas ride if you like

Just another excuse for a road trip on wood in your truck.

TomC