yes, this is a picture i had in my mind!

It isn't that i can't build it - just getting a museum started in one year doesn't give me the luxury of time to build things like this. Hence my interest in buying/loaning.
It should be noted that one needs REALLY high quality charcoal for engine applications. Stuff out of a bag, even the "cowboy"/lump stuff might have some residual tars/unburned wood in it that can gum up an engine.
Gordon Ooghe ran a VW engine with his wood gasifier. Yes, it's a big unit for a VW car, especially when the engine is in the rear. The possibility of powering machinery with this engine setup is there, however and would be a good demonstration to spark the enthusiasm for gasification. Check out his run here:
Pepe
This was my initial thought too when I first read about the "simplified" method. I'm sure it has its appropriate place, but I wouldn't dare use it especially as a first build.
Building both a "SimpleFire" and a quality charcoal kiln are both far easier and less complicated than building a single raw-wood gasifier that makes appropriate clean gas.
For this reason, charcoal gasifiers ARE generally the first step one takes.
The main catch is that one loses a fair amount of BTUs of energy converting wood to charcoal. One either makes a way to make use of that "lost" heat (hot water, pizza ovens, etc.), or counts the loss.
Alex:
Do you do you know where you found that picture?
Looks like an Opel from the 70s.
An early version of the Chevette " world car ".
I am going to rule out a Chevette/Acadian, Vauxhall or Holden because of the bumper/trim kit, and the steering wheel.
But there are a lot of versions of this car and I would like to know who owned it, where and when.
That is a very small and under powered car on gasoline to be running a gasifier.
My gut tells me this was from Germany or other Eu country where a Opel badge body of this type was sold…
Pepe2000
There was a factory made version of the bug that used wood gas.


Before Fahrvergnügen Volkswagen came with wood burning Faszyzm.
Is that bad taste?
I hope no one is offended.
Alex. The car in question is an Opel. The owner is from Germany and he is some kind of farm equipment sales person. That is a WWII gasifier that he refurbished and then built a rack on the Opel to hold it. Some where many years ago I saw the whole story with pictures of the construction. I'm not sure if I could find the information again. TomC
Thank you Tom:
If you find more post it I would like to know more.
Is this a car converted in the 70s and is it still operational for example.
Thank you Chris. I don't know how you find all that stuff so fast. I have a hard time remembering something and BANG you bring up the post. Amazing.TomC
Sorry I missed the "Hnangout" tonight. from 5;00 to 7.30 I was trying to get my tablet to work. It says I have to change toe "desk top mode" but it sure as hell doesn't tell me how. Maybe I just come in with my mic. and no picture next time on my big computer. You don't need to look at my face anyway. "


Tom, desk top mode is for the browser, so most web pages now have a mobile version but if you need the desk top version most web pages will have a button to switch back and forth. You can also request a mode in the upper right pull down, three vertical dots. For my phone I do not use a browser for hang outs I use the app. Hangouts has a program/app of it's own. But I ain't no expert so might be off track.
Here's some interesting and informative history on the VW power plant with CI, HP and use specs to aid in building the appropriate size gasifier. No need for extra metal when you have to carry wood. Some pictures.

I bought a (running on 3 cylinders and quite driveable) dark wine colored 1957 Karmen Ghia convertible in 1971. My first ever total engine rebuild experience. Darn, some of the paper gaskets threw me for a loop. Looking back, I have to say it's a great engine to start learning on, almost simple, air and oil cooled. A great fun to drive car, loved it!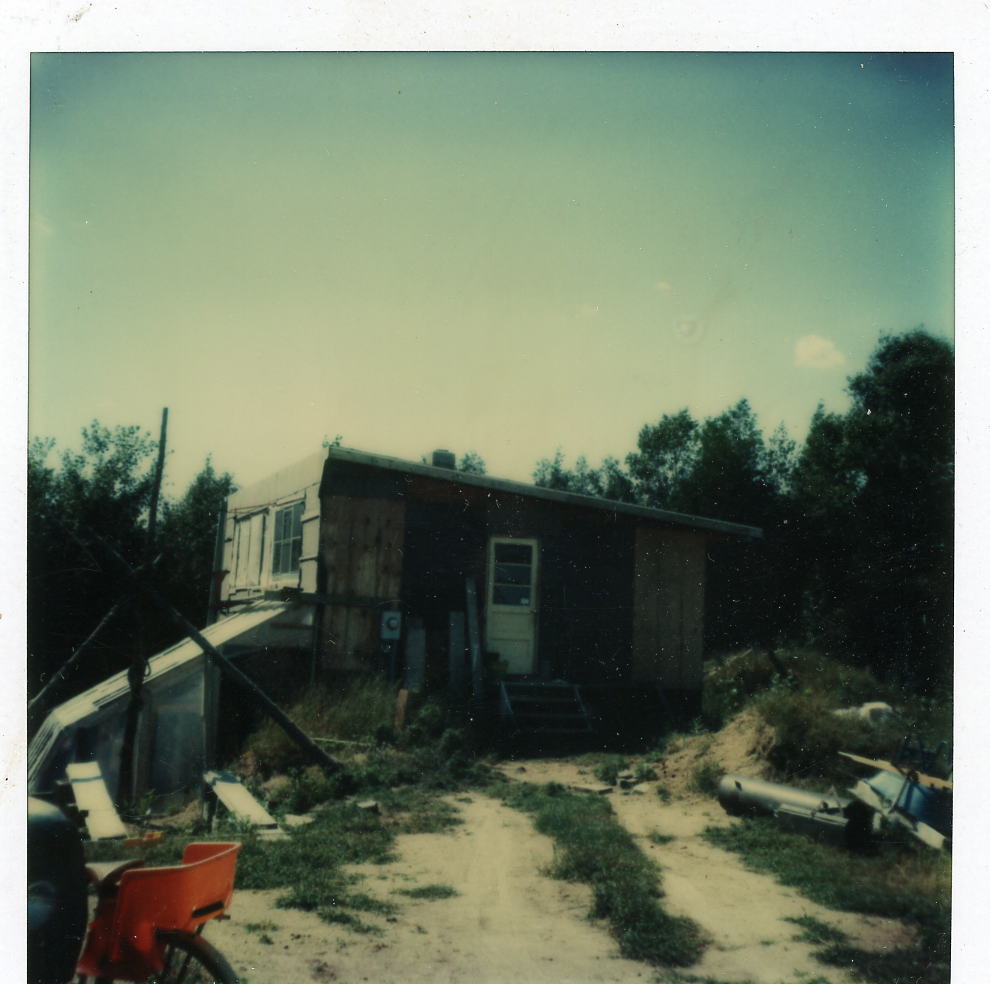 I just found this pic from our humble beginnings (yeah, it's the same house. We hung a hot water heater under the plastic green house for showers. Ahh, the good old days. A VW fan, I had this plank and tripod engine removal setup. Back on to it under the tripod. Block tires, take off a couple of connections, prop up the engine, slide it off the transaxle, hoist the car up for clearance (oil cooling tower sticks up quite a bit), jockey the engine support rearward. Got it down to about 10 mins from drive on to removal.
But, I digress.
Pepe
Wood that bee a Bark Beetle?
Mike, up here in the North West we have the Pine Beatle, loves pine trees to death. Lots of dead trees to be used for Gasifiing VW Bug.
Bob
Bob,
We have some beetle-killed pines here in our yard (Northeast Indiana). When we moved here in 2000, most of the pines in the mixed-variety pine wind-breaks were healthy. Now many are still OK, but others dead or sick. Lots of holes in the bark where the beetles have been. I will be getting a chain-saw soon.
I understand the problem is very serious in the Pacific Northwest.

I would love to recommend a wood gas powered sedan for the museum, I don't know of any except Gary's VW or the wood-powered Caddy! Lots to look at on the Finland / Sweden web sites. I recently saw a cool one on a Russian site, mostly built out of sight into the trunk of their FIAT 124 clone. This is the link.
My aunt had one of those cars when I was a boy.
It was later model Lada.
Awful car, but it was cheap ha ha.
You know I think now that I ponder this for moment, it had a hand crank for emergency starting ( maybe that was a joke my dad used to tell )
I wonder how much work (both installing and operating) it would be to put in a small dynamo to crank up enough juice to start a car engine?
One would probably need a big capacitor to accept and then give up the current for the starter. Standard batteries would charge too slowly so a person would need to crank for 10+ minutes straight just based on charge rate.