It's been done
There are a few actual existing engines built by the mcculuch corporation that escaped into the wilds
I saw pictures of one
There was also a 2 stroke diesel outboard used same principle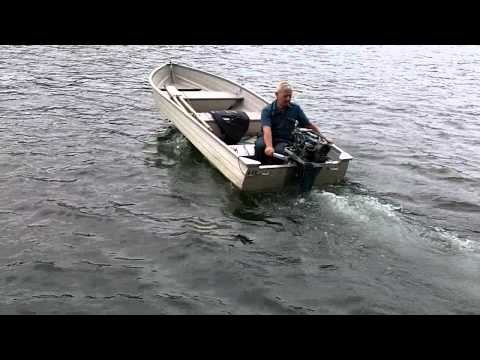 It didn't rev very high and it sounded like it was wear grinding a lot but there wasn't nearly as much smoke as I expected. I was secretly hoping, he would goose it and flip the boat.
According to the flyer it was an opposeable piston design with two crankshafts.

Although not McColllough (it would not surprise me if McCollough prototyped one), this describes two engines from the 1930s that used that principle.
Look up McCulloch bp-1, way ahead of it's time, was recalled to factory and destroyed due to manipulation or failures of the speed governor, it was said they could rev up to 16000rpm

and "grenade" at the operator…
It was also a McCulloch snowmobile/cart engine prototype built this way.
Ya that's he doesn't one and not all the bp-1 were destroyed
My Dad worked there on the 1950s when things were on their peak
BHi BobMac,
Here is an info link to the history of the McCullock Motors Corporation the fellows are referring to as an engines innovator:
A relatively new engine development company in comparison to most of the the others small engine companies US and Europe.
For any new engine design to fly it would have to have the millions of dollars of development done by one the of the existing companies. Then additional 100's of millions of dollars now to multiple worldwide agencies emissions, and safety certifications to have a sellable product.
MacCulloch was for most of it's life in California based. The combination of CA's early emissions laws and boning out of American corporations in the later 80's, early 90's killed it off. Just a traded name now. Wisconsin - the same. Johnson - the same. Tecumseh - the same. Homelite - the same. Many others killed off - Clinton engines, Lawnboy. Shortsighted mis-managed. Starved out. Boned out by profiteers.
No existing engine company will risk investing into new innovative internal combustion engine designs anymore. They are scrambling just to survive the War Against the IC Engines.
Some like Stihl working hard to electrics convert to survive.
Even the Japanese engine manufacturers are now toeing the line to the anti-IC's politicals.
I expect China will be home to the last IC small engine manufactures.
Enjoy what you can get, while you can get it.
S.U.
No, not every bp-1 was destroyed, the ones left has become expensive collectors pieces, the holy grail for chainsaw collectors…
I've had the opportunity to hold one in my own hands, when visiting a fellow chainsaw collector
It certainly made my day
Well that sums it up when you say they have become the holy grail of collectors. The design did not work to keep it into production mode, and the company was miss managed and destroyed by man.
Bob
I have been looking at a lot of youtubes reviewing these Chinese clone saws. I have always wanted a big Stihl but I think the 660 costs around 1200 bucks. I don't really need a saw this big but for the price, why not, even if I'm to old and feeble to pick it up. I do a lot of things that don't make sense.
That price makes me want to buy it purely to process that big oak tree sitting in my back yard. That plus a 28" bar? Done in no time.
I've watched a lot of videos and some by Northwest lumber cutters and aborists and very few out and out disses. Apparently the Chinese company is just buying up outdated designs from the big saw companies and just machining them according to the original specs. That's not saying the materials are the same quality, but then plastic is plastic and it's confirmed that parts can be swapped between the clones and OEM's without issue.
There is a blue one on ebay for 309 with the obligatory x amount of weeks shipping from china.
I have had good luck with Ebay but when I want to order something on-line that may be iffy for delivery or quality I go with Amazon. Never any hassle with returns or any return charges.
Hey TomH,
Maybe re-think your purchasing a Chinese clone chainsaw. Watch this one through to the ending where she talks about an issue with paint inside the muffler burn lifting and flake-chunks scouring the cylinder bore: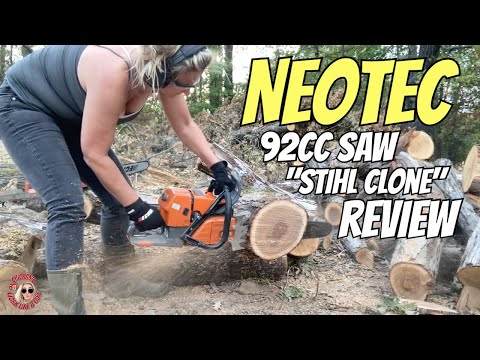 My working "big" saw is her recommended Stihl 440. Bought new, 2003? Used this year. Getting a bit tired now. I'll work it over this winter.
She obviously likes Echo too.
Chinese cone saws? She says junk.
S.U.
she says the one tom pointed to are better in this video the famertec holzfforma but this one is blue so I don't know if that is just different plastic or a generational or Model year type of difference.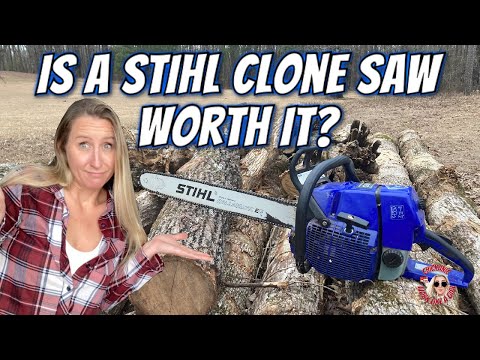 Yeah, mostly something I came across to post about SteveU. I don't really need a big saw. If I have a tree over two foot in diameter it's considered a monster around here. I would be better served spending the money on a better welder.
I wonder if it's as easily solved as dipping the muffler in paint remover.
I would probably get the OTHER chinese brand. But She went out of her way to give that saw a bad review. I mean no one uses a brand new chain, because they are dummy sharpened, and she said it was the same chain with the 460, but she didn't say she didn't sharpen it. and wow look how much better the 460 cut!
Maybe the paint was an issue, and maybe she didn't put mixed gas in it to cause cylinder scoring because she decided she wanted to give it a bad review and send it back.
If my stihl sits for longer then about 5m off, I have to use the choke to get it started. The kill switch being off… she had to have known that was an issue prior to the video because she already said she had it running.
I won't take that video as an honest review.
I know a few guys that have played around with the knock of stihls, holzwaterver cant pronounce it right im sure. Everyone I know didnt say they loved it, but the old saws they are modeled after were not LOVED. The were TRUSTED. Big heavy bear of a falling/ milling saw. Half the price of a old one, brand new. Know a few guys buying then to use as parts to bring back the old saws and breath new life into them. Only chinese knock off I got to run personally was the knock of echo 2511 top handled climbers saw, and it was a sweet heart with some hot pico chain on it, a 16" bar and a mild muffler port. Small, lots of rippems, extremly light weight and good on fuel. Buddy still has it and runs it in the trees often when the stihl 200t power isnt needed. Dont know why but the addition of a primer bulb just rubbed me the wrong way, out of place every time I looked at it