Hello Marcus .
Just a few of my thoughts .
Safety #1
A small motor that will stall easy or an adjustable slip clutch or maybe a shear bolt .
Being comfortable while operating . Something to lean to or brace up on . A place to sit if chunking small wood .
Left handed or right handed . Mine is right handed .
For what it is worth I run my chunkier in reverse . Small tractors PTO run opposite as motor rotation.
Chunking seems to work best if running 60 - 70 rpm.
On your cutting wheel I think you will find it best for the cutter to stay wide open for 90-120 degrees cycle for ease of loading . This adjustment can be done at a later date with a torch .
Still working on the lean up/ brace point, that will be a on the fly fab thing. Technically I think it will be left handed as it will come down and in to the right to make the cut, without reversing the cutter out over the top of the axle it has to be that way. The way you will stand at it will be just like Mike's chunker just cutting over the axle tube instead of out in the open. Have no figured out rpm yet, trying to find an adapter to change the generator motor from a 3/4" tapered shaft up to a common size pulley. Thinking to use a serpentine belt drive for some slip-tion and safety. I really like that auto tentioner on Mike's that was a great idea, see if I can figure something when I get to that point
After several hours not coming up with what I needed I went back to keep it simple stupid

Scrap pile ford altertater
Good condition serpentine pulley, wrong bore and not tapered. Bored with a step bit to the correct 3/4 bore and let the step form the taper
New shorter bolt and a few washers to give good clamping force without bottoming out the bolt. Think that will do just fine for what I need. Could always tack weld it in place if it starts to spin, but it's a very snug fit and runs perfectly true with the crank
And back to hammer forming, handy for making templates too

Man I love the scrap pile! Like it was meant to be, this guard off a conveyor already has 2 of my holes drilled and is the perfect size!
I really like the way you reversed the cutter from my design. No flexing problems at all.
As usual you have excellent workmanship
Hi Marcus,
Well you will certainly be trying it differently.
Ha! I am very left handed. So's very accustomed to using right hand biased tools.
You a right hander (from your welding) will learn to make-it-work too.
Preserve the opposite end of that axle just in case the cutoff chunks hang up inside too much; or elbow knocking against the pumpkin becomes too much a bother.
You could then open-out remount on the other end and keep the same rotation.
Regards
Steve Unruh
Exactly my plan Steve! Also have both brake rotors on the other side as more flywheel weight for the time being like you talked about. Need a couple more lug nuts to keep them on there good, axle only came with 4
Thank you Mike, and thanks again for the cutter, made life a lot easier to get this project going!
Hey man, You just had me go back watching an old Wayne Keith chunking video: Wood powered Chunker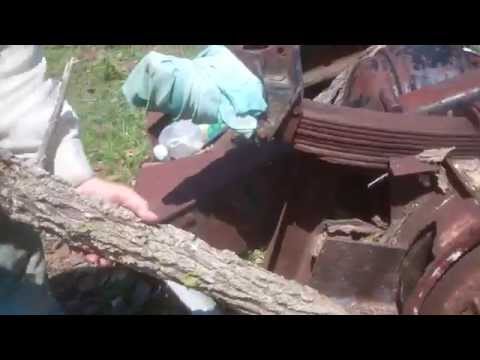 I'd forgotten that he chunked from the inside. Left-handed! Ha! And watch him use his recommended leaning perch.
Mid-2014. He later that year did mount a WK purpose made system on that IHC tractor.
S.U.
Every time I watch that I can barely believe that in all those years no one has had to call him Stumpy or Captain Hook. Me, I'd probably burn about the last foot in the wood stove.
Good morning Marcus .
Thanks much for the video !!
I think it is OK for a little clashing sound as you chunk . Must keep a rhythm

It just tickles itself a little, pretty excited to hear it make that nice chunking rythm soon! Brainstorming how to attach the brake drum and a tire to the pinion right now for the belt drive
Just gave me a great idea for a video later on Wayne thank you.

Nothing beats watching a fabrication expert at work, Marcus! And all the proper tools and everything.
I still don't understand how you manage to end up with such beautiful welds. I'm impressed.
Good work Marcus, I agree with the praise from Jo, but as I said at the beginning, this project is too easy for a master like Marcus, I should do a more demanding task and it would be more fun, …
Mr. Wayne, I also love music from Johnny Cash and I must not forget this gentleman Leonard Cohen - I'm Your Man (Live in Dublin - edited) - YouTube
Guess you guys will like the next video I'm working on, pretty much all time lapse fabricobble

was hoping to have it mostly done today but a service call in the north end of the state far from home put a hault to that