Thanks Mr Steve, one of my wife s favourites.
Nice and steady hands you have with that plasma. Good welds!
56 years of building stuff and I never thought about your hammer forming technique for gaskets and templates. Duh.
Whats the brake drum off of? Looks like welding a couple of them together would make a nice reactor vessel.
Thank you joep, I didn't have my normal 3 cups of coffee this morning so I'm a little more steady then usual
I use the hammer forming trick all the time to get nice accurate bolt patterns, works like a charm! The brake drum is off the drive axle of one of our sterling big rigs, when they get heat checked or blow a wheel seal they get replaced. More expensive to have them sent out and machine then to buy new so I get a lot of them in the scrap pile. Should be able to get then anywhere that works on dump trucks or semis pretty much industry standard to toss them nowadays. Weighs about 80lbs so should make a good flywheel, I think it's the same that Wayne has on his chunker on the pinion as well
Ideas going forwards now:
Jussi Aysto 2009
Transit bus axle, electric motor contact wheel driven.
S.U.
Search up by Bing, youtube, Google "Jussi Aysto wood chunker". Even with two letters not Finnish but english this can be found.
50m second video. He has added a spiral horn screw splitter onto the axle off end.
S.U.
Spiral attachment is exactly what I was thinking for the other side
Get rid of the extra B.S. in the video link address (after a copy and paste) before "https:" and the ")" at the end and it will work, I think…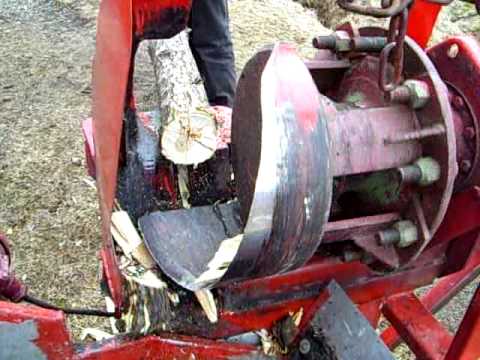 I'm digging the conveyor idea for later too, under advise from Mike mine will be at least tall enough for a wheel barrow to get under the cutter, possible a garbage can since that's what I chunk into with table saw right now and is easy to move around once filled and on wheels. Brought in a junk rotted out motorcycle trailer and hacked it apart for the axle and tongue that will get a new frame and chunker mounted to it. Thinking removable tongue for stationary chunking. Since I plan to move soon the trailer seems the best choice for ease of relocation and that trailer has been sitting out in the back yard many years with no title and no purpose. Technically a firewood splitter so no lights, title or plate needed to tow it. I'm sure it will raise an eyebrow or 2 though when it's behind the chevotafire


ok now Mike, one idea at a time! Gotta finish to at least the point I can chunk before I add ideas 2 and 3 ( spiral splitter and rebak) that's a real do all in one system, pretty slick. I dig the auto feed for the rebax he added like industrial chippers have with the feed rollers. Sure glad I titled this thread version one

I like the backing roller I saw at 0:54. Simple ideas are the best.
Next video is uploading and I need some input. This will be mounted on a trailer that will get towed down the road and I'm not sure in what position to mount it. I plan to have the drive tire centered over the trailer tire since that is the heaviest part of the chunker it will need to be centered to balance the weight on the trailer frame. Don't want to much tongue weight but of course don't want a tail wagger either. But the centerline of the chunker axle doesn't seem right to center in the trailer frame over the tongue of the trailer, I think there is more weight to the pinion side, should I shift the chunker over one side of the trailer? Here are a few pictures to give you an idea what I mean

I think the backside of the flywheel brake drum should be about centered weight wise, maybe?
Two thoughts Marcus. But not certainties. Not must do's.
You are at near minimum belt wrap on the engine pulley. If a problem a longer belt with a spring arm slack side tensioner makes for more pulley wrap.
GM and others; belt pull side tensioners would best compensate for tire runout. Ha. But do wear out tensioner pivots.
On the trailer mounting I think you are going to want then drum shear on the tongue end. You need to be able to jack it UP for user back-ease. And to make space underneath for chunks catching. Maybe a removable tongue, eh.
Opposite end with a spiral horn can be low OK then.
You want to highway speed tow so have to keep the weight mass low mounted.
S.U.
I am debating a smooth face idler pulley that could double as a secondary tentioner that would give me more belt to pulley contact as I think that may become an issue with belt slip, but I won't know for sure till I can fire it up and chunk something and see how it reacts, I would prefer more belt to pulley contact but with space restrictions it is more difficult to achieve then I initially thought
It was my thought as well that you needed more belt to pulley percentage when I watched the video. As always, excellent work.
What do you guys think about having the chunker offset of the middle of the trailer? I just think it's pinion heavy so I need to offset it some to even the load on the trailer