We are now open for Discussion fellow wood gasifiers.
Earlier today a new thought came out of my brain, so here it is on paper. Very rough sketch hope you can follow it.
Oh the other thing is it will be married up to a WK Gasifier but NO Questions about the building of that please. This can be married to other types of gasifiers too. I will open a building thread later on the Premium side.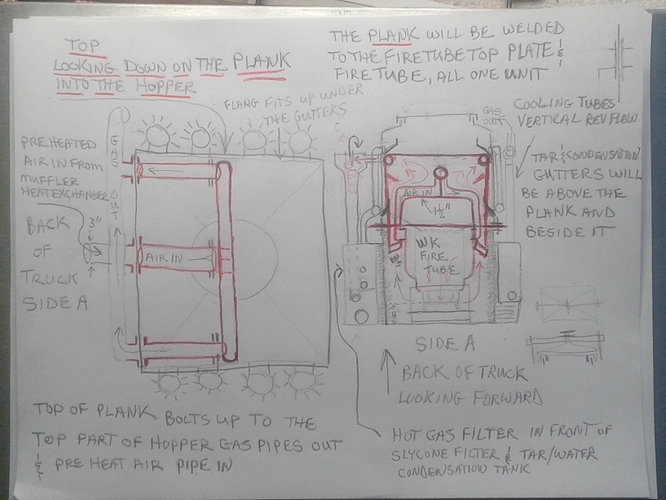 Okay in the red outline is the plank in the hopper, and how it will be welded the the fire tube top plate and welded to the fire tube. Also how the hot wood gas goes up through the lower part of the gasifier into the plank and preheat even more the incoming preheated air.
I want thank
@gasman
, and
@Chris
for there part of the plank hopper ideas and different designs they have come up with.
Not sure where the original design concept came from. Chris has a build started, but has more important things to attend to at the moment.
The only places on top of the plank that touches the hopper is air pipe flange coming into the hopper and the 2 gas flanges going out the hopper. All 3 will be sealed tight to the outside of the hopper pipes.
Bob