Yes , what JO said very well

True. A vacuum automixer, wich Bob has (built by Chris), and l had on my Chevy has its limitations. It works good when the sistem is warmed up and runing at its best. I am willing to bet it also makes driveing more efficiant since the gas mix is ideal in every kind of gas demand/engine power, while a manual setting is a kind of average.
But for every other scenario its preety much useless. When warming up its going to run lean. Ift the gas becomes rich, like in a case of going full power down to low power, the engine can even suffocate. Not to mention air leaks, they are a no ho with a vacuum automixer while on manual seting it can be adjusted for them.
This sayd, l dubt l will ever be making a vacuum automixer again, maybee for a stationary sistem. But there is always that "it depends" thing… while my Mercedes hadnt even had a from the cab adjustible gas mixer, it was just set to what ran best and never touched again untill the filter had to be cleaned, my current ride, Škoda, is extremely picky on air gas ratio. Not sure why. I will be naking a electronic mixer for it if l get tge time any time soon…
Hi Giorgio, I will NOT be using a auto mixer in my next build. It is not needed, and I have had to spend way to much time working on it, which means less time DOW. Just go with the manual controls. It give you the operator more controlling adjustments when operating your gasifer.
Bob
Robert, I partly agree with you, probably for driving a car this is true when the driver is present behind the dashboard and making corrections, but if the engine acts as a generator and the load is constantly monitored, things are different, similar is a working machine.
The one nice thing about a auto mixer is anyone can get behind the wheel and drive my truck. I proved it at Argos a few years ago. One boy was a student driver. His dad went with us for a drive. Lemons would have not helped with the SWEM that young boy had on this face.
Bob
Not flow resistance, but inertia of gas flowing in long pipes. The automixer is only useful when speeding up and slowing down.
Rindert
Speeding up and slowing down yes, but at a idle I can push or pull on the air mixing valve control rod and get the ratio off the 1 to 1 , let the valve recenter itself and you have now a 1 to 1 air/gas ratio again. As long as the gases are moving through the auto mixer it will open the air valve according. In fact when you take off from a stop there is a little lag time for the air valve to open up. This gives you rich gases for a few seconds and this helps with the engine acceleration.
Bob
Bob, you have two air adjustment valves right?
Your automatic mixer controls the fine tuning for air? Or am I mistaken and you only have one air valve with manual override.
I have two air valves, one is the manual 2" when running on gasoline or opening it up very little to hybrid or just adding extra air if needed. The other is my auto mixer valve it opens up when the auto mixer is in service. My two 2" gas from my gasifer are not air tight valves and they come together into a 2" line. Off of one of the 2" gas delivery lines I have a 1" line to modified motorcycle carburetor valve that is air thight when closed. It by pass my auto mixer so I can add extra wood gases to the engine to force it to run richer wood gas ratios. The auto mixer operates the same. So if I open my 2" manual air valve a little I can now manually mix more air into my engine then the auto mixer could do by itself. It was limited to only 1 7/8 opening on would gas into the engine. So now I have a 2 7/8" gas delivery to my 5.2 L engine. I can now over pull my gasifer at highway speeds. Before with the auto mixer only, I could not. This gasifer can run a 5.8 L engine with no problems. It has the same size nozzles of the old 8 nozzle firetube but now has 12 nozzles.
Bob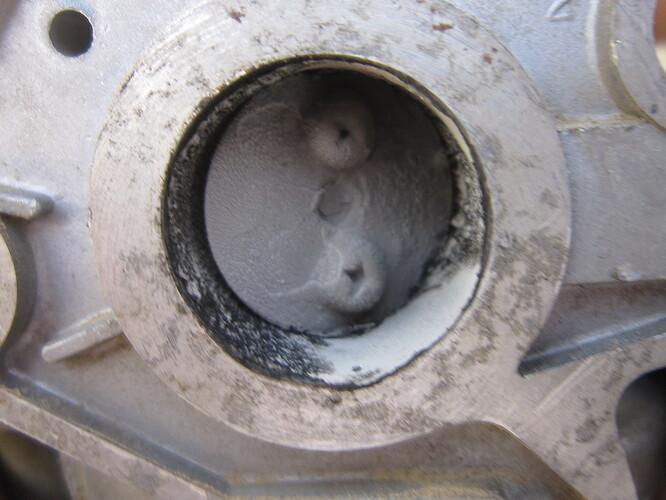 another question comes up : how much dust is allowed??
the answer i think of course, -less as possible!
i use stainles mesh for filtering- the charcoal is normally very dry.
the mesh has 4356 mesh at one quarter inch (is 676 mesh at one quarter cm)…
is this mesh fine enough?
besides a foto of the throttle after 6 hours run…
who has experience?
ciao giorgio
Giorgio, I use a canvas sack filter for my Mazda. Since I adopted that I do not have soot on my carburetor. Maybe the mesh isn't tight enough to grab the smallest of ash and soot?
thanks cody…i will make some try with sacks-bath towel, and the metal mesh inside for security, in case the sack not withstands the heat, my filter is also cooler…
the suction of a bigger engine like as your mazda is shure more strong as my little 250 honda, so maybee the filter plugs quicker???
after trying more wisdom
Giorgio, unfortunaly the answer is NO dust. Unlike soot from a wood gasifier, wich does not hurt the engine, the dust from a charcoal gasifier contains mainly ash and particles of slag (glass) wich is real bad for the engine!
I used the similar format like you described. Towel bag with a screen on the inside to hold it's shape and be a backup catch screen.
When the dust collects on the bag filter it helps it filter even more. Using the filter so dirty gas is outside and cleaned gas is inside the bag allows the ash and soot to settle off.
ciao kristijan, i thought a little bit of dust is not to avoid…how you as one of the long term experts -also in charcoal gasifying-manage your filtering of the chargas?
i read somewhere on your posts from the bath towel for filtering in your car…is this all??
ciao giorgio
Yes this is all and it works well enaugh. But it works best for slightly damp gas. If you say you have wery dry gas then you can also use a even thighter material, and will get even better resaults.
Filter oil will work to improve a cotton towel filter but too much will wet the filter and make it a poor flowing filter
Moisten the towel in gasoline and apply a little oil and work it in.
Unlike a foam filter that says you want to be just a tiny bit sticky a cotton towel should after it dries just feel a bit oily
This will catch and hold dust
You can make a safety filter from a sock oiled up this way. If dust gets past your main filter an oiled dock will catch it and clog gas you will know it!!
This is a good trick Wallace! Thanks.
You might be able to use a thicker gear oil but it must be sticky not runny
Runny wet oils will slowly get sucked into the engine and bring the fine ash dust with it
This is even worse than dry dust because it more likely to coat things and work it's way deep into a motor
Giorgio's mesh is too fine to work as a filter
But it's a fantastic flame arrestor
Putting that screen between sections will help prevent back fires from travelling through the system between filter engine or gasifier
If you have a very large filter it might be worth adding a burst disk or some sort of pressure relief so yo don't blow open a seam weld or damage anything in a backfire
( Yikes ask me how loud that is ha ha )
Can grease be disolved in gasoline or any other solvent?