Don't get too excited, this is me planning WAY into the future. Right now I don't even have the vehicle for it. But someday I do plan to make "The Big Tour" happen.
The idea is, I would take a summer roadtrip and see all the woodgassers around the country. Along the way do a video blog about it, or interviews, something like that. Maybe even a full on documentary.
I started putting people on the map, and came up with around 50 stops, even venturing into Canada!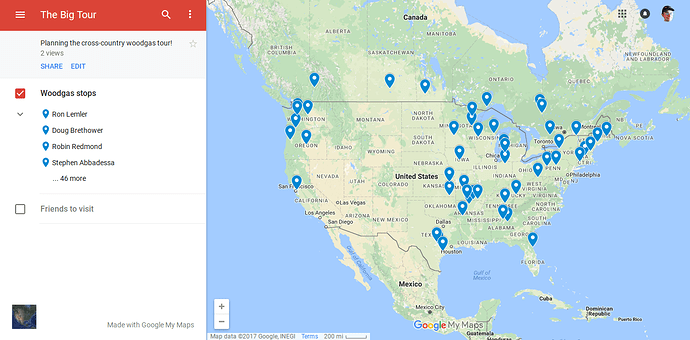 [Sorry I can't share the actual map, the locations are too specific and it would violate DOW user privacy.]
I have no idea what kind of mileage this would be, I'll update this if I figure it out. EDIT: at least 12K. Probably closer to 15.
If I timed it right, I should be able to hit a woodgas meetup or two, maybe a Mother Earth News fair.
Let me know what you think, and if you would be up for such a visit someday. Each stop I would want to take some video, get a tour of your place, a ride/demo of your setup, refuel and possibly spend the night (probably will have a helper).
Again this is not in the near future. I'm mostly just thinking out loud, and looking for feedback.