Bag filter is installed this baby is ready to rock!!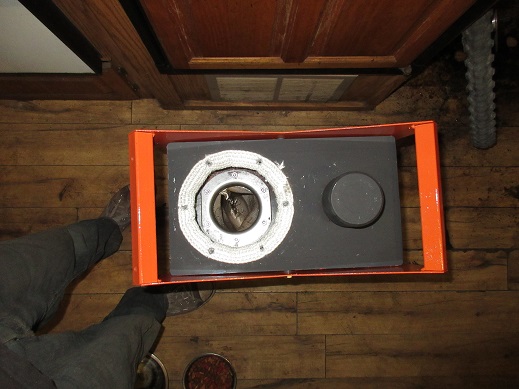 Success!!
Fired this thing up in less than a minute. Realized real quick I had to go to high temp hose, no biggy. Swapped that out and went straight to engine run. I think I got maybe a 1/2 hour run I did not really keep track. I will next run.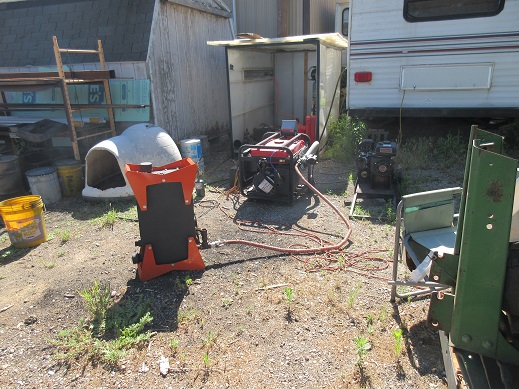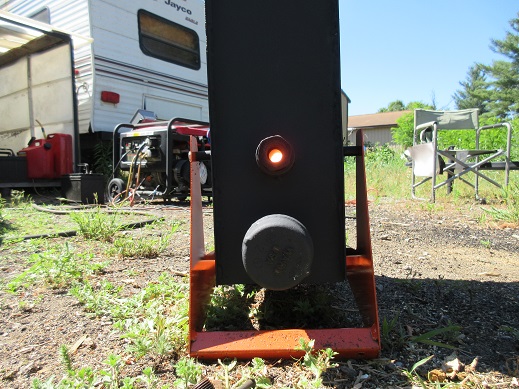 The Flare is lit here. Trust me it is!! haha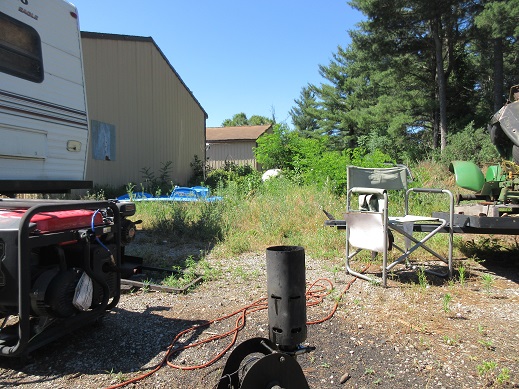 This here is the DIY "solar generator" / "portable power unit"
Ill have the build video up in a few days.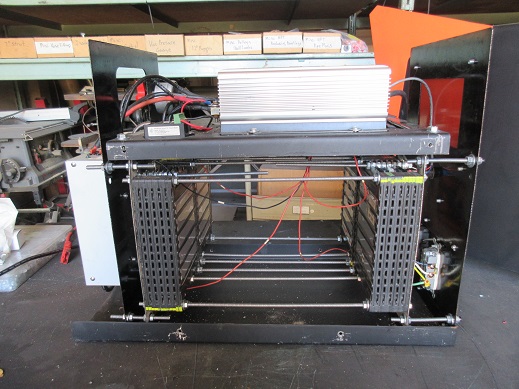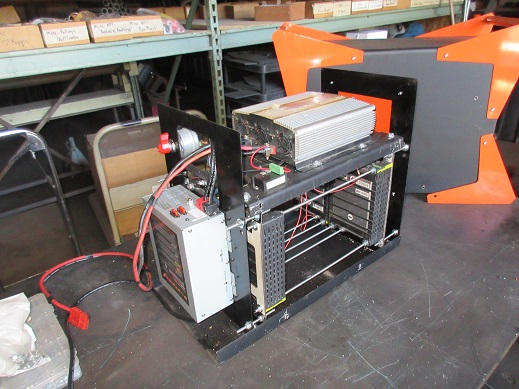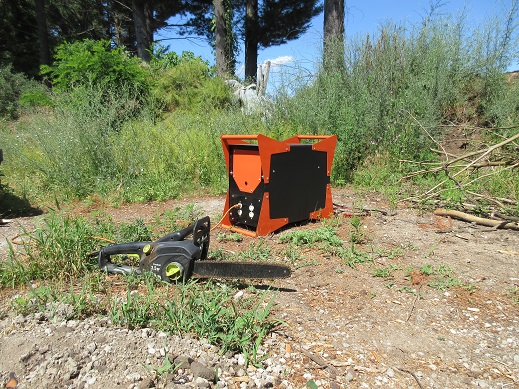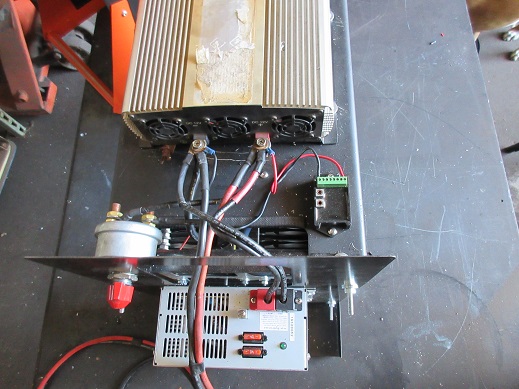 Are those the batt packs? I really like them. They are a lot easier to work with then 18650. I want to build the same with pieces from Victron. Expensive but very good and it is possible to program for your own situation grid/ off grid and so on. Here are still 3 -300 W panels waiting … Can become a beautiful power-pack.
Im going to offer a customizable controller for this eventually. .
Rather than use Victron, look into getting a blue tooth battery monitor. I have a Thornwave inside this and have a cell phone app that works with it. These have outputs to control an external relay for high and low voltage cut offs. I use this output for input into an Arduino for generator autostart systems.
You still need a BMS or you create a fireworks display. The more batteries the bigger your display. These cells are no joke, very powerful cells in a tiny package.
Working with these cells is still a job. I did eventually get a system down. If you use threaded rod, use aluminum rod and hardware. Get nuts that are a size larger than the rod; these will act as bushing separator / spacers between the cells. So these larger nuts will need to slip over the threaded rod. You assemble the stack one cell at a time. You may need to add washers to keep the spacing uniform. Then once you have all the cells in place you use a nut on each side to tighten everything up.
Yeah these are nice cells to work with. I am going to change this design so it stands 90 degrees from this one and add a set of wheels. It is a beast to carry by yourself.
You can also use LifePo 4 cells in this kit. I will be designing the power tower around these cells and also a version using the Headway cells. No plans for the 18650's they are too difficult to work with and second hand cells you have a good chance of getting a dud. So the cells must be serviceable.
My situation is a little more complex, maybe make something my own. Did some Arduino but still very very new to me. Still dubbing
That is another thing, I don't where to look at. Wich bms is right or not. Can you use lead accid and lion in one system? This is also very new to me.
Thanks for the tip! Good thinking! If one nut is lose, there is some firework. This way less room for mistakes.
Here is the cold start up video I did last night. I am getting roughly 1/2 hour run time running the 420 cc Predator. I think the 212 cc 4 kW Predator would be a better match

For your BMS you need to know how big of a series cell system you are going to build, what is your maximum amperage you intend to pull and what is your battery chemistry. Once you have this info, you go to ebay or amazon and simply find one that meets your requirements. This does not have to be expensive. but the BMS is the one thing you dont want to skimp on. Research any BMS you intend on buying and make sure its a good product before buying.
These here are good BMS modules and you can them for anything want to build.
So Im in talks with Battery Hookup and another company (Thornwave) to mass produce that portable power unit. The aim is to build a lower cost unit than what is out there but with more features, power and versatility beyond just solar.
Our version will feature higher output inverters, higher input DC charger, with auto generator start and stop feature. a bit more storage capacity, cell phone app with optional on board display controls and more.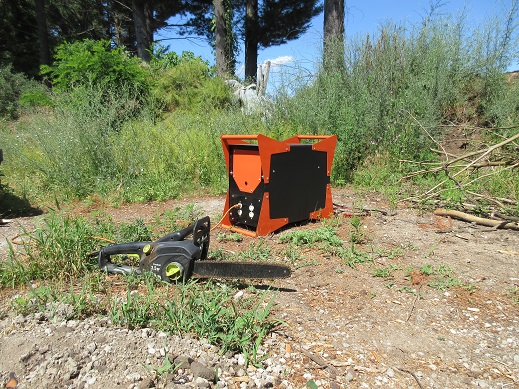 Any plans to hook something like this up to SOFCs?
Rindert
Of coarse, but no money to buy one

yeah wouldnt that be cool, battery storage, inverter and SOFC all combined into one.
I tried to buy this , They asked for 35 thousand dollars I asked if that included car .
I saw similar unit from Japan for $2000. saw a leaf battery from wreck as is $3000. and reusing
electric vehicle battery pack is a thing again I spent $6000 on lead .
Tokyo, March 9, 2012 - Mitsubishi Motors Corporation (MMC) announced today that it will bring to market on April 27 the new MiEV power BOX power feeder which is capable of supplying large amounts of electrical power from an electric vehicle (EV). Supplied by a Mitsubishi Group affiliate, the MiEV power BOX will be offered as a dealer option for the company's i-MiEV *1 and MINICAB-MiEV EVs and will carry a manufacturer's recommended tax-inclusive price of $1394.14
*1: Mitsubishi innovative Electric Vehicle
The MiEV power BOX is an adapter that plugs into the i-MiEV or MINICAB-MiEV's quick charging connector and is capable of supplying up to 1500 watts of AC electricity from the power stored in the vehicle's drive battery. It has been designed mainly to power household electrical appliances either when away from home or in an emergency. When connected to a fully-charged 16.0 kWh battery-equipped model the MiEV power BOX can supply 1500 watts of power for between five and six hours, equivalent to the amount consumed by an average Japanese household in a single day.
Much attention is currently being focused on the storage capabilities of high capacity EV batteries as a power source for use in major disasters and other emergencies. This comes at a time when solar power, wind power, and other recyclable energy sources are being promoted and the near-future implementation of "smart grids" which will allow the more effective use of electrical power. More and more people are looking to the EV both in terms of its traditional role of addressing environmental issues and also as a means of addressing ever-growing pressures on the demand and supply of energy. To meet these expectations MMC is pushing forward research and development into related technologies, one of which is the MiEV power BOX.
The Quasar will cost about $4,000—possibly subsidized to less by utility partnerships—and made its premiere for the U.S. at CES in January.
It will be available here later in 2020, according to Wallbox, but it will only be initially usable by those who have a vehicle with native CHAdeMO DC fast charging, like the Nissan Leaf
The Leaf and most other CHAdeMO vehicles are capable of bi-directional charging "out of the box." It's just not a capability that Nissan has ever taken advantage of for home customers in the U.S.
"For a normal home setup with a grid-tied Quasar, you don't need any special hardware as the vehicles are already enabled for bidirectional charging, and if you are in a utility territory where you can send energy back onto the grid, you would observe all permits for interconnection to the grid," said Doug Alfaro, Wallbox general manager for North America.
United States Air Force Unveils Plug-In Electric Vehicle Fleet at Los Angeles Air Force Base
Princeton Power Systems Demonstrates EV Fast-Charger That Provides 100 Miles of Range in 20 Minutes With Additional Vehicle-to-Grid Capabilities
Email Print Friendly Share
November 14, 2014 11:00 ET | Source: Princeton Power Systems
PRINCETON, NJ–(Marketwired - Nov 14, 2014) - Princeton Power Systems, Inc., a leader in global design and manufacturing of technology products and embedded software for energy management, micro-grid operations, and electric vehicle charging, took part today in the unveiling of a unique Plug-In Electric Fleet on November 14th at 10:45am at The Gordon Conference Center at the Los Angeles Air Force Base in California (LAAFB). Princeton Power Systems designed and delivered a fleet of bi-directional electric vehicle charging stations that can both rapidly charge the passenger vehicles and provide grid-support services back to the electric utility and grid operator. Princeton Power Systems was called upon to be a key contributor to the ground-breaking project due to the proven reliability and flexibility of its UL-listed GTIB product family, and the company's track record of successful military and commercial Microgrid projects.
Princeton Power Systems delivered and commissioned thirteen CHAdeMO-compliant fast-charging stations based on the UL-Certified bi-directional multi-port converter; the GTIB-30. The new charging station products, named the CA-15 and CA-30, are capable of 15 kW and 30 kW charging rates respectively. Working directly with electric vehicle OEMs and third-party fleet-management software aggregators, Princeton Power played a vital role in developing the LAAFB solution, enabling the vehicles to compete in the electrical utility ancillary service markets and provide energy services to the Department of Defense (DOD) facilities. The ancillary service revenues will partially offset the EV fleet lease expense, while also providing the potential to improve energy security on base.
"The Department of Defense and Princeton Power Systems share the view that electric vehicle fleets can have long-term cost, logistics, fuel diversity, and environmental benefits,"said Darren Hammell, Chief Strategy Officer and Co-Founder, Princeton Power Systems. "In conjunction with the fast-charging, bi-directional CA-15 charging stations, the vehicles at the Los Angeles Air Force Base also can provide valuable services to the electric grid, further increasing the economic and environmental sustainability of this unique solution."
"We absolutely couldn't have done this without our federal, state and private partners," said Miranda Ballentine, assistant secretary of the Air Force for installations, environment and energy. "The shared investment and commitment by our partners illustrates that innovations such as this have value not only to the Air Force and Department of Defense, but to the nation as a whole."
During normal usage, the charging stations will rapidly charge the electric vehicles directly from the electric grid, enabling LAAFB personnel to utilize the electric vehicles as transportation within the base and the region. When called upon to support a vehicle-to-grid request, the electric vehicle's on-board battery can be discharged rapidly directly into the grid. The rate of charging and discharging, and communication with the car and the grid, are all managed by the CA-15 charging station in a safe and reliable manner, meeting all local and national grid-interconnect codes. In addition to supporting the efficiency and reliability of the distribution system, the charging station and vehicle can provide demand response, VAR support, frequency regulation, and other operating modes.
So made some major updates to the site.
Ive added the Fusion family of products. This system is giong to be cool if I can find a willing buyer. I think for $18,000.00 I can build the entire system.
This would include the stove for all primary heating, hot water and fuel production for the Fusion Gasifier module. The Fusion Gasifier Module with roughly 2 hour run time fully automated, a V Twin Vertical Drive 5 kW generator, 1000 watt solar panel array, 9.6 kW / hour battery storage system, with built in hybrid inverter and heating system for cold weather.
So for $18,000 bucks this thing covers all your energy needs and is turnkey!! Hardly any work involved in fueling your gasifier, the solar array will make this more viable and you should generate a surplus of charcoal for bio char use and even grilling, Thanks to Todd Harpster it will feature full automation with a networked system. Possibly a remote interface in the home or even a cell phone app to control it

Edit: Wix is being stupid, the preview is showing the Flex system.

What is that?
That includes all fuel processing equipment, battery storage systems and everything??
Keep in mind, this system for $18000.00 is supplying more than just the 5 kW of charging power. Its supply 100% of your heating. So if we factor 60,000 btu output and convert that and then add in, the 6 kW from the power unit and Solar. That puts this system at 23…5 kW of total energy output. Putting it at $1.30 pr watt and this is nearly 100% turnkey other than cutting spitting fire wood for the system. Most that heat with wood all ready are willing to do that.
So your saying there is a system this nearly 40 kW of power output for just $5169.00 USD. Where? and Who makes it??
You can not by a gasoline generator with that kind of output for that kind of money.
Wait 13 cents pr kW/hour?? I think you need to re evaluate your math bud. Thats 13 cents pr 1000 watts!!
Maybe elaborate a little bit of what your comparing. Is this what you are paying or the machine is saving you from the electric company??? Or is the cost per watt of the machine?
pay back for 5 kw solar from 2013 at retail and wholesale rate close to 40 Mwh . Having dust from Sahara desert today .
Ah ok now it makes sense