###Yeees! Finally able to log in
Jan-Ola Olsson on Wed, 01/28/2015
Dear woodlovers,
I´m really happy to ba able to join you.
My name is Jan-Ola Olsson. I´m 46 and I live in Sweden.
I´m no good with computers and I don´t even know if I´m wrighting in the right place now. I always belived blogs were for teenaged girls to show off their new haircut or makeup.
This winter I´ve been reading almost all there is, for free, on gasification in the internet. I haven´t bought a book - yet. WK´s will soon be the first but I would like to get hold of Vesa´s as well. His apparatus looks a bit expensive though, unless you´re in the milking business. I´ve started collecting som junk (well - I always have, but) for a gasifier build. Can´t wait for warmer springtime welding season.
I love wood. I love cutting, processing and burning wood. I´m heating my house and my shop with wood and I´m occasionally sawing some lumber with my home made sawmill. I hope I´ll soon drive on wood. I love DOW.
Regards
/JO
PS. Since I don´t yet have a gasifier to show you - this is my low cost redneck sawmill: (Our oldest daughter made this clip a few years ago. I,ve done som improvements since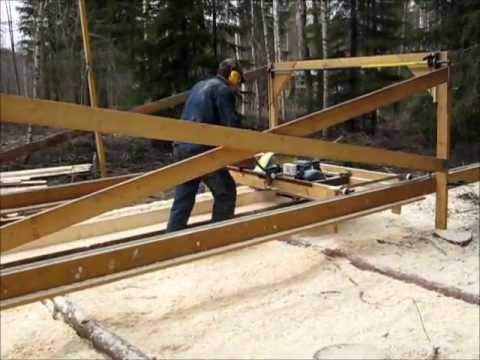 ---
Andrew Heath on Wed, 01/28/2015
Hello Jan,
I had to laugh when I read your opinion on blogs. I totally agree. I think you will find Mr Waynes book and premium membership here is money well spent. You will have in one place all the information you need to build a working system the first time, without trying to correlate random facts from different sources. The design we are working with is built from readily available materials and is already proven to work, and work well.
Welcome to the fray, Andy
---
Jan-Ola Olsson on Wed, 01/28/2015
Thanks, Andrew!
/JO
PS Rereading your comment and what I wrote it suddenly occured to me i might have offended someone. I never ment that. This was not my opinion of blogs. It was just what I, until resently, thought it was mainly used for. Using a forign language can be difficult sometimes. Starting learning english from brittish school textbook material and later in life only adding Eddie Murphy and Bruce Willis language doesn´t help. Sorry (I will try stick to gasifier discussion from now on)
---
Wayne Keith on Wed, 01/28/2015
Hello Mr. Olsson and welcome to the site sir.
Thanks for the video of the saw mill , I like it!
If you have a saw mill you will have a lot of scrap wood and waste to do away with. That should work nice for running a vehicle, farm tractor and heating ones home.
I also have a saw that I built from junk . I didn't know if it would last any time but I have been running it for over 16 years now . I can't drive enough and the winters are not cold enough to use all the scrap that accumulates .
It can be seen here http://driveonwood.com/forum/96
Thanks
Wayne
---
Jan-Ola Olsson on Wed, 01/28/2015
Thank you, Mr Keith
Your mill looks just a little more robust than mine. Do you have a gasifier on the tractor powering it?
In my dreams I have a gasifier and genhead for remote locations in the woods.
/JO
---
Steve Unruh on Wed, 01/28/2015
Hello /JO
You can view anywhere on any topic in the TOP Forums or Whats New sections and post as you wish.
Starting your own blog topic is an excellent introduction and statement of intent.
And since you already REAL bulk wood space heating for home and shop you will be years and thousands of hours, hands splinter experienced, and then head and shoulders above those without this actual wood fuel as a personal use fuel experience.
"Sweating" wood for REAL use counts for far more that Degrees or Net-time by an urban.
Look up the works and sites in Sweden for Stigg-Eric Werner and Johan Liddel.
They are Real woodgassers too. Engine powering with woodgas in your climate with your wood species. And save you much grief and time versus the only natural and propane gas experienced wanna-bee's.
Regards from the woodfire-side
Steve Unruh
---
Wayne Keith on Wed, 01/28/2015
Hello /JO
The sawmill is powered by a little 4 cylinder Mercedes diesel and uses very little fuel . Because of the fuel economy I have chosen to leave it as is .
Wayne
---
Jan-Ola Olsson on Wed, 01/28/2015
Hello Steve,
Thank you for your encouraging comments.
I have studied Johan and S-E Werners works and sites for years. There is also Markus Almroth and his excellent site: gengas.nu (avaliable in english).
I,ve not yet contacted any of them. Maybe I will soon.
I found out about DOW just resently and it boosted my interest in gasification. Very avaliable and lots of active members appealed to me. I like WK style being rather discrete. Pickup is easier of course, but still a lot of clever ideas.
JO
---
Mike LaRosa on Thu, 01/29/2015
Werner's site should be gengas.se and Johan's site is vedbil.se . I think his last name is Linnel or Linell
---
Arvid Olson on Thu, 01/29/2015
Hello and welcome to the site.
My dad's parents immigrated from Skåne to northern Ontario Canada in the early 1900's. They didn't know each other there and met here… Lots of good people here. If you have questions we'll all do our best to answer or at least offer advice.
Looking forward to see what you build.
Arvid
---
Jan-Ola Olsson on Thu, 01/29/2015
Thanks Mike,
Language barrier again, I think. What I ment was I have visited those sites. I just haven´t contacted these guys in person yet.
Please don´t stop trying helping me out. I appreciate it.
I just wish your swedish were better

JO
---
Jan-Ola Olsson on Thu, 01/29/2015
Thanks Arvid!
I suspected such when I saw your name. My grandfathers name was Arvid.
I live 700 km (437 miles or maybe km works in Canada) north of Skåne in Dalarna.
I saw your tractor. Really nice work. I have a 1947 Ferguson.
JO
---
Arvid Olson on Thu, 01/29/2015
I'm pretty sure I have relatives in Dalarna… I'll ask my brother as he's been over there.
The tractor runs pretty good, I have two more to do… a farmall A and Super C.
I suspect the Ferguson would take to woodgas pretty good.
---
Jan-Ola Olsson on Thu, 01/29/2015
Do you speak swedish, little bit perhaps?
Thought about gasifying the tractor, but I don´t use it very much. Just into wood and lumbering for family need. I think car/pickup will be my first choice. Sorry to say working for money takes up most of ones time.
Looking forward to see your other tractor builds.
JO
---
Tom Collins on Thu, 01/29/2015
JO; Since you are new to woodgas, I would like to make a suggestion that you may not have thought about. That is gasification with CHAR COAL. Lean about the Simplifier and Gary Gilmore. I have been working with woodgas for years and just now building a char coal gasifier. They are much less complicated to build— best used on small engines which I'm sure your cars and trucks aren't the 4-5 liter engines we use. Some say it is a waist of heat making charcoal, and yes it can be. But two things, it doesn't have to be a waste of heat and you can get to running on woodgas much faster. You can easily make charcoal using an old oil drum etc. If you heat with wood, you can pull the char coal out of the furnace when the wood has burned down to coals only — I find with the coals alone in the fire I don't get much heat until I put in fresh wood. Or if you have wood that you are burning to get rid of, such a limbs or wood left over from your saw mill, you can burn it in an open fire and work the fire until you get it to char and put the char into air tight container for use. I burned down an old building, piece by piece and made char coal out of the wood rather than let it burn to ash. I have about 400 L of it in the barn-- thus the reason I am getting into char coal gasification.TomC
---
Jan-Ola Olsson on Fri, 02/13/2015
Hello Tom,
Sorry about the delay and thank you for your e-mail. I´ve been busy lately and haven´t had time to log in/answer.
About the charcole gasifier: It might be a good idea, but you see, I´m in love with wood. Maybe a little odd (except in this forum perhaps) but I love the idea of driving around with my wood sacks on the bed. Chunking, just an extra bonus. Love the smell and feel of wood. That´s me

If I manage to get my first wood gasifier to work, I might even build a smaller charcoal one for a gen set. Maybe I can use screened charcole waist from wood gasifier as fuel?
I realise all this will take me some time (situation at work, kids, dogs, house, bills and so on) but what would life be without dreams?
In fact I started welding grate/burntube yesterday (on a pallet in 2 foot of snow - sun was shining though)
Feel free to ask any questions about swingblade sawmills, mine or others. I´ve studied them a lot. They are simple and have fantastic cost/use-ratio.
Bye for now. Work starts in an hour. Going there by dino fuel

JO
---
Tom Collins on Fri, 02/13/2015
Glad to hear from you— I thought we had lost you already. When you get time I would like to see more of you swing blade — maybe slow it down a little. I found a shop that will make me a blade but they had a lot of question I have to get the answers to first. ( Not that I am ready to build one but I'm very interested in seeing whether I could or not). What horse power is your mill. What blade diameter, how thick, how many teeth and are they carbide or just steel. I did get a little less interested in this mill yesterday, when a friend with a saw mill said he would give me the stickers I need.TomC
---
Jan-Ola Olsson on Sat, 02/14/2015
Hi Tom,
I´ll try to take some pictures or even make a video. It might take me a few days though.
The mill has a 3 fase electric 7,5 hp 2900 rpm motor. Blade dia is 440 mm, thickness 2,8 mm, cutting width 4,5 mm and it has 6 straight (not angeled) carbide teeth.
I think your friend missed the point. "… I'm very interested in seeing whether I could or not". Thats the point - for you. And ask him to bring his sticker mill to your garden and slice up your 15 ft long 40"dia redwood log into 6"X12" beams right from the ground. Unless he has a portable swingmill he can´t. My mill can.
Off to work again. Dino driving

JO
---
Dick Thodal on Sat, 02/14/2015
"Sjuttiosju sjösjuka sjömän sköttes av sju sköna sjuksköterskor på skeppet Shanghai!" is all the swedish my grandparents would try to teach me. Never quite got it. Otherwise I'd try to help…
-Dick
ps My grandfather told me about woodgassers he saw in sweden in the 1930s. He was from Langheim.
---
Jan-Ola Olsson on Sat, 02/14/2015
Funny they taught you the hardest sentence there is. Almost impossible not to stumble even for me being swedish

Yes, I think sweden had most woodgased vehicles per person during ww2
JO