Here BobMac is a 1,113,330 viewed fellow I stumbled across looking over at my recommended side feed on youtube: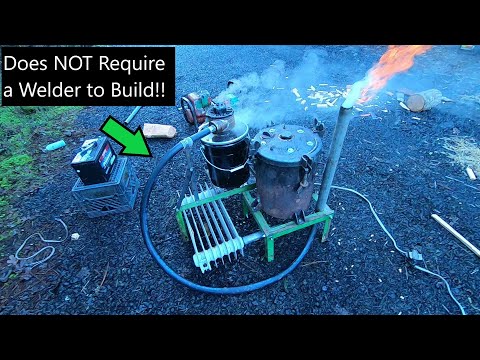 As a no-weld system I hope @tcholton717 catches this one too.
Best to watch this one with CC enable and a finger over the pause button. He said what? He is trying to explain a lot. Does a fair job of it with virtually no loaded run time experiences.
You'd swear this young fellow is building a cross draft charcoal system. Nope. Real wood being chopped up and loaded at 27:19-27 (he misses preloading with charcoal).
But he has been doing his reading, and video watching, to know a bad pyrolysis flare; then waiting for a fair, reduced gas flare: 28:38-29:22 minutes.
At ~29:30 → he shows wood gas blowing out his blending air valve before the generator engine is running. Then woodgas puffing out the air valve between then engine intake strokes.
At 30:34 he gives shut down steps saying to power shut off the blower. So that explains it. He was continuously blower running. Hard on the plastic squirrel cage blower he is using.
Actually his fabrication skill are great using just hand tools. And his cross-draft combined SS ash grate and gas exit shield bulkhead should be looked at real carefully by the charcoal-tier guys.
After I left active in the Victory Gasworks Shop in~2012 . . . so then there'd be no conflict of interest, until the foster girls came in November 2019 I volunteered to travel and help guys independently building for small generator engines sort out their operational problems.
It was fun. It was very challenging. Then guys stopped building; set aside and did not run, with the low, low gasoline costs.
Once you know, a-n-y-t-h-i-n-g can be made to produce on wood with lots of jiggering. They vary by how long they will batch cycle. How much maintenance re-setting you'll have to do. How often need doing. How long the system would last.
Watch and see his is actually a vertical flute air system. Easy opened up for pipe flute replacing.
This guys is on the high end of capability of an independently conceived build up.
So the one million interest is for Grid power down for whatever reasons for personal generators fueling systems.
Listen to his words. Those the ones he built this for.
1.3 million views in just 18 months shows the largest woodgas interest area.
Regards
Steve Unruh