Same here

the where and how aplyes to me too

Hey Guys… I'm thinking "Hangouts" might be more inclusive for this situation…
Try this link and click on the "Join Hangout" button.
I will be checking in often… so keep it connected if you can.
https://hangouts.google.com/call/6kemulkqy5hibckcze7ruyqexae?no_rd
I'll keep a connection all weekend,
If that doesn't work. We can try Facebook or Skype but they are harder to use with people coming and going.
TerryL
Hello all
Wife and I made it back home safe and sound.
More tomorrow , we are beat right now. ( 650 miles in 12 hours )
I just made it home.
Koen checked into a hotel near the airport before I left.
This was the best meetup yet.
Thanks for all that showed up and to all the ladies that kept food on the tables at all times.
A special thanks to Mike R. for picking up the ball and the Lemlers for being such great hosts and all this possible.
Hi matt glad you was able too make it after all and found the electrical fault with the truck the same time,and i am glad i got too meet you in person along with all the rest of the DOW that were lucky enough too have travel time, and make it too the meeting.
I will try to upload some pics and video tonight . I didn't get as many videos and pictures as I would have liked but I did give 175 miles of rides

Come home to a busted water line that I will dig up and fix this morning . Hope it wasn't running all last week

Ron's wood was Great. !
Every hopper ran over 100 miles with speeds 55-65 and on any down grade as fast as the law allows . This is towing a small trailer also.
With some hybirding over the hills of KY , TN and AL to stay with the flow of traffic I was getting from 110 to 130 miles per hopper . Through the flat country of Indiana using no gasoline at all I got 119 miles from a hopper

Wayne, what is an average wood weight to Mile ratio approx ? ( … pounds per mile ? )
We had a great time in the north country. Thanks to everyone. Finally made it home last night about 11:30. Had a slow ride with plenty of stops.
Will try to get up some pics soon. Larry and Jakob are already gone scrounging parts. They are going to try to put together a gasifier while Larry is here for a couple weeks.
Came home to find Luke lonesome and bored, and a bit jealous, but holding his blue ribbons from his public speaking competition.
More later…Got 3 days of trainings to do this week and still have to get ready today…
And I came home to a stack of mechanic work parked in front of the shop waiting for us…
Thanks to all for a great event. Real glad to meet all the folks I had been talking with but never met. It is hard to believe the distances some of the folks came ! Special thanks to the ladies , Lemler family and Mike R.
Hello Koen.
Several years back Auburn University did test with the gasifier that showed 1.3 miles per pound. ( 50 pounds took the truck 65 miles ) ( page 182 of your new book ) However sense then I have improved the hopper design and believe it may do better .
Hi Wayne, Thanks, i should start reading instead using lemons then… now on the airport, preparing for flying out…
Keep in mind it is just like gasoline fuel consumption. It varies tremendously based on driving style, vehicle weight, wind resistance, etc. Not to mention the moisture content…
The equivalency for a WK unit seems to be about 16 pounds per gallon. Roughly 2 kilos per liter.
Hi Chris, ok i will use that number (2kg per liter) as a reference to write some stuff together.
Yeah Kevin, it was great to finally put a face with your name. Had a great time chatting with you along with many others.
It was also great to finally get to meet Koen

I got home yesterday and plunked my butt on the couch and did absolutely nothing!!! I had to have been pretty tired in order to sit still for that long lol.
So got up today well rested, got to the shop and off loaded. Once I had the gasser and gen back online right back to work. I put together the Evolution Mini SS I had at the show and am now test running.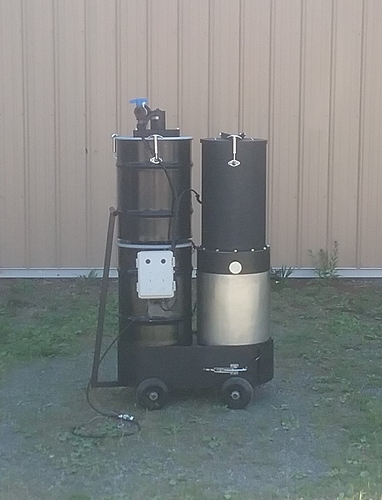 Your wood pellots must have been wet or you could use more mini cyclone tube too have dryer fuel, have you tryed useing ceramic in the burn tube as insulater.? Good luck with the new unit, looks Good and rolls around nice.
What I did today was backed the grate agitator down and it ran back to normal. I ended up needing to revert back later. I have a feeling on this machine I may need to use a temp probe to drive the grate actuator.
I think either a hopper heater or hopper cooler would help with the excess moister per pound of wood.all i have at this time is hopper heater/ceramic blanket, hay filter,and seems too maintain a fairly consistant low idle though at times i need a hopper gas cooler too reduce the excess moisture. As you know the wood moisture is hard too keep at low enough percentage, for easy idle type clean running fuel.and should be easy too incorperate at your expert level of fab work once the jigs fixtures are made.BBB.HWWT. FUN BUILDING best you can.
Finally made it home on Monday after breaking down in Ohio. The ac pump pulley had seized and we fried the starter solenoid trying to start the truck. Had to replace the starter and get a shorter serpentine belt to bypass the ac pump. 16.5 hours turned into about 36.5 hours.
The joys of road trips