Gas path: reactor to cyclone to cooler coalescer to filter. See a bit of the blower and the coarse flare filter in corner. Street 90 in lower right brings gas from gas mixer to 3-way valve to flare.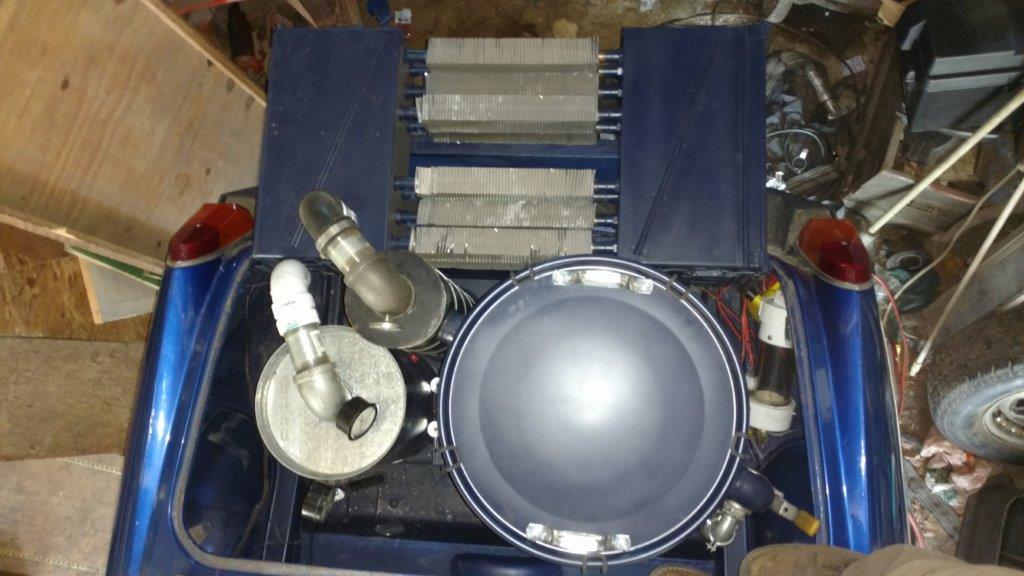 Vacuum gauges before and after filter. Barbeque thermometer on cyclone exit. Gauges visiblein lookback mirror.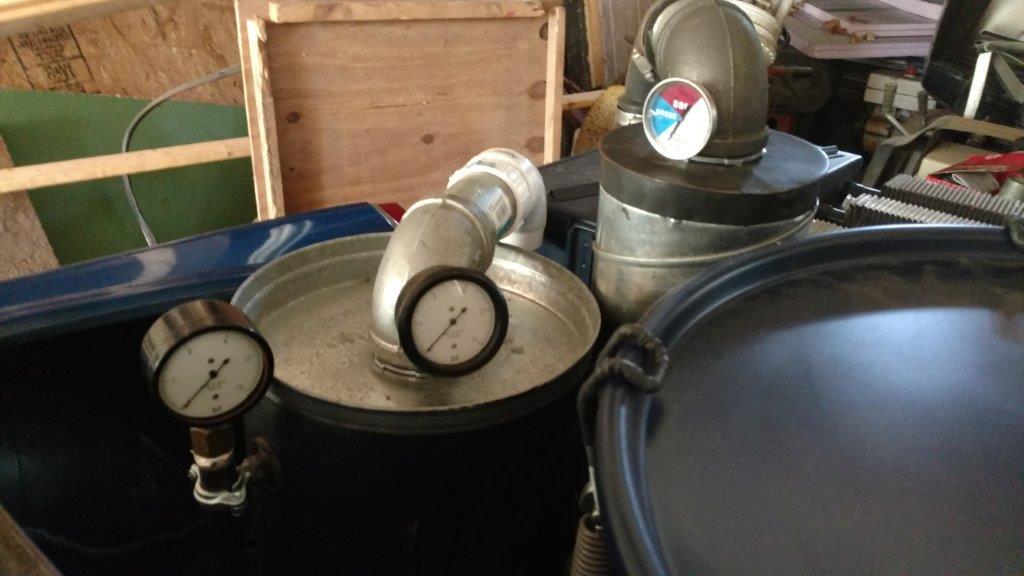 From cyclone gas travels through 5 finned tubes in the cooler/coalescer then back through the other 5 tubes and on to filter.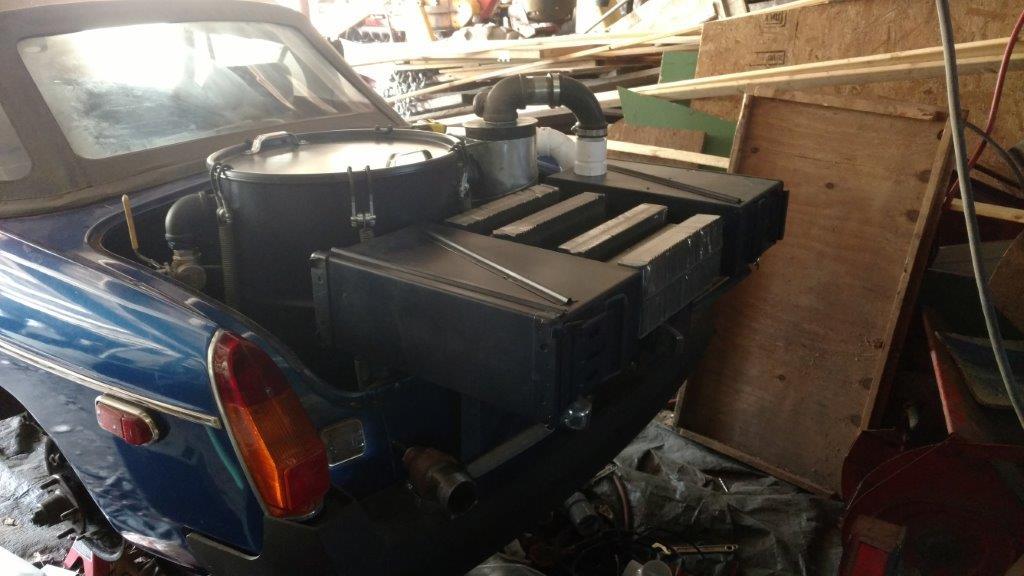 Gas Mixer. High temp gas supply hose visible on right. Air & gas inlets visible at bottom. Turbinator swirls gas and air before passing through throttle. No gas tank or liquid carburetor, straight producer gas.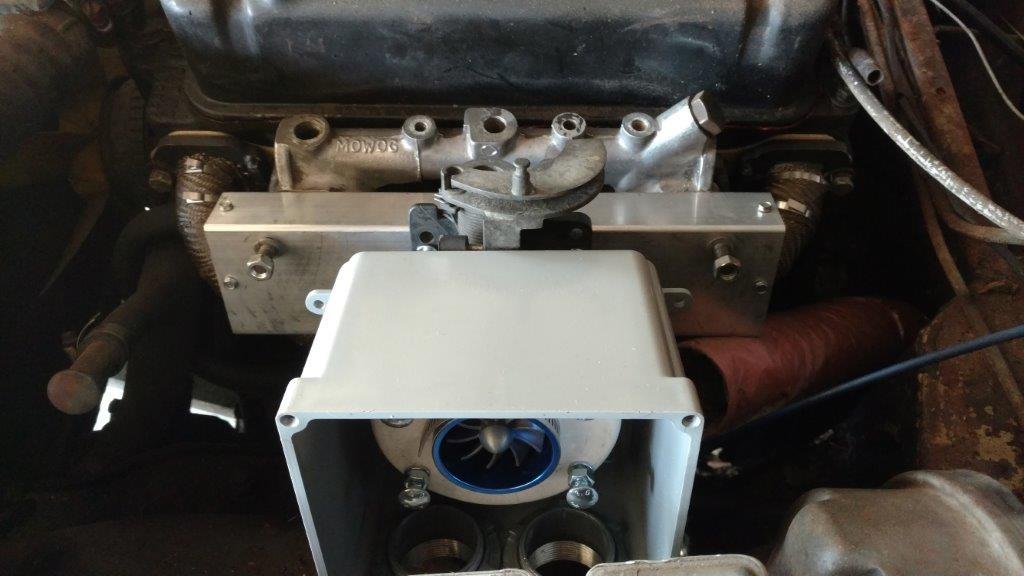 Very cool Bruce. What are your goals and expectations for this car as far as run times or distances? Do you generally just drive short distances or hour each way trips?
"coalescer - turbinator You got some new terms there Bruce

Nice Job. Could you please change your mind (wife's) and come to Argos?
Bruce---- very clean job. But really— an MG? One in that good of shape should be worth some bucks. Any way my question. I thought charcoal pretty much cooled the gases before they left the generator unless you were low on charcoal. I'm sure the cyclone is for dust collection, but they also are good at taking heat out of the gas. Then you have a cooler besides. What is your thinking or am I wrong about the charcoal cooling the gas? TomC
Ok I know how small MGB s are,and the trunk or boot size.
( One of my FAVORITE CARS!
This looks very COOL ! !
Jesse
Good job, Bruce. That piece of art should give you a 50/50 weight balance on that car. You know that somebody is going to ask you where you bought it from.
Jim,
I expect to get 3 miles to a gallon of charcoal. I'm hoping 20 gallons of the 30 gallon reactor barrel is usable giving me 60 miles. I plan to carry another 20 gallons on board so i can drive to the beach (50 miles) and get home again.
My wife was right. A week after she questioned my Argos plan, the lower support arm on my van rusted through and broke. The frame looks like swiss cheese. So now I'm resurrecting my '87 Toyota pickup which was wrecked last year. Totaled, but I bought it back from the insurance Co. Sadly no argos this year.
I'm calling it a cooler/coalescer because its purpose is to remove moisture by passing cool gas through SS scouring pads. I want water and any tars to coalesce and drop out before reaching my filter. At least that is the theory.
This MG was given to me. No rust, but a few other issues. A friend from church bought it 13 years ago and never got around to fixing it up. I put the new rag on, rear wheel cylinders, rear tranny seal, seat covers and welded the exhaust manifold. I had it running, but the 1976 was puny because of all the smog controls. Since it was a gift, I can't sell it. It is just for showing off on nice days. Why not make it doubly interesting by gasifying? Here is a picture of a 1976 MGB engine compartment. Mine is now clean after removing all of the nonsense.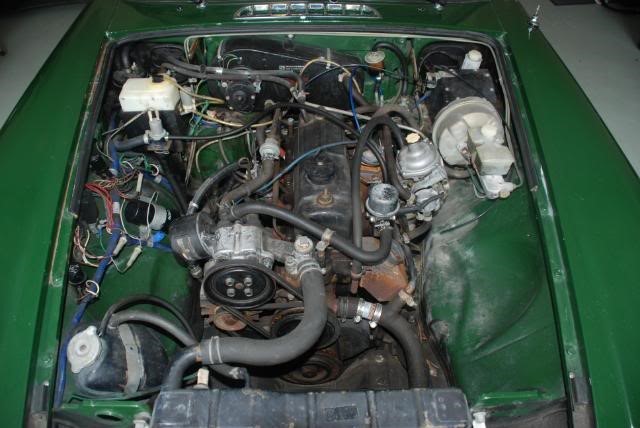 Older MGs with this same 1800cc engine produced 90 HP on gasoline. In 1976 the smog stuff choked it down to only 60 HP. With the new intake manifold and exhaust header pipe I'm hoping for about 45-50 HP on CO with a top speed of 50 or so.
Bruce what can I say other than , its bloody marvellous and a real credit to your charcoal build skills .
I for one cannot wait to see and hear this little lady driving around the streets , so you best start training the wife on her camcorder skills .
A classic British car with stunning boot arrangement .
Well done
Ex pat Dave
Bruce - Awesome looking build. Very neat. Keep us posted.
Thanks Dave. I still have a lot more work to do on this before she runs. I probably won't have a drive video until next month. I can hardly wait to go cruising with the top down.
Take a look at the cyclone. Notice anything funny about how the inlet?
Bruce I don't remember if it was an MG or a Triumph I was working on but I learned a way of setting the timing that I have used 100's of times since. The timing mark was on the bottom of the engine. Even if I layer down under it with a timing light, I couldn't reach the distributer to adjust it. I resorted to reading the book, I was so upset ( that for me is like asking directions when my wife says we are lost) You line the harmonic damper mark with the mark on the engine on the underside. Now with the engine off but the key on, take a regular test light. Touch the test light to the hot side of the points. Rotate the distributor until the light comes on then back the distributer up until just the second the light goes OUT. Lock your distributor. ( I may have touched the light to the coil wire feeding the distributer also at times ) It was back in the early 60's TomC
Bruce , my eyes are old and my observation skills to details are lacking these days .
Try as I might I could only just about see a slightly oval shaped pipe from the main gasifier to cyclone , am I any closer ?
Dave
Again… more eye-candy on the dark side…
Bruce, a jealousinator ?
the 3 letter word does apply… WOW