Bob, perhaps chew the char, wash down with water and pick your teeth with a wood spliter

Hi Bruce. Thank's for your compliments but sure your are the BIG piece of this puzzle.
Regarding using my Skizz you are more than welcome. I will greately appreciate if on some little corner it shows that I draw it from Argentina. Some peolple will wonder how come somebody from so far has did it, this will be an opportunity to explain that this a world wide team working thru the web.
I have a last issue: Where the flame arrestor goes exactly??
Since I had some spare time I decided to start making the PART LIST of this thread.
Bruce, please find attached the list and check it out. Again, your are more than welcome, if you wish, to make any corrections/suggestion to it.
One question: What brand and model is the paper filter cartdrige you use in the filter??
Truly yours.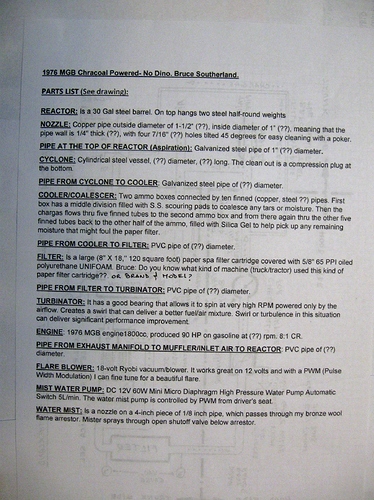 If interested, I would be happy to have you render my producer.
Hi Jeff.
Sure, how can I help you?
Do you have any pictures, video or sketches to start with?
See above for starters. I'm sure more info will be needed but right now it is past my time to "hit the hay", so to speak.
Hi Eddy,
I will gladly give you credit for the drawing and give credit to our whole worldwide DOW community for nurturing me toward this end.
I have bronze wool flame arrestors on both air inlets to the nozzle. The one on the bumper side is removable for lighting and cleaning the nozzle. A thin pipe with a misting orifice passes through the bronze wool on the other side.
Hi Jeff.
Again, I will gradely help you do some sketchs, but I don't think this is the right topic. Please don't get me wrong. You should creat your own topic "Jeff's producer", where you can upload pictures, videos, hand drawings, part list, comments, etc. Please let me know what you have decided.
Truly yours.
Eddy
Hi Bruce,
Thank's for your support. Thank's for the flame arrestor info.
If your wish, and have the time, please check the part list that I have posted above. I am looking forward to hear your comments.
Truly yours.
Eddy
Eddy,
I'm checking the dimensions for the items on your parts list and hope to send the (??) details soon .
The filter is a Clarathon threaded filter FC0517 purchased from spadepot.com.
We should also use this spelling: TURBONATOR to find the swirling fan in an online search
Hi Bruce:
Thanks for your time to do that.
BTW: What size of charcoal you use?,
what is the diameter of the "filling by-pass" hose? and
When is your show? I am thinking to do something special for you, if I find the time to do it. Nothing fancy.
Truly yours.
Eddy
Eddy,
Charcoal size is 1/4" - 3/4". Bypass hose is 1 1/4" ID which slips over 1" ID steel pipe. Cyclone is 6" X 24". Pipe at top of reactor is 1 1/2". Pipe from cyclone to cooler and on to engine is 2". 2" PVC from filter to near engine compartment, then 2" high temp flexible hose past exhaust pipe to gas mixing chamber. Metal flex pipe for EGR is 1 1/4" ID. Finned cooler pipes are 3/4" copper "baseboard radiant heat" pipes with integral aluminum fins.
I don't have dates yet for car shows, but none before May.
Hi Eddy,
That is my link where I upload photos, honest. The "Air Carbon Fuel Cell" is my topic, honest.
I have free time this weekend and can answer questions and post photos, if you want.
Cheers,
Jeff
AKA Puffergas
Hi Bruce.
On my name and on the name of other anonymus people I thank you for this info.
I got almost every thing, but sometimes my brain is so numb that I could not figure out your frase "then 2" high temp flexible hose past exhaust pipe to gas mixing chamber". The mixing chamber is the turbonator, or is the "T" that connects the outside air with the EGR and the nozzle inlet?
BTW: I just found out that your engine gives 90 BHP @ 5400 rpm.
B.R.
Eddy
Hi Bruce.
Almost done, still missing the nozzle dimensions. Plese check the part list for (??).
B.R.
Eddy
You had it right. Nozzle is 1" ID 1 1/2" OD. Mixing chamber is Turbonator. Gas supply pipe from filter is 2" PVC that runs under the car then changes to 2" high temp flexible hose to go up into the engine compartment and connects to the Turbonator.
Hi Bruce:
Thank's for your input.
I am going thru every detail on the final Drawing and Part list, so now I have some (hopefully) last questions:
What size is the 3 way valve?
What size is the "adjustable from cabin GATE VALVE"?
What size is the Mist/arrestor valve?
What size is the Check Valve near the intake manifold?
Since you have removed the carburator, what are you using as throttle regulator?
B.R.
Eddy
3 way valve is 1"
1 1/4"
1"
2 check valves fabricated from concave freeze plugs with silicone gasket. (probably unnecessary since I have never experienced any intake explosions)
throttle body from SATURN/CHEVROLET/OLDSMOBILE 2.2 LITER 4-CYLINDER ENGINE
Hi, Kristijan, and the rest of "mixers"!
20.1.2018
It did not take many days for DJ to adapt to tangential swirrel mixing with "sockturning".
Adopted in his VOLVO with success, but in the chevy pickup unfortunately a big difference in the inlet area to the narrow coaxial swirrel chamber put the ratio almost over board.
He had to fight it with heavy-handed manual control.