Limb, branch, twig = kvist, gren
OK, pine and birch? do you take spruce too?
I burn any wood but I avoid too much pine and spruce because of tar content. Also, spruce limbs are a lot of work to clean up before chunking.
Ha, Jo, last time I gassed only the wood chips from the spruce branches, the gas was terribly strong but the next day I had to heat the intake manifold to release the valves, despite the "good gasifier" the tar crept up.



Hmm we done have much spruce here untill you get above 2500' elevation and then it is most white fir (piss for we call it) and both of those are usually heavy with pitch like our lower land Doug fir. Guess I have been lucky so far to not make tar. Still have not seen any out of the hopper tank yet and near 2200 miles on the truck
Our miss-named "Douglas Fir" is actually a spruce variant.
No matter. They are all mostly pitchy.
And we still must learn to use in a wood gasifier.
Just as others here USA have had to learn to use Oak wood, their area pre-dominant species. Corrosive effects or not. Why they made stainless steels.
Out of your own woodlot cutting pitchy conifers in slow-growth winter helps some. Much less sap then.
The sap, and later water removed pitch, are chained hydrocarbons. The gasifier is an air/oxygen restricted environment. The exact opposite you need for full hydrocarbons chains de-construction conversions.
Conifer wood fueled systems tend to be very sooty. So you design for this.
But low, low ash. And that ash seems to not slag until much hotter.
So you better woods folks get to fight lower system ash clogging a conifer fed system never sees.
Ha! Ever paid attention to all of the soot's flushed out of WayneK's systems?
He uses some Pine wood. He had to evolve design to handle a lot of soot's collection.
And he had to evolve his core choke plate sizing and shut-down procedures to stop having throttle plate binding tars.
Just my experiences and observations.
Knock the myth belief in an All-Gasifier out of your thinking is what helps.
Steve Unruh
I've been lucky enough not get any valves stuck yet. However, I'm still suffering from my initial mishap with the Volvo. The cooler still has a sticky coating inside which makes it hard to clean out the soot later on. Less cooling ability doesn't matter much with the temps we're having during winter, but I will have to do something about it before spring.
I saw one of the Swedish guys had a bubble can, to clean the intake.
It was a can of ethanol (I think) that sat under the hood with a hose to the intake that brought vapors from the can, if it does any good I do not know.
I got in touch with Remet, they said they can and will ship overseas to United States. I asked the price on the m100 class mechanism and he quoted me for 710USD for a 4 blade per axle unit not including shipping. The R100 is 1200USD. I believe the R100 is the full unit minus conveyor. The 6 blade M100 is only 800 dollars and will cut the pieces shorter.
I will heavily consider buying one. My diesel stationary may finally have something to power!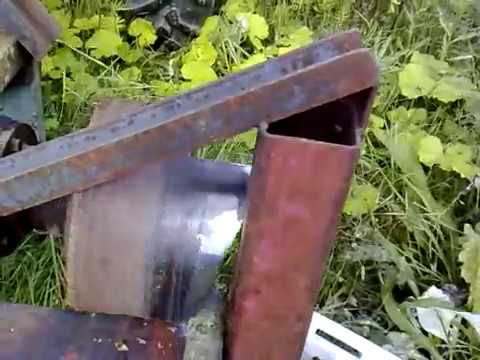 Ha! Ha! He used a whole tractor rear end assembly! Put those lawn ornaments to working!
His vehicle under-hood snazzy carburetor/woodgas mixer is on a different video on Makko V's youtube channel.
S.U.
Here is a 'semi' rebak one. It uses one of the wheels and an anvil. It is belt driven, and roller feeders. He was super safety conscious when he built it probably because of his kids. And while it doesn't work as fast as a rebak, it isn't terribly bad.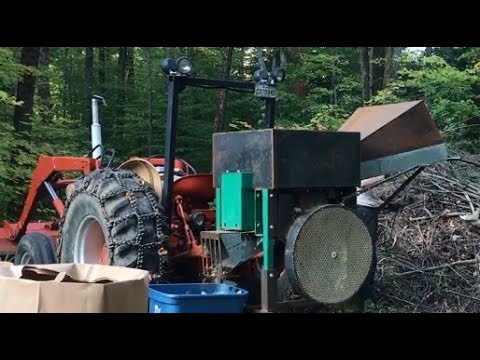 If you had a big stack of log slices,then you could make a press with rite size hatchets all in one press might safe some time makeing chunks.
Ha! Ha! We/I tried that Kevin in the VictoryGasWorks shop.
It works some alright. Right until you hit a wood pie round with knots in it. Jams up your head unable to full stroke. Leaves chunks jammed in the head to have to individually picked out.
And I was the one made up the 500 pound of sawn tree trunk pie rounds.
Seeing the saw/chain/fuel&lube wears and costs of that I only did it one time. All of those 2" cuts I'd made for the less than 1/4 cord of wood-pie-rounds I could have bucked-up three full whole cords of 18" lengths firewood!
Anyone else wanting to try this . . . good luck.
S.U.
that would be a lot of wear and tear on a chainsaw for sure, fuel and bar oil cost alone would be a little painful
Yeah I tried a 4 way head on my splitter. Jammed up as it expanded the quarters. I just have a blade now, smooth sailing.
The only thing to do is burn the pieces in a fire ring and make charcoal. Nice and warm around the fire at night with friends. That is what I do with that kind of wood, but mine is hard cherry.