Thanks for posting Billy .
Real glad yall are home and safe .
Thank you for your story.
You do a good job.
Very impressive, Billy!
Sets things in perspective. I will try not to complain again about darkness, snow and nightshifts at the paper mill.
I admire your devotion, but at the same time I feel like giving you a reprimand for bringing your kids.
I'm glad you're all home and safe.
Thanks for posting your your congo / zambia south africa travel experiance. You are truely a famley of great faith too travel in such remolt areas of south africa. Sounds like you experiance way more than expected, The Lord Was With You. I will pray that your tramatic experiance dont keep you from returning faithfully.By next visit you might not get too take the back trails with out any anti snake ventom though.??
Thank you for the great story. So glad it had a happy ending
You are truly making an improvement in the world
Fantastic story, I'm happy that you share it with us!
Hope you get better, I send my prayers.
This is Billy,…
Well, let's hope we're making an improvement in the world. JO, there is a guy here in the US called MIke Rowe. The dirty jobs guy. After his experience of doing every job in America for more than 10 years, He has a saying about safety. He says, what if it is really not safety first, what if it is actually safety third. Safety is important, but probably not as important as the experience. I'm not looking to make things like that happen, but it's always a balancing act to weigh the cost/benefit. I guess out there in much of the rest of the world, the threshold is a bit different. For example, Here I wouldn't think of letting my son ride on the roof of a cross country bus. Over there it's just the way of life…And JO, in my estimation you have plenty to complain about up there in polar bear country. My Months in Africa has nothing on you Swedcicles for toughness.
It got a bit cold down here and has been freezing the last several days.
I'm sure Wayne will agree with us over here that we are concerned that the cold doesn't hurt our rattlesnake population.
Thanks to all for the support.
Billy, I agree safety issues have reached close to rediculous levels. Especially in work places.
I've ridden a couple bus roofs in my life, but bringing your kids to where you risk being surrounded by hostile AK47s is what made my jaw drop.
Sorry about the cold. I hope you get some snow to go with it. It's good insulation

yeah, I wasn't really expecting the AK's . That was more than I had bargained for.
No snow. Just cold mud. Poor snakes…
Luke and Dad have been making charcoal for a few days now. Luke and dad did most of the work but Luke was not around for the picture.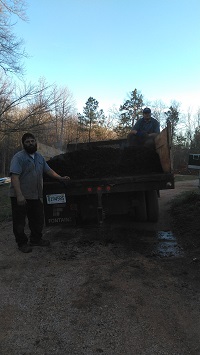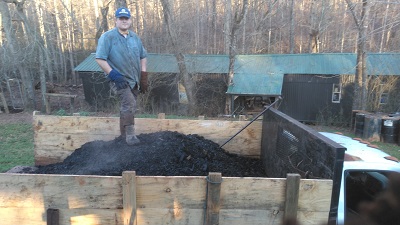 We also moved one of our little buildings I took a few pictures while following with the skid steer.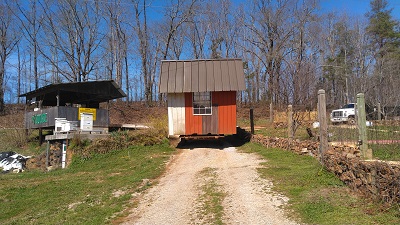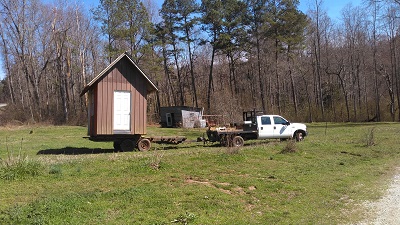 While being out of school we have been able to get more done around here. We have quarantined our self to home so lots of time to get work done. We are working on finishing the mechanic shop and transferring the tools from the little project shop. We also installed the lift.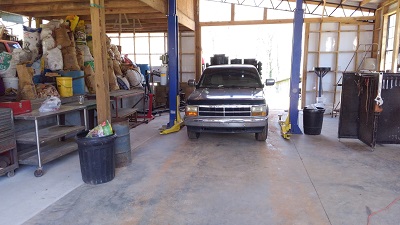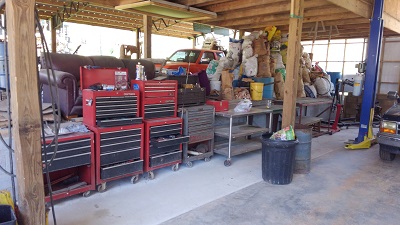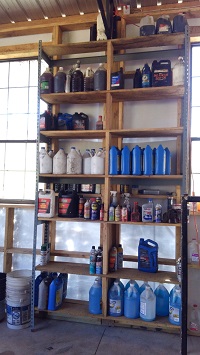 Getting the metal to finish the walls on the shop.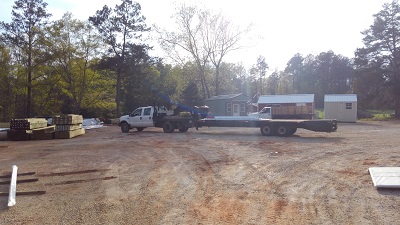 Jesse snapped a few pictures of me finishing the hoist I was cutting a hole for the bolt to stop the trolley.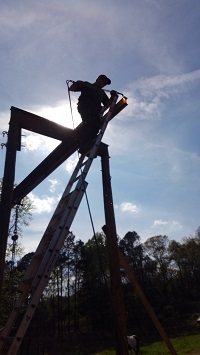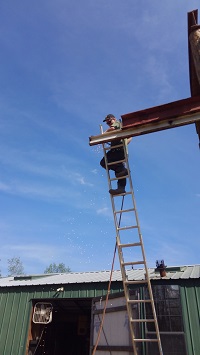 With the grass so green we have been letting the horse just roam around the yard and eat where he wants to. He never has tried to leave and the gardens are just getting going so he leaves them alone.

I spent today playing in the shop. The maple we have been getting is coming in handy for little projects like this.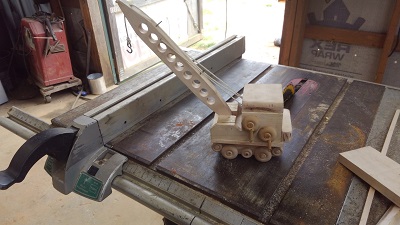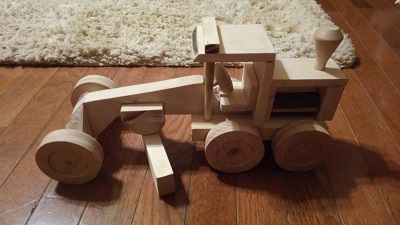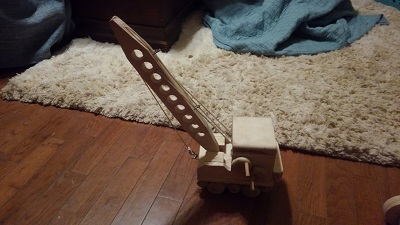 Jakob, are you expecting?

Ha Ha.
No, I just enjoy making the toys and they make great birthday presents.
Here are a few more I made a couple years ago. Also a gun rack and Naomi's woodgas truck.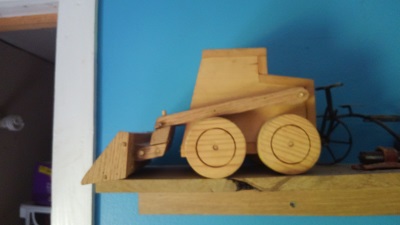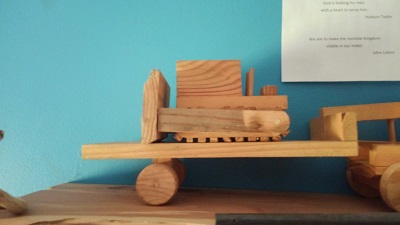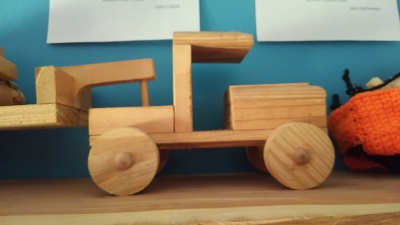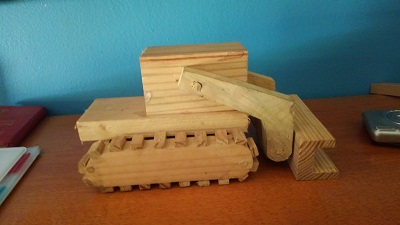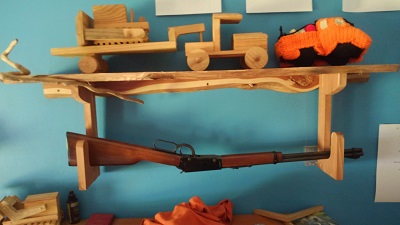 Jacob,
Are these your own designs?
Jacob, but you're a good artist, a hat down.
I too made a few toys at your age or a bit younger (l am the oldest brother) but none compares to yours. Nice job.
I totaly understand you. I too get sudden urges to craft something. I dont have much spare time now but for some reason nowdays it sometimes grabs me to do leather works. Just a few examples, the last one from this morning.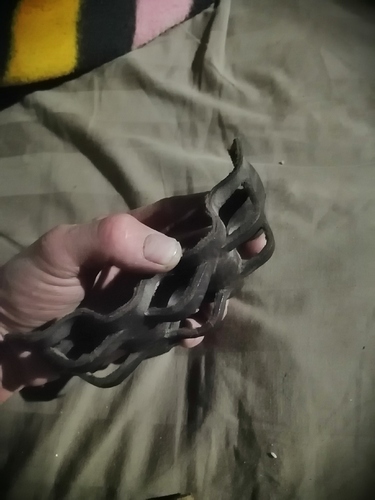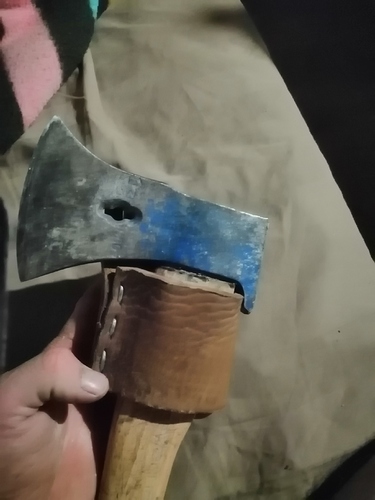 None of those are preety or artistic but take litle time to make and surve a purpose… And take the itch off your fingers

Some of them. The little skid steer the truck and trailer and the gun rack are my own. The crane, road grader, bulldozer, and the base of the track loader are designs out of a book I have. I had a semi truck and trailer that I made that i gave away as a birthday present to my best friends youngest those plans came from the book. I had a excavator and a dump truck that I designed but I ended up selling them.
Toy engineers are the best ones.
Rindert