Do you have a cheaper blower that you recomend ? Thanks
For automotive use, the 12v bilge blowers are an excellent deal, very inexpensive. Wayne likes the Seachoice brand. They are $20 from many sources.
Mr. Chris you very kind god bless. Thnks now start my gassifier
Well, well, well, looky at what showed up today. This here is the Lamb 116520-50 Blower!!
So far out of the box this thing looks to be very solid and the housing is fully sealed!! I had feared there would some leakage, there is none.
Ok so this is AC, the beauty of this; is it can be both AC or DC with simply implementing a small inverter to drive it from a DC source. Battery dies?? no problem fire up the genny on gasoline and plug it in!!. Best of both worlds.
It will be a while before I have a gasifier built to test it on, but Ill at least get a cord wired in to check out the output. Based on videos these things look to be quite powerful and will get the job done. Cant wait to never have to build my own blowers again!!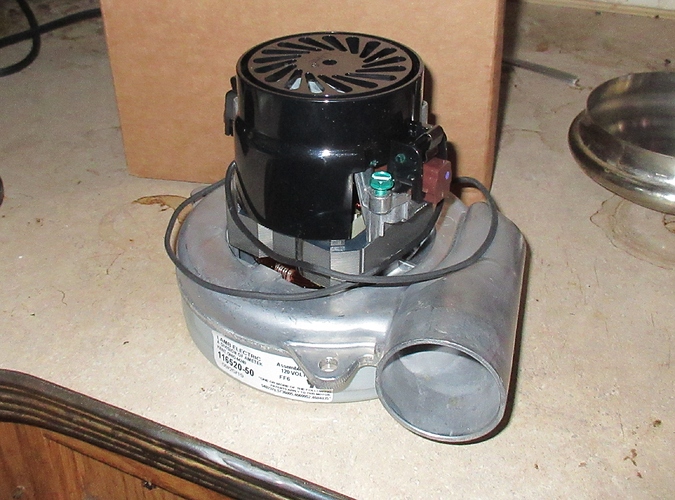 I have started using this bouncy house blower while at home where I have power It pulls enough to have the gasifier hot in less than two minutes.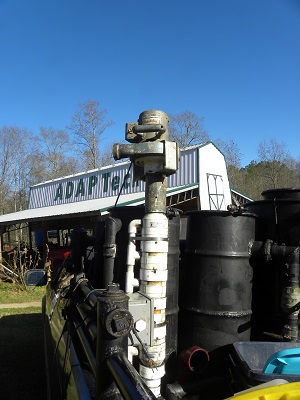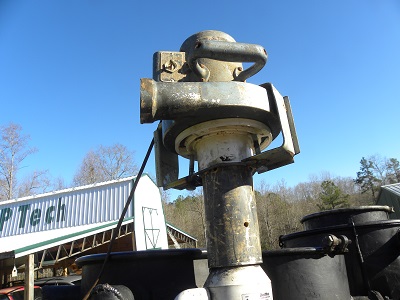 I went to Harbor Freight and picked up a cord, router speed control and 400 watt continuous inverter. This blower is a beast!!. I probably wont ever use the speed control on a machine but get it just in case I wanted to experiment with engine boosting.
The 400 watt inverter does not even flinch running this thing. It might be able to get away with a smaller one but need to find the spec's. The spec sheet they sent I would need to micro scope to read it.
Yeah that definitely looks like it will get the job done.
The specs I found online say 680 watts, So this must be the start up watts Im assuming. So this inverter must be sized about right. Capable of the peak start up watts and then running watts.
What was your cost for the blower Matt?
Its $88 bucks delivered. I cant build mine for this. I have around $50 bucks into parts materials and then about 4 to 5 hours building it.
Its well worth the money, for its power output.
Hi Matt are these pumps about the out put vac power of a old kirby vacuem .?
I dont know its been many years since Ive seen a Kirby. This is a vacuum blower motor it is one of many for in wall installations and it is very powerful. I bet its at least 10 times the vacuum of my own built blowers.
According to the spec sheet it pulls nearly 50 inches/water @ around 90 cfm.
That must be better than a kirby than, good for cold starts at the home front being 120 volts anyway.
www.centaurforge.com/Blowers/products/169/
As seen on the TV program, "Forged In Fire".
Model PB50. Handcranked. 12VDC available. 115VAC available.
For sure great for blowing. Sucking? Probably. It is all metal.
For myself as open air stationary engine gasifing blowing for starting/warming up will be just fine.
S.U.
I think I could build five converters for the price of one PB50. Blowers can be found locally.
Interesting! A Chinese bellows built by a German Amishman. I enjoyed the carpenter using primitive tools. TomC
I enjoy old time carpenter skills also. Turns out that this might be Japanese Fuigo bellows. If it doesn't work just chop it up for fuel.
Some put glass on the inside bottom to help the piston.
Hi JeffD,
Yep, LOCAL would be like my G4 Kirby got for $29.95 USD.
It was an already set up hand crank'er possibly that got my eye with Centaur Forge's PB50.
I do have an old family heirloom hand cranked centrifugal cream-separator that I'd always intended to convert/modify to a blower. . . but a lot of work, for an only one-off system.
The PB50 is new production. They will make up more. Replicate-able solution.
For a more economical solution their newly released model 35 at $139. USD. Would take a bit more work to suction modify with it's dual sided air inlet.
Ha! Electronic solutions? Sure. Cheap now with Chinese productions. Buy five to last the life of a metals cast, and gear drive solution. 100 years on that. Get 20 years on each electronic . . . IF 1st world quality. Never on a clone knock-off.
You/I, know, have experienced this well this well JeffD.
The electronic solutions are for the Digetalteering Pixilating Futurists.
Futurists get it wrong 90% of the time. Sony BetaMax bye-byeing. Motorola video discs bye-byeing. G4 cell phone now to be pushed aside for the newest, greatest 5G's. Spin. Spin. Spin.
Zero incentive to design, and build to last.
Rock-solid means made of metals intended to work and last for generational being handed forward. Just keep cranking away.
S.U.