Leaves are turning, summer is gone. Beautiful around here this time of year.
Continued from here: Life goes on - Summer 2023
Sounds good to me stop those crazy California electic only cars law makers in their tracks. This is adding fuel to stop what they are trying to do.
Hi All
To me the two catagorised Off Topic "Life goes on - Summer . . ." and "Life goes on - Winter . . . ." topics are about what a fellow is real-time currently doing.
Yesterday; a full day of seasonal misty raining I went with my wife on a 5 hour duration road trip to her farthest away every 90-days oversight visit.
I got to hours watch a lot of road and raining spray patterns flowing around different vehicle shapes at speeds.
This recently watched video but in real-life, real-time: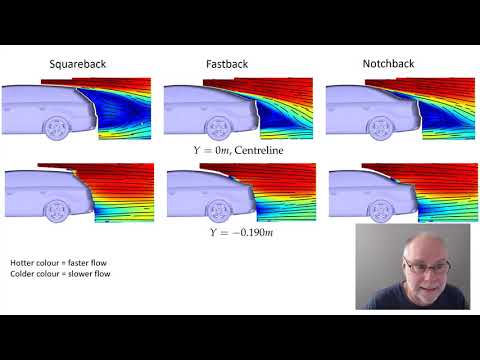 Ha! Ha! So was the hell does this have to do about woodgas Steve Unruh?
(Doesn't directly have to in the Off Topic section.)
But it does. Oh boy, does it.
Learning to think in three dimensional dynamics. Only two dimensional, constant static view points thinking is far too limited. Will fail to explain too many beginning and ending conditions.
The air flows past traveling vehicles counter rotating swirls past the sides edges filling in the ass end gap. The air churning up from the fling off spinning rotating tires affects greatly too.
Dynamic as all hell. Changing with the speed of flows.
Two of the guys woodgas developing guys I've come to know defiantly capable of true dynamic thinking and viewing are my friends Ben Peterson and Tone Sustaric.
BenP glass top downward viewing and then developing his between the nozzles flow shaper Vees he began using back around 2011.
ToneS with his new developed three levels of use flow variable supplying air inlet systems.
Ha! Ha! Makes me have to stretch my thinking view points too to keep up.
Whenever you find yourself the smartest guy in the room . . . Quick! run out, and search out a bigger room, with better people in it.
The only way to grow yourself.
Steve Unruh
Steve,
Couldn't be said better. Thanks.
Fall is probably my favourite part of year. The work starts to slow down and the resaults of the work start to show.
Colors of fall are my favourite ones. Fading green of past summer create backround for all those yellow, orange, red and all shades of brown. If it it's a Lord's will, he must be a devoted painter.
I think I've relocated to the PNW. Rain and drizzle without end. Putting a real kink in my winter wood gathering agenda. I have been putting in some time working on old saws. Cleaning carbs mostly. All but two running well now. Makes me wonder how Goran refurbishes all those old saws. My oldest one is a Homelite super XL from about 1984. My wife gifted it to me back then and it has always been one of my favorites. All metal, no frills. barks like a mean dog. It has been sitting for a while and will burp on ether but not run. I just cleaned the carb and the diaphram still seems fairly flexible so I just blew out the ports and put it back together. Gaskets were still good. I'll have to mix up some new fuel and try it out. That's what got me to thinking about Goran's saws. How would you come up with diaphrams or gaskets for those old carbs. Pretty sure some of the gaskets would be a little hard to make out of raw material.
Hey TomH try watching Craig Kirkman's TRS TheRepairSpecialist channel on YouTube. He details covers 2 cycle carburetors a lot, in short understandable segments.
The Chickanic gal does very practical on-hands step by step advices too.
KamilK I am searching for a new Fall colors avatar picture to change to here on the DOW.
The big D.F. trees in my old one are harvesting down this week.
The lane to our new home:

Follow the sunlight beams to our heaven on earth.
Home. With my three angels greeters:
The public access ends just past us:
We joke we are the end of the road guardian troll family. Become now true Dead-Enders.
Regards to all
Steve Unruh
This one is from last week. Autumn is my favourite with all the colours. Already a lot of leaves lost. Looks like a yellow tunnel. I like it.
Ok, you guy's inspired me, i also like fall, all the beautiful colors.

I snapped some pic's on my way to work, they could have been better, if there had been some sun, if i had stopped, if i was a photographer…
Seems fall is more beatiful this year, last fall there was cold, and storm, all leafs fell to ground over a weekend.
And for my sad fall mood, our beloved dog Daisy was laid to rest this week, may she rest in peace, i miss her so.
My condolences Goran. We lost our dog over a year ago and it still hurts.
GC
Today at local fair some extraordinary exhibtion take place. All models are handwork of extremely skilled machanist. Design based on public resources for 19 century real engines.
Those are really nice working models, seems like a bucketful of small nuts and bolts went into those. Lots of brass and copper too, not to mention all the machining hours and assembly.
Many many hours put in there, enthusiast for sure. Lots of thoughts on details. Thank you for showing us Kamil
Hi Tom, yes those Homelite xl-series really is good saws, made in many years on the same base.
As for carbs, one good thing is that Tillotson carbs, was among the first and best all position carburetters, the hl-series was long-time common at many brands over the world, and for these spare parts, diaphragms and stuff are still available.
More un-common brands, like Brown or Carter, was soon bought up by Tillotson company, for these carbs i often adapt a bigger Tillotson diaphragm to fit.
McCulloch is another story, they made their own diaphragm carbs for a long time, but these seems to be of a superior quality, they are often soft and flexible still when inspected, not bad for up to 70 years old stuff.
I had no luck soften up stiff diaphragms, best has worked to boil them in glycerine/glycerol, which is good to most rubber.
Next way is to get diaphragm material, it's out there, but only industrial sellers, a "piece" (2×1meter) costs around $2500… but some companys will send a product sample for a moderate cost.
Hi Goran. The Homelite and the Stihl have Zama carbs and I haven't checked yet but I think the Poulan Pro has as well. Not sure about the Husky or the Echo. I think rebuild kits are readily available for Zama Carbs so I'm going to stock up. I haven't had real good luck buying replacement carbs for small engines. You go to the trouble of finding the exact part number and half the time you get the wrong one anyway. Still rain or drizzle here everyday. Those saws aren't getting their needed workout. Hopefully snow will come late.
Here in our part of Chile, we are usually into the nice weather at this time. Here we are working on the driveway a few days ago.
We have long winters and summers and short transitional periods between them. We often remark to each other that it is like the flicking of a light switch. All of a sudden the winter rains end and sunny days begin. Not this year. It's been rainy and snowy the last two days with more coming. It was so bad yesterday that when I went to town and went shopping, my normal greeting of buenos dias to the checkout lady was corrected to "No es un dia mal."
Someone has been f'ing around with the light switch!
@Marty : Great photos! Love the mountain view!

@bsoutherland : Find anything? (other than big spiders?)