Hello Dan,
Thanks for the video .
Some folks are hooked when they see the first flare . Others maybe the first running of the motor but usually all are hooked with the first drive .
Yes it is fun
BBB
Wayne
Great job, well done…
love it…
another GG addict

Koen
Thank you gentlemen. I greatly appreciate your comments. I have followed this site for many months and just recently decided I might have something to share with the group. I had made the video to show to some "Nay-sayers" at work and thought I'd post it here. My goal is to build a larger system to run our 1988 Jeep wrangler. My wife thinks I'm a little crazy but a genius at the same time. Ha ha. The system on the video will eventually power my 4000 watt generator (bought at pawn shop for $75 because it wouldn't produce power. A set of brushes fixed that). I'm not brave enough to start the woodgas system yet ( Soon, though. Ha ha). Thanks again for the comments and letting me join your group. Dan Wilson (RadicalDanZero)
Hi Dan, Watching your video reminded me of the excitement I first felt when I realized the engine was really running on charcoal. Yippeee!!! Welcome to a small, but growing club. If I may make a suggestion, put your start up fan after the filter. This way your filter will also be filled with gas which makes it easier to start the engine. The past three times I started my log splitter engine (about the same size as the one you are using) it only took one to two pulls. Charcoal gas is nice in that it does not gum up the carb like gasoline that has set for a year.
Good job and keep having fun.
Gary in PA
Thanks for the inspiration Mr. Gilmore. I realized the fact about fan placement AFTER I made that video. Ha ha ha My arms and shoulders were sore! Placement is important. Maybe an electric starter is important too! Ha ha.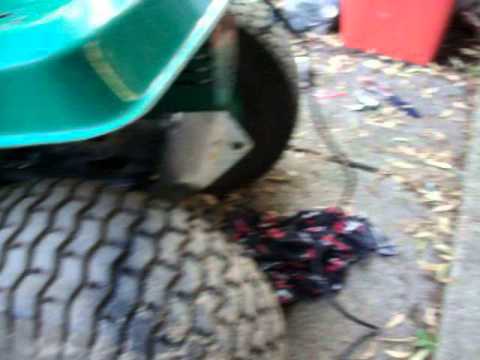 Put the gasifier on my 8hp 4kw generator. Melted the pvc filter. Ha ha. Will have to re-engineer that. I love this stuff.
What a great feeling it was when the engine started, eh?
About wood gas, I highly recommend Wayne's design if you're thinking of a small unit for a generator. It's a proven design. I am glad I chose that route for my small engines.
I get the same reaction from my wife.
Loved your video, nice progress… keep them coming
I am loving this project. It is nice to see something working first hand. I mounted the generator on an old riding mower frame so I can move it to where I might need power. I'm thinking about putting a radiator between the gasifier and the filter. It is getting really hot.
Learning from our mistakes is half the fun.
using the old tractor frame.
Yeah, you can't run the simple fire to the end. The charcoal in the burner does a good job of insulating the burner and cooling and filtering the gas some, but if you burn it all up it's gone. It is good to have some way of checking the temperature in a few places.
When I built my first go at a simple fire - I used iron fittings in a few places along the gas line so I could get a good temp reading with a handheld cheapo laser thermometer. I also quick-touched my hand on the iron pipe. I shut it down when it got to 120-130 degrees F, or when it got too hot to the quick-touch.
Yes, all these simple fires need more cooling, filtering, and a water trap wouldn't hurt. You also need freshly made charcoal as it can absorb some water in it if it sits around from the humidity in the air.
Al D
Looks good Dan, Its hard to see from the top view but it looks like 1/4 to 1/3rd yield. Did you start out way full? Thanks for posting the vids.
Yeah. I started with a full drum and ended up with a little over a third after I broke it all down into smaller pieces. It was mainly scrap pallet wood from my woodshed project (Building a woodshed from scrap pallets.) and some small limbs from storm damaged trees over the winter. It was a lot easier to make than I thought. It is awesome listening to the gasses burning from the bottom of the barrel when it gets hot. Sounds like a furnace blower.
I love the "tinkeling" sound of your charcoal, well done, i love it…
I have made three batches so far and filled up a metal trash can (30 or 40 gallon, not sure). Much easier than I thought. Once the drum gets hot and starts blowing out the gas, it pretty much is self sustaining until the charcoal is formed. I don't really burn much wood in the large drum overall. I love the sound also. My wife looked at some pieces that were still in there original shape only burnt into charcoal and she said "that is almost pretty" Ha ha ha
I have an old barn that caved in a couple of winters back and I am burning it pile by pile in the field ( Department of Natural Resources won't let me burn the whole thing at once) Most of the wood is pine. When the pile of wood gets pretty well burned down it is nothing but hot coals. I was thinking of shoveling the coals into a drum and putting a top on it. Being they are soft wood, would the char be any good for running a small engine?TomC
Can the whole barn be fuel for a gasifier?
Wayne runs Pine in his truck.
No Bill. I can't use the wood in the barn for my gasifier, it has too many nails and isn't worth the time to pull them out. With the Charcoal, I use a magnet to pick up the nails. I have 50 gal of charcoal I have made using the TLUD method, but looking at all the char glowing in my burn pile has me wondering if I can salvage the charcoal. TomC.