Thanks Mr. Marv .
I think that is the ceapest I have ever seen 55 gal metal drums

Somebody gave me an old 55 gal. SS drum that was very heavy. The removable lid had a very deep offset. I priced a new one at about $ 3400. Hard to believe. As the economy winds down, scrap metal prices fall. I'm finding even better deals at scrap yards that used to sell everything to China.
Thanks for the tip Wayne.
I was in Nashville today, so decided I had to check this out.
It is true that they had the bung-top drums for $10.
The ones with a bolt lock ring were $15, and the ones with lever lock rings were $20.
What can I say, I couldn't resist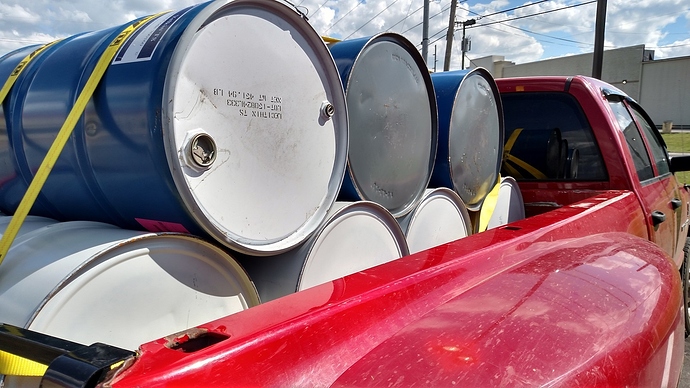 Surly you can haul more than that with a duelly:grin:
Oh. I was hauling a lot more than that.
I had 3 kids in the back seat.
And believe me, that's all the load I could handle.
Duh… Put 3 more barrels in the back seat and put the kids IN the barrels (don't close the lids). Absolutely nothing could go wrong there…
Actually, I did threaten them with that, if they didn't turn the volume level down.
It worked.
For about 5 minutes.
Not exactly gasifier but you may need to tie something down.
Worked for me. Wouldn't use it for my truck or anything, but that looks like it'd be handy to throw in my pack for camping or whatnot. If it works, I might make myself some similar.
I bought some of these barrels.
They are "food grade" and had corn syrup in them.
It looks like there is some kind of coating inside.
Do I need to burn that out before I make charcoal in them, or use them for other gasifier projects?
I replaced mine. In a few days it popped out. I was told a spot weld to prevent that.
Not a bad price for a 6 blade fan
EDIT: I got two, but they are slightly bigger footprint, and don't mix with seachoice very well.
straight silicone couplers 2inch to 4inch dia without clamps, I've purchased some but haven't got them yet so can't vouch for them yet, cheapest price I've seen.
Here is a good price on drums if anyone happens to be near Tuscaloosa Alabama.