Good morning Koen .
Thanks much for the videos . Enjoyed them

Loved the videos. Really nice to see the common bond of peoples. Pepe
Koen, I am very curious what it looks like inside the 4" gasifier pipe?
(video 1)
Hi Billy,
Its a straight open pipe inside, about 120 cm long (48"), filled with charcoal, nozzle lit at the bottom/side
diameters of the pipe vary between 4 and 6"
Hi Koen , you mention nozzle on the bottom side , and i did notice a glow while it was running so i presume that the nozzles are horizontal on those builds have you made in roads with a decent material ? or are you using TIG type nozles in your small 4 and 6 inch dia pipe gasifiers ?
Dave
Hi Dave,
They build them with 15mm hole in the side ( like a small nipple female thread ) or just a hole with a nut welded on the outside.
Just to remember that simple also works…
All other options requires in depth thinking and add more to the difficulty level…
Whenever something goes wrong they ask my advice on how they can improve themselves…
I am actually surprised how fast things get picked up once they start doing by their own idea's and how well some builds work…
As where i aim for highest power output, they are already happy when the engine runs and the pump pumps water…
Hi Koen , so let me get my head round this , you mean they just drill a hole in the side of the tube and weld a pipe nipple in and allow that to burn out ? if you have any close up pics that would be handy to look at and understand how they even manage a few hours run time .
Cheers
Makes perfect sense. no unusual materials. just weld in new pipe and pump,.Pretty soon they will; have found the perfect local material for making nozzles, the toughest ceramic or clay or metal part. It always works that way. After they replace it a few times they'll start looking for an alternative. It will end up being Somethiing Koen will not have thought about. Unless he's still available to ask what to do. Then they'll just keep doing doing what he tells them. But still someone will figure it out…Poor People everywhere operate that way. They have some kind of survivability meter that is different than people that have too many options. And like Koen said, he's looking for optimal performance, they're just trying to make a pump run on charcoal.
This makes me smile. If you want something to spread, keep it simple.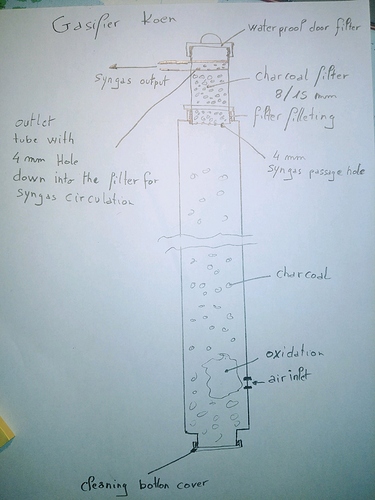 the charcoal gasifier Koen is a marvel of simplicity, but I propose the addition of a filter at its upper part with charcoal, for three advantages,
if the gasifier is used for a long time, there is a risk of significant dust rising,
more important syngas cooling is achieved
less fine particle in the filter before the engine. and after the gasifier.
le gazogène Koen a été conçu d 'une façon un peu particulier; on s'est inspiré du fait que seul le CO est tonnant , et que le CO2 est inerte; il y a intérêt de produire le plus possible du premier gaz et, pas du tout , du second.
on y est parvenu en concentrant le fluide comburant sur un point très chaud, de façon à éviter l'action reversile.
Il ne se produit ainsi à peu près que du CO, la faible quantité d'oxygène qui a pu se combiner au carbone sous la forme d'anhydride carbonique se trouve facilement réduite en CO2, au même titre d'ailleurs que l'eau et les carbures que contient le charbon.
Il en résulte un gaz tonnant très riche et dépourvu de goudron.
la température, qui atteint 1.100° sur la partie de charbon portée au rouge blanc, tombe à 400° à quelques centimètres seulement de la tuyère.
Texte ci dessus de l'explication de fonctionnement du gazogène gohin poulenc de 1940 qui correspond parfaitement au fonctionement du gazogène Koen.
Actuellement le gouvernement fédérale allemand a déboqué des sommes très importantes dans la recherche de l'utilisation du charbon qui est leur principale gisement énergétique pour produire le moins de CO2 possible lors de la production d'énergie, alors que la solution est très simple et décrit sur le texte ci dessus.
1277/5000
the Koen gasifier has been designed in a rather special way; we were inspired by the fact that only CO is thundering, and that CO2 is inert; it is advantageous to produce as much as possible of the first gas, and not at all, of the second.
this has been achieved by concentrating the oxidizing fluid on a very hot point, so as to avoid the reversible action.
In this way, only a small amount of oxygen, which can be combined with carbon in the form of carbon dioxide, is easily reduced to CO2, in the same way as water and carbides contained in coal.
The result is a thundering gas that is very rich and free of tar.
the temperature, which reaches 1,100 ° on the part of coal raised to white, falls at 400 ° to only a few centimeters from the nozzle.
Text above the explanation of the operation of the gasifier gohin Poulenc 1940 which perfectly matches the function of the gasifier Koen.
Currently the German Federal Government has raised considerable sums in the research of the use of coal which is their main energy source to produce the least CO2 possible during the production of energy, whereas the solution is very simple and described on the text above.
experiments from students…
redesigning into cross draft…
Hi Koen, I do not speak the language, but the blue pole that the instructor was using seemed to speak as he was pointing things out.
I see they have developed a down draft and a down cross draft charcoal gasifiers. The cooling rail design look great. Let them know I will be copying their design. They have become apart of the DOW team.
Thanks for showing the video.
Bob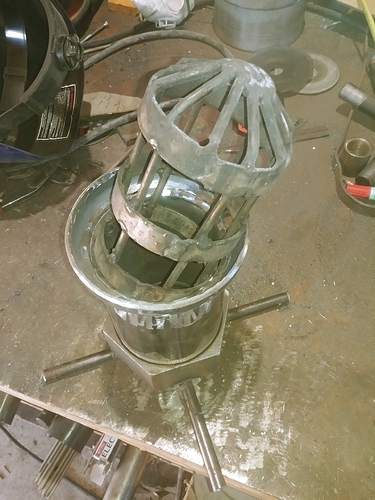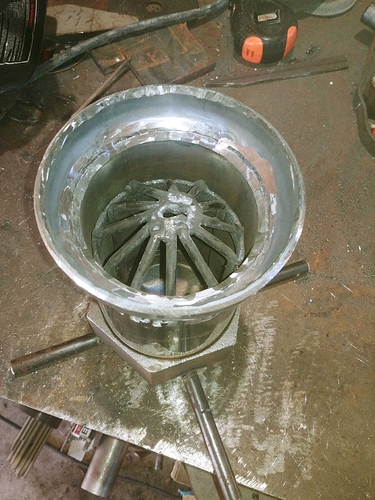 I had no experience on small gasogens, I was not measured that it was a fairly large engine for the wood gasifier,
so I turn my little trailer into a charcoal gasifier and here is a transformation of the gasifier Koen, an ash collector at the bottom of the device.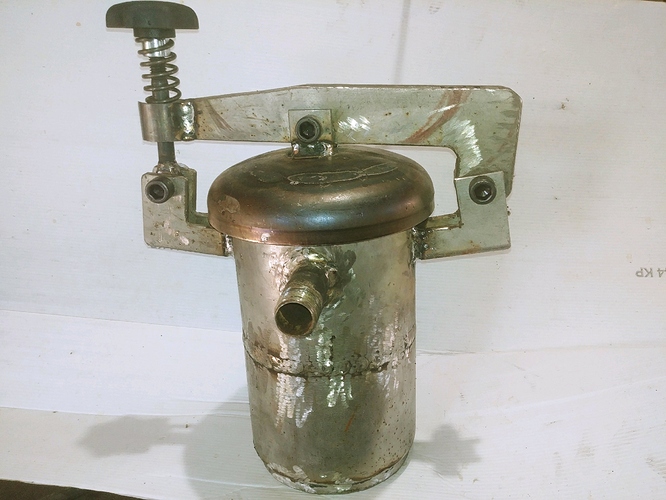 138/5000
Here is the top of the modified Koen gasifier, as the above plan with built-in charcoal filter, I look forward to doing the first tests.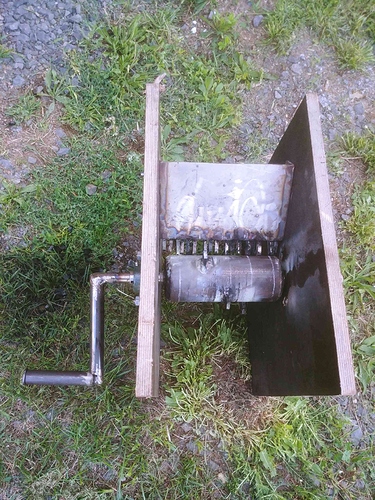 Manual charcoal crusher, which does not force because it is one tooth after another which works, granulometry 8/25 mm, soon tests of the trailer with gasifier Koen.
Clever tooth arrangement, I like it! Pepe