Back about 2003 or 2004 I got interested in gasification and built a rig that I later found out it was a open top FEMA type .    At the time I didn't have a PC and was limited to any research .   I built a unit setting on the ground and was able to flare it and run a motor so I then mounted it on the bed of an old truck.  ( pic # 1 )    Sorry about the quality of the pic. it is a picture of a picture , I didn't have a digital  camera back then . 

This gasifier is an open top ( or open enough it can get plenty of air ) down draft FEMA type tar maker but there are some tricks to make it burn better that I will get to further in the post. I actually drove this truck on back roads and around the farm for several months.
I later built a gasifier on a newer old truck , still a down draft FEMA top breathing , but with more filtering and cooling . ( pic # 2 ) I had two or there gasifiers on this truck that was top breather down drafts . I later evolved to a better gasifier and current design, used it for years and it is still being used today in central MO.
The next vehicle I gasified was a dakota . Still top breather down draft FEMA type . I drove the truck for several years and several thousand miles, including a two thousand mile trip and stop by to visit Mike LaRosa . I later changed the gasifier to a more current design.
http://driveonwood.com/comment/28368#comment-28368
http://ftp.intergate.com/~mlarosa/images/woodgas/Wayne-Keith-Wisconsin-trip/having-a-smoke.jpg
I think it is pretty much common knowledge we have a couple of options when controlling fire .    I know I learned a lot as a fireman and also just years of operating a wood  burning heater.   To control the fire we can control the air / oxygen or we can control the amount of fuel .

If we have a open top or top breathing gasifier there is no restriction on the oxygen so the only other option we have to control the burn is controlling the fuel. There are several ways one could add the right amount of wood to keep the appropriate char bed and to keep the fire from running wild and climbing to the oxygen source. A very simple way to do is to visually watching the char bed and hand feed fuel in as needed. Another would be with sensors monitoring and adding fuel as needed with an auger . A third way to operate an open top or top breathing gasifier is have the fuel in a certain size and moisture content so it can only be digested at about the same rate as the gasifier demands are .
I learned I could operate a FEMA open top or top breathing gasifier and make engine grade gas and drove several thousand miles . If your hopper is loaded starting with smaller high surface area wood toward the bottom and getting bigger with much less surface area as you load toward the top and with enough practice you may be able to match the digestion rate of the fuel with the gas demand of the gasifier Thus keeping the hot spot in the right area and clean gas.
Picture 3 -5 shows preparing wood for this stratified loading and a look in the hopper .
I experimented with several small gasifier and motors . Pictures 6-8 shows the size chips I was using and looking down the fire tube while running the motor . some chips would be on the top plate of the gasifier to enhance drying .
These very old video are short . At the time I didn't know how to navigate Youtube and I would send this to Mike Larosa by email . Anything longer that 15 seconds I would get into trouble .
… MVI 0245 - YouTube
MVI 0153 - YouTube
Another little test gasifier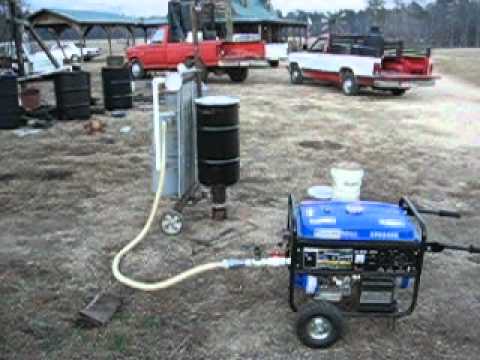 Picture 9 shows looking down the fire tube as a bucket of dry saw dust begins to to smolder to slowly feed the gasifier .
The testing of the gasifiers getting more like current design .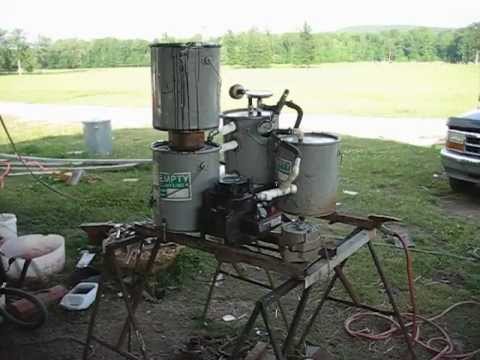 I evolved away from the fueled controlled top breathing gasifier because controlling the air instead of the fuel is much easier and works much better for any of my application
Recently I have read that making engine grade gas with an open top gasifier is a new phenomena ! I am certain I wasn't the first and will not be the last .
Picture 10 show one of the Auburn University gasifiers . It is an open top auger fed machine .
Thanks
Wayne