Great picture, we both look good.
Hello Don,
I filled large plastic feed sacks with 20 gallons of charcoal and weighed them on a bathroom scale. Information with type of wood, weight, and date are written on a piece of paper and stuck in the same bag. A 5 gallon plastic bucket filled to the rim holds 5.86 gallons, so the 5 gallon mark is about 1 3/4" down from the top. Four buckets in a sack weigh around 24 pounds, so we rounded off to 1 1/4 pound per gallon. The charcoal in the sacks has been screened to remove the fines and any nails or little brands. It needs to be run through the charcoal grinder and screened once more before it goes into sealed barrels marked "engine grade charcoal". (1/8" to 3/4")
Hi Ray,
If you weigh before grinding to size, how big are the pieces before grinding? Big pieces have more air space but I don't know how much difference that makes. Is your bathroom scale the spring type or the new digital type? The old spring scales might not be as accurate at the low end. I need one that weighs light at the top end.
Don, the bagged stuff has larger pieces slightly bigger than 1". I have a WWII beam balance scale from a Dr.'s office, and an old spring type bathroom scale out in the barn. They were compared by bringing a bag into the house and weighing it, and they were very close. Later today, I could bring one gallon of finished charcoal into the house and weigh it on my postage scale. (When I make charcoal in Gary's two barrel TLUD system, most of the large pieces are brands, and I like to use them in the wood burning stove in the basement, so I throw them in the wood pile.)
Carl: It is a good picture. I'll credit it to Ray, I think he's our new official photographer!
Don: What Ray said. He's the one that weighed it, 1.25 #/gallon. We'll see if that stands up to his other vintage measuring instruments in Menke Depot, but it seems about right. Menke charcoal is carefully selected, and fully converted! I highly recommend it!
These peanut containers hold 8 cups of water right up to 1/8" from the lip, and weigh 4.4 oz empty. Full of ground charcoal they weigh (together) 2 pounds and 3.9 oz. or 35.9 oz. Subtract 8.8 oz. = 27.1 oz. or 1.7 pounds. Since 1 U.S. gal. liquid = 1.1636 U.S. gal. dry, dividing the 1.7 by 1.16 = 1.46 pounds/dry U.S. gallon.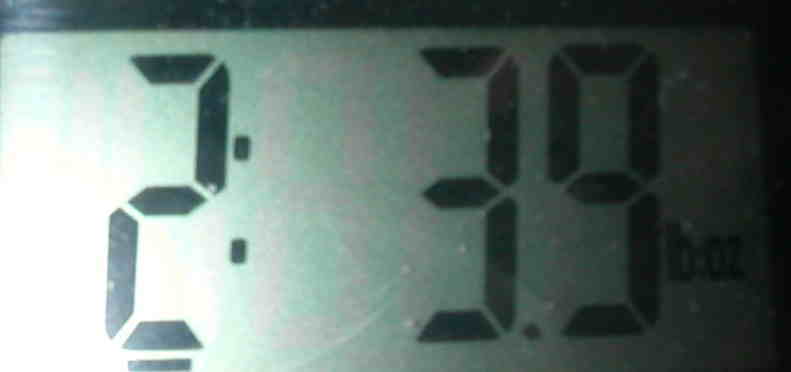 In conclusion, I'll have to agree that grinding the charcoal into smaller pieces makes it pack together tighter…so it weighs more. (Now, my old brain has been fried for today.) Martin will have to say that his charcoal weighs almost 1 1/2 pound per U.S. Dry gallon.
Thanks Ray. One last question - was that hardwood or softwood?
Cups, oz, pounds, gallons (wet and dry?), stones and feet.
What about knuckles and buttons?
I'm lost - I'll stick to kilograms and meters

You might not be so quick to dismiss our system if YOU had spent as many hours in school, learning this random bunch of numbers of variably related abstract dimensions and with often irrelevant weights. You just had to learn to count to 10. TomC

I believe these samples were mostly hardwood; Post Oak, Mesquite, and Huisache with possibly a bit of softwood in the form of red cedar. The Post Oak trees have been killed by the drought, and the others are considered invasive species.
Good find, Don. Yes, when Ray measured it before, it was before we ground and sieved it to engine grade charcoal, as per Gilmore specs. I suspect if we measured charcoal fines, it would be closer to the density that you referenced, or 2.5 lb/gallon. (Ray is headed to the scale with fines …)
So, based on the 1.5 lb/gallon density figure for engine grade charcoal, ie between 3/4" and 1/8", the consumption numbers would be 1.7 gallons/hour, yielding an estimated 15 miles/gallon or 10 miles/lb. Still about 2 hours runtime, with 5.4 lb of usable capacity, or 3.6 gallons.
Not sure why we never made it to the metric system. It seems like we were headed that way in the 70's, and the effort ran off the rails for some reason, I don't remember why. At least we're not giving you Varas, Rods and Leagues, or the units used for old English anvils …
This afternoon I weighed out 45 pounds of unground charcoal then weighed again after grinding and screening and it weighed 40 pounds. The screenings weighed 5 pounds or about 11 percent but the volume of finished engine grade charcoal seemed to be reduced by about 20 percent due to smaller air spaces between the ground charcoal. Here is a picture of the fines that were screened out while grinding.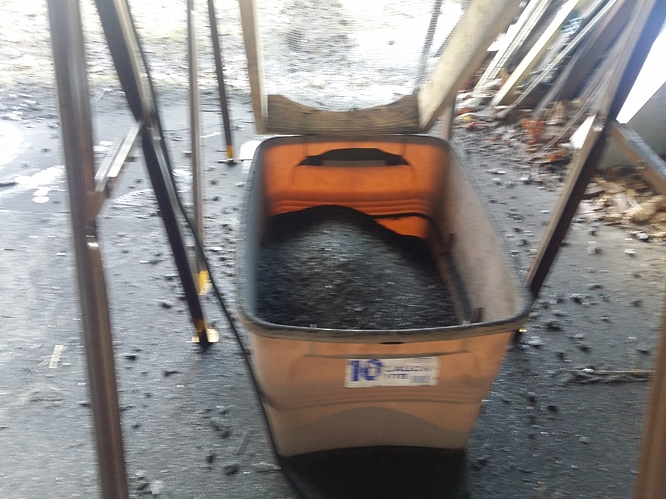 I just weighed the fines on the postage scale. 3.125 pounds divided by 1.16 = 2.69 pounds/dry U.S. gallon. Martin's suspicion was very close.