I've been working on this project for some time, but today we had a very successful test. This is a 2003 Honda XR-100R dirt bike, obviously in very good condition for its age. I already had this machine, or I would have chosen something larger, perhaps with multiple cylinders. The gasifier is perhaps a bit large for the bike, but I wanted something with some range compared to that fire-extinguisher-equipped Honda from the 80's which we've all seen (previously the cover photo for the Yahoo Woodgas group).
Anyway, the Motofier is powered by a Simple-Fire style, updraft charcoal gasifier, complete with exhaust gas re-injection. The mesquite charcoal was made by Ray Menke in an Gilmore style open retort which he and I built (actually he's burned out a couple by now). The charcoal was ground to spec in a grinder which I constructed. The holddowns on the pot were pioneered by John Rubins of our charcoalgasifer group, and I constructed homemade valves for the exhaust re-injection and air intake using an idea from George Adams, also of our group. However, I used elliptical valve plates rather than round ones, and JB Welded them in place rather than bending the plates. As everyone knows, "hooking it up" takes the most time, ie getting the plumbing done. I used a combination of everything for that - including the kitchen sink … drain pipe, that is. There's also a modified ice maker valve on the filter as a drain! The gasifier appears to be "just sitting" on the rack, but it is held down securely in a novel fashion. The stainless bands for the filter mounts were hand Sawzalled from some 18 or so gauge stainless from a copy machine part. It was too thick to cut with snips. Did eat up a bunch of Sawzall blades. Then when I went to drill the bolt holes on one of the nice, hard won stainless strips it was snagged by the drill bit and wrapped itself around the drill press chuck before I could throw the switch. Fortunately it hammered out nicely. DJ must have been watching over me, because I'm not sure how these mounts came out so nice.
Anyway, ran it about 30 minutes today and it appears to have over 50% power, maybe more, even without touching the ignition advance (which would be difficult on this machine). Made it up the "big hill" on our street in first gear - 3rd would be normal, I guess. Idles nice. In operation the air valve is totally shut, and it seals fairly well. Woodgas full open, of course. Exhaust gas valve full open, but need to add some backpressure to force more to the gasifier intake. Temp at the top of the gasifer came up to almost 300 F, due to the void space, but the gas was cooled to near ambient before it went to the filter. The gasifier exterior was ambient at the base and increased towards the top to something over 140F. Will check to see how much charcoal was used when it cools down.
Video, here: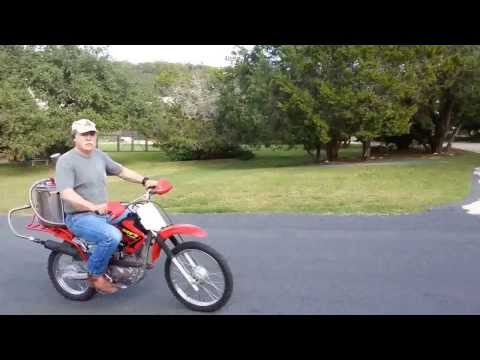 Martin Payne