Just spotted this on Craigslist.
http://maine.craigslist.org/hsh/5455168018.html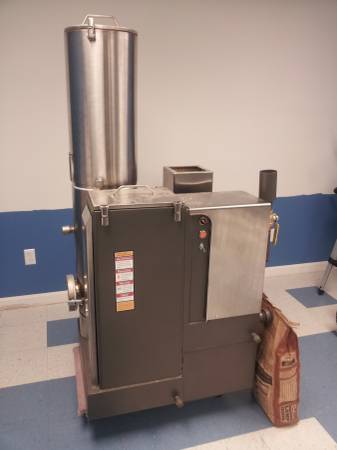 NEW! Alternative Energy Home Power Generator/Gasifier System not solar - $6500 (maine)
BRAND NEW - Home/cabin sized wood gasifier. Produces gas that can power a 5KW gas/diesel/propane generator or combustion engine of similar size. Unit is new. Manufactured by industry leading company from top quality materials (Victory Gasworks, model is Hotwatt). Use wood chips/chunks/biomass to power your home. Great for someone with access to wood or biomass products. You will be able to run a 5kw generator without gasoline. This model is unique and has low to no tar output making it the best in its class.
Easy to clean and maintain.
Unit has two stages of gas filtering as well as hot water exchange and hot air exchange.
Ready to add your fuel and a gas generator to start producing heat, hot water, hot air, and electricity.
Often used by Amish and other off-grid dwellers. Will make a great backup power supply for any home or couple the system with a battery bank to get totally of the grid.