Ok guys I've talked about it a few times and now that I have a plasma cutter to do more intricate cuts I'm confident enough to attempt this. I'm basing this off of the video of a Swedish WW2 era motorcycle gasifier. I had asked him in a comment what size of engine and he says it was for a 500cc bike.
It's a single nozzle charcoal down draft unit.
Here's the video just to freshen this in your heads: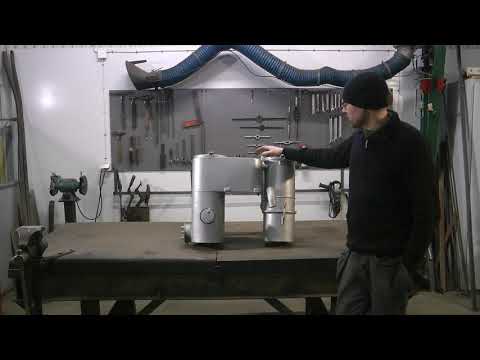 I don't have anything appropriate to add a hopper extension but the compressor tank is taller than this build. It's going on a funsies bike so capacity isn't a big deal.
For the grate I have some 1/8" plate that I can cut to fit the inside, to hold up the grate I'll weld in some angle iron shelves. I'm hoping to not fix down the grate to let it rattle while going down the road.
My nozzle head will be a small bevel gear from a differential, with the end having most mass pointing towards the reaction. I'm hoping it will have enough mass to keep from burning away but I'll make this a screw off piece to be safe.

I'll weld this to some 3/4" pipe for threads.
Since the ID of this gear is smaller than 3/4" pipe I might give Matt's water drip system another go.
I would like to recreate the cyclone bag filter pictured but that's a bit too advanced for me. I could maybe make a tall narrow bag filter and introduce the gas on a tangent.
This will power a 196cc engine, but it can rev up to 6000rpm+ so I feel like the sizing will be sufficient to keep from running too hot.
Provided it doesn't rain tomorrow I can get started on building the reactor itself.
I'm thinking of spacing the nozzle roughly 6 inches above the grate, judging from the video that seems about right. I wish his video had subtitles that I could translate off of, maybe I should just learn Swedish off of Duolingo.