Okay fellow wood/charcoal Gasification members. This thread will be all about the Kirby Vaccum Cleaner Conversion to a Blower for your Gasifier.
I know many have done this so if your want to share what you have done it would be appreciated. The more ideas and ways to do this the better for everyone so they can use this powerful reliable motor and blower.
The weak part on the Kirby unit is the complicated switch with all the safety features that you do not need when converted over to a blower unit for your gasifier.
So it just makes sense to by pass the switch all together and replace it with a variable on/off dimmer switch, so you can control the air velocities coming out of your blower, per @TomC.
First of all my Kirby was found at the recycling junk yard. The electric cord was cut off and I got for free because I was buying some metals. He just gave it to me to get rid of it. Score!
I tried to repair the switch and gave up, it not needed any.
Here are the steps to by pass this switch.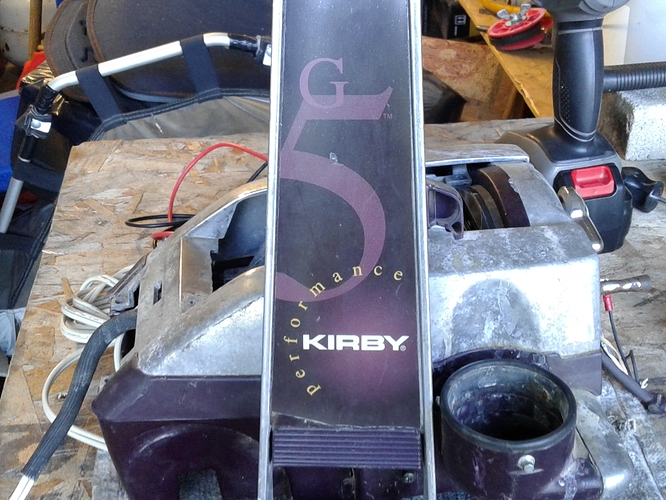 This unit is a G5 Kirby most of the newer units use the same plug in switch block.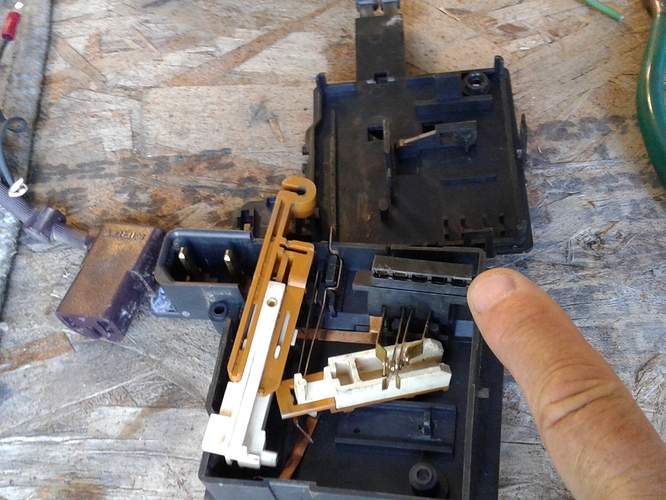 Here is the switch open up. I had to study it for a while to see how it was supposed to work and how it was electronically hook up and routed in the switch buses to the connections on the out side of the switch.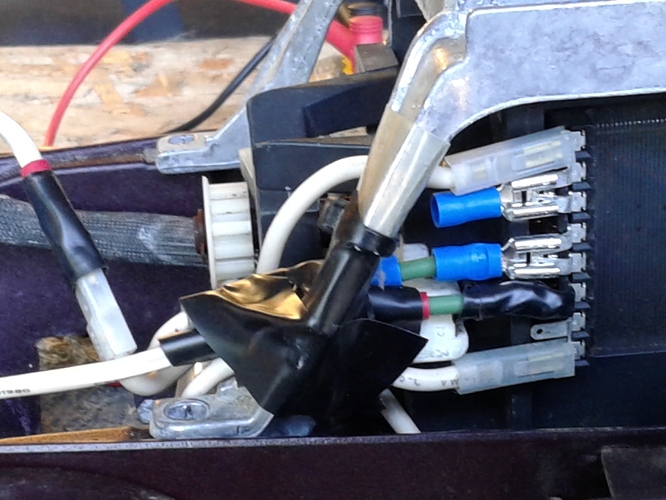 This is the buses connection tabs to the motor windings, brushes, light bulb, and 110 volt power cord plug. I looked on the Kirby web sites and could not find a wiring diagram for what I wanted to do. So it was a lot of volt/ohmmeter work and scratching the head.
Let's start at the very top of the plug in block tabs of the last picture.
Tab
#1
is where one lead of the light plugs in. Tab # 1 and # 2 are linked together already internally.
Tab
#2
and
#3
needs to be linked together, just used a blue female clip.
Tab
#4
and
#5
needs to be linked together, just used a blue female clip, and also this short green wire with a male blue male clip that is connected to the long wire brush lead connection. You will have clip this connection down by cutting it in half so it will slip into the narrow female brush connection.
Tab
#6
is connected to the 110 volt power cord. I had to make a connection by cutting a red female clip long way in half, if you can find the smaller connectors that would be better.
Tab
#7
and
#8
are internally linked together. The other end of the light connection is clip on
#8
.
The short brush wire lead is connected the ground lead on the power cord.
This has no on/off dimmer switch wire in yet. I will edit this later when I get the switch.
And there you have it. Thanks again to
@TomC
I am hoping he will post the pictures he has sent me on messages.
Again lets try to keep this thread on the Kirby conversions to a Blower for gasification. Remember you are all invited to join in with your Kirby ideas.
Bob