Congratulations Tone!

If you don't mind, tell us about your plans for your new workhorse.
Are you going to woodgasify it? Please tell us.
Anyway, nice tractor
Giorgio, the Fiat doesn't have a decompressor for easier starting, I started it downhill for the first time, it came to life quickly. Otherwise, I have to seal the leaking water pump. I cleaned the carburettor, replaced the fuel pipe, there will still be quite a bit of work… well, it has four performances, the fourth one is very fast, it probably reaches 40km/h,… of course I intend to install a wood gas gasifier, but I don't have it at the moment time for that,…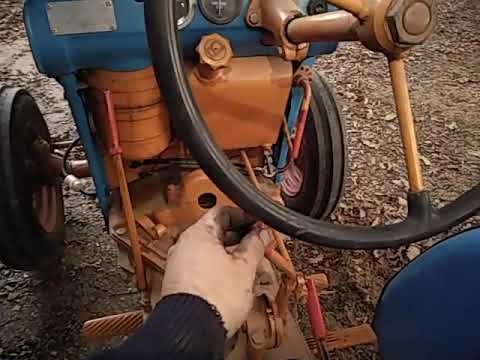 They advertised them as 'easy to work on'. They sound like they were designed to compete with the Ford 8N.
And now we know the real reason why you bought it.

I was going to say you could install a decompression system to make it easier to start. but I think you need antique driving goggles and maybe a leather helmet more.


The windshield was optional on a Model T so maybe something like these.
Ha, ha, good glasses, but the driving cap should be turned back so that the wind does not blow it away. Giorgio, those of you who don't have a car, this little tractor would be quite a good means of transport, you just need to add lights and balance the tires.


If you make the ride pleasant, the wife will start using it, and you are out of a tractor and you already got her the stove.

tone, thanks for the film, exiting engine…with 40 km/h we have soon the next "woodrunner"!
in my old hanomag handbook i hav seen they have had a lever on the friction pedal for fix it on "open" position for easier hand cranking, shure in winter helpfull when the gear oil is more stiff…
in the swiss woodgas book from @Til in the chapter about converting diesels to spark ignition, there is a valve over the cylinder in the motorhead called "zischhahn"…is this for decompression??
or this one … cost less and better conserved ( benzina)
or this , one is benzina, but expensive, another -the 601- is the same like tone`s, only with chains…for 750 euro - to restore…
this is a bit expensive , but interesting rear wheels with old tires also benzina…all this tractors are to convert for woodgas
some other interessting modells with spark ignition ( benzina petrolio)- for woodgas converting- only a bit pocket money is needed
small one with 9 hp for the children…
also this a gasoline ( benzina) tractor from 1931
9hp… for the children

you made me laugh Giorgio. My current tractor is just a bit more powerfull and at some times it scares the crap out of me