Wow, that's exactly how freedoms are taken away!!!
Imagine if our upcoming semi fleets have twin engines in them and when the turbine takes a crap, it's time to scrap out the truck.
Doug,
Near Fort Wayne, Indiana, they have recently built 2 Compressed Natural Gas "filling Stations" The second one they just finished has like 8 bays. No Customers. I guess someone is planning on many fleet vehicles being converted to CNG. Maybe under duress?
Thank you Chris S. for making me a "member" of DOW. I'm saving up for premium and a copy of the WK book. I'm planning on going to Argos in 2016, too. I didn't know this drive on wood stuff was possible a year ago, now I am hooked.
Mike Reynolds
I don't know if this is true or ever was true but the story is that in PA it is legal to repower a diesel pickup truck with any kind of gasoline engine. If true this would be a nice loop hole for building a woodgas truck. No time to look into it…
A little slippery around here today…
I have done this a few times. It fun until one finds a bad spot.
Last minute Christmas gift.
I often work my wood burners in and around the hay barn and hay fields.
I wonder if the owners of this wood burner operates in the hay also?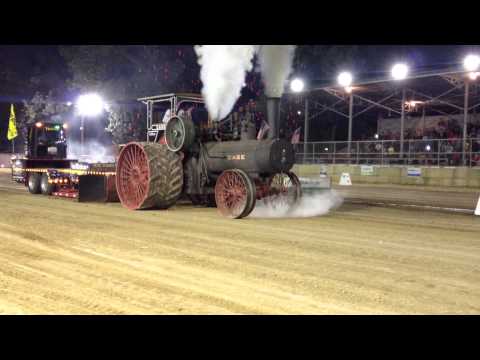 That is an awesome video, thanks for posting! And no I don't think he should work that wood burner any where near hay or hay fields!!! Great demonstration of real power!
Ha! Ha! Nice video Mr Wayne.
Yes they most certainly did use these steam tractors a lot out here in the West as belted up threshing power sources in the wheat and oats fields. Dry weather time. They would have fields fires. All hands on deck then sack and flail beating out these fires.
Had our fourth wind storm event this season taking out the Grid power again. 12.5 hours out this time. Goona' have to refreash some of the lantern battries now. I use rechargeable 900 and 1500 mAh AAA's, AA's in the LED headlamps.
I MISSED mine, and neighbors Christmas cheer-up season lights being on.
One niegbor got his propane whole-house furnace back up and working cracking out an old, stinky, noisy 5,000 kW flathead B&S scream-a-matic. For a continuous 8 of those 12 hours without grid. E-E-e-e-K!! By the fourth hour I was grumbling that I should go over and shoot it to quiet. Got to hoping he'd just run out of gasoline.
Now HIS neighbor was quietly perking along on his super quiet 2000 watt Honda inverter/generator to keep his air-source heat pump going.
Fella's!!! Again. These super quiet Honda's are on instant $200. off sale through the 31st of this Dec. Save 50% gasoline. Save niegbor goodwill. And Not broadcast out what you are doing for a mile around.
Batteries and gasoline - what we all love to hate.
Steve Unruh
Been a busy afternoon here. The dead-end road sign is in front of one of our houses. Drove up past doing well-ness checks and to find out why some "dead-enders" (insider joke between us friends) had not cell phoned back.
Had to power ax my way into one place past five downed cedar trees. Used the vehicle to do some cell phones recharging.
May seen strange to most here but true dead-enders like it that way and are not much bothered when the end-of-the road, power-goes-out.
They mostly like their peace-and-quiet. All woodheat and just fall back to; electricity-without.
They fall back to roof collecting for water. (I gift water filters that do not get used)
They fall back to kerosene lamps for lighting. (I gift wind-up radio/lights that do get used some)
Sigh.
I've lost friends to burn-downs.
And self-food poisoning.
Everybody has a right to go to seek their own heaven,or hell, after their own fashion.
Steve Unruh
I like projects I can do in an afternoon. Here's one for the southwestern guys… a mini chile roaster!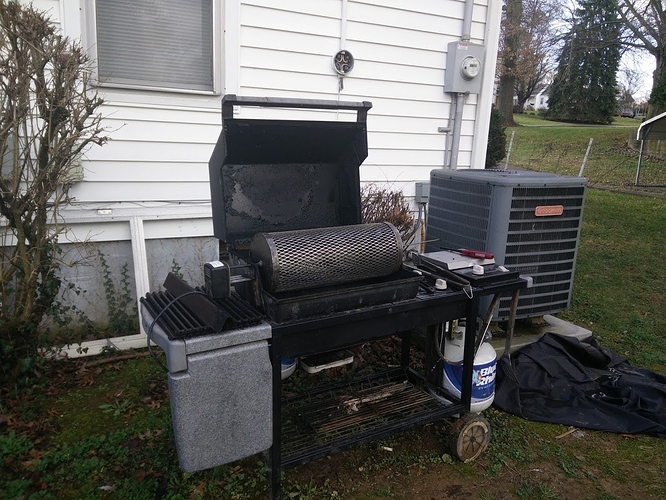 I made this to fit a Weber gas grill, in place of the optional rotisserie. It's motorized, at a very slow rotation speed. It holds enough chiles to make gallons of spicy salsa. Being that it's mild steel, I seasoned it thoroughly before use.
Works on other stuff too… I tried onions and tomatillos in it, and they worked just fine. Could probably roast any vegetable this way, if it's not too delicate to roll around.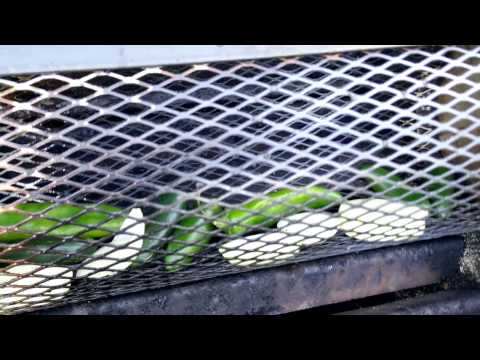 Neat looking project Chris S , I want too make one something like that design for a potato tumbler.
Neat vidio Wayne on the choo choo tractor,that tractor far out.
No snow here… it rained last night… merry Christmas to everyone here… have a safe and happy holiday
Merry Christmas to all.
Merry Christmas and Happy Birthday Chris

What Wayne said x2