On at least 2 places on my land l wuld need a foulproof water pump that runs without electricity. In one occasion (garden irrigation) l was able to make a ram pump and it works but not at summer drought (the main water flow is just about 2gal/min in the summer), but then it is most neaded! Other is l plan to make a small fish farm in the future, and aquaponics in my greenhouse/root cellar complex. This calls for 2 things, water flow and aeration of water. Later culd be excluded if water gets aerated with a good enough current of water trugh venturis etc. but it comes at a price. The water pump must never ever stop! And usual electric pumps are prone to do so. A hour of power outage or a mechanical breakdown can be fatal for a years worth of fish.
So, l was looking for a alternative. Something simple, reliable and free of electricity. This is what comes to mind; steam hammer effect pump (the name is a work in progress

slight_smile: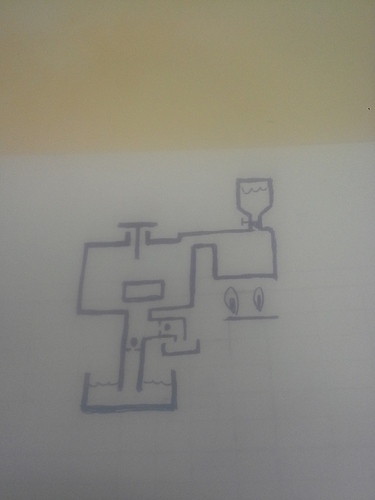 It consists of 2 main vessels, the work chamber (left) and the steam chamber (right) in adition it uses 3 non return valves (2 for directing water flow from the lower water tank to the higher and one for venting the air on top of the work chamber) and a drip valve and a float (the box in the work chamber)
Operation:
The steam chamber is heated with a outside sorce of heat.
Water drips in the hot vessel, turns to steam instantly, expands and rushes out in the work vessel, pushing the air out the air vent on top.
Once the water has turned to steam, it starts to contract. Air vent closes and all the steam condenses on the cool walls of the work chamber. A near perfect vacuum is made.
Vacuum draws the water up in the work chamber.
Water lifts the float and as it rises to the top, it touches and opens the air vent, breaks the vacuum. Water can flow out the work vessel in a higher standing tank.
Cycle repeats.
What do you think? Theoreticly this pump culd work for up to 10m height difference or 1bar, in practice a bit less. It is preety much foul proof as long as there is a heat sorce and water in the water drip. Self starting too.
As a heat sorce anything could be used, a propane torch, a petrol/kerosene wick, small stove, woodgas, even a solar parabola miror. Is shuldnt realy be much, just enough to boil a couple of drops of water a couple of times a minute.
What do you think?