Joseph Hauler's Dakota: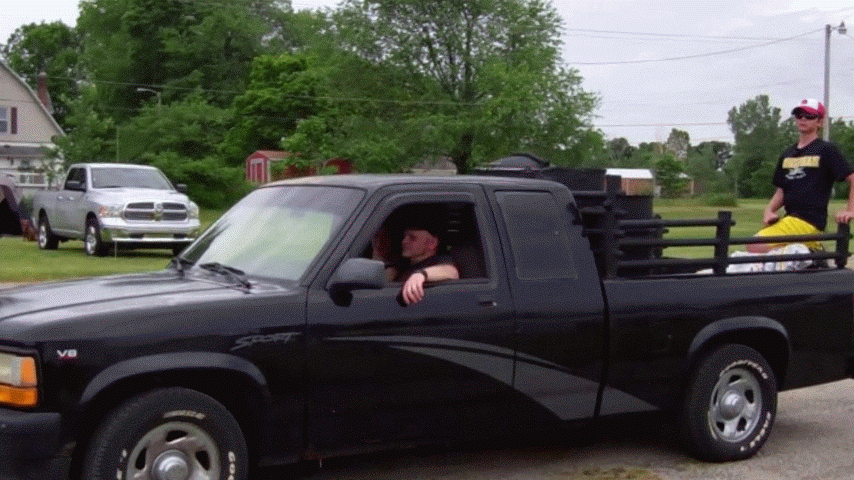 his thread here: http://forum.driveonwood.com/t/josephs-build-in-michigan/1272
Glen Wells' Dakota:
his thread here: http://forum.driveonwood.com/t/glen-wells-98-dakota-project/1273
Wow!! I am finding this crazy hard. I have been following the "Forum" diligently for years. My old mind does not organizes or retain things as well as it should. I read a post on the Forum and in my mind say "yep", I see what he did. Days or weeks later I read a post by the same person, and it doesn't necessarily relate back to the previous. It is just another post and I say "yep" I see what he did.
But here where you have all the post related to one builder, in one place, it all flows together for me. I had to watch all of Dustin Moore's post to catch up. I remembered someone building a fire brick Wk, but to read and see all of the posts leading up, was mush more relevant me. It took well over an hour.
Then I went to Joseph Hauler's build. I saw his truck at Argos so I was curious about his story. Yes I remembered some about it and was actually a little surprise to see I had commented at on time. The history, took a couple hours of reading and I'm not caught up yet.
Glen Well's was totally knew to me. Some how I had never put his post together in my mind.
Any way I have a little more studying to do Baillie's tractor and Arvids tractor a sort of familiar to me but I can wait to read all the post put together. I am a Big Fan of Gary Gilmore's and so happy he got into transportation. His post have been fairly recent to I "think" I remember most of his but I'm sure reading it again will be very inspiring.
I really do like this posting, but honestly, I think it makes it much harder to make my decision on who to vote for. Some have added new engineering to the subject, some have persevered through problems, which have allow other to learn. All of them deserve their credits.
Chris, some how your list of builds in the US showed up through today's viewing. Have you updated that lately? I see some names in Wi. that I don't know about. How can I find them on a map. Great job. TomC
Tom, I'm glad this is keeping you busy. Keeps you out of trouble that way

Haha, funny, funny…



Hi Tom, you're right it's a lot to keep up with. This batch of nominations came straight off the Projects and WK Projects category pages. Worth a look.
http://forum.driveonwood.com/c/premium/wk-projects
Multiple votes are encouraged. You can vote for all of them if you want!

Haven't updated it in a while. Maybe you can contact them through the site?
A woodgassers map has been requested several times, I'm all for it but haven't currently got time to build it.
I'm sorry if I am sort of dominating this discussion, but ---- I am not seeing how to vote. Wait!!! I just figured it out, but for the other who are posting " I want to vote for ----- --------, I don't think they have figured it out.
TO VOTE FOR A BUILD==== go to that build and click on "LIKE". That will be one vote.
I hope I have that correct Chris. TomC
Thanks Tom, that's correct. Each like is one vote. That's why posting separately won't help your candidate… I have to be able to tally the votes.
Last day to vote for this go round!
Like Tom said,
TO VOTE FOR A BUILD: go to that build and click on "LIKE".
COME ON GUYS!!! NOW YOU KNOW HOW EASY IT IS, SHOW YOUR RESPECT FOR THE WORK THAT THESE GUYS PUT FOURTH. Even if you vote for all and it doesn't produce a winner the number of votes will show the participant your respect. TomC
I say, "COME ON GUYS"
I'm sure that there are more people than that that read the postings during the day. I realize many are at work ( I just mowed the lawn) This is open until midnight (EST??) Plus or minus Chris's sleeping time.
Any votes that come in after the cutoff will go towards next month. I just take the highest voted entry each month, and remove it from the list - the rest stay to be voted on for next month.
We're a little behind, so this round we have two featured projects.
September: Top voted was Dustin Moore's firebrick gasifier. Congrats Dustin!
October: It's a tie between Gary Gilmore and David Baillie. This is a tough one, both deserve to be featured… So, by random coin toss, Gary gets this one. Nice work Gary!
David is still in the lead for next month's pick. Again, keep right on voting! It all counts towards the next go round.
LET'S VOTE EARLY; Newer guys — this is the best way for you to catch up on the posting. Pick a name and scroll up to the address for his build and read it straight through. I learned a lot by reading these and I have been around for a while. You can vote for more than one and I assure you, that is a good thing because you will find something excellent in each build. You might judge each one differently. Some I vote for on workmanship, some on engineering and modifications, and even perseverance for the problems involved in completing the project I hope Chris will add to this list as info becomes available.
Gordon Ooghe – G.O. we need an update
Green Dragon
Doug Drost — lots of info but need a walk around
Calvin Rader
Paul McCombie
Wes Kuehl
Michael Briere ( Mr. Lipstick Red) Need a final and walk about
Avid Olson — tractors
Joesph Hauler
Glen Wells — could us some build pictures
David Baillie — charcoal tractor
I know we're a bit behind here… go ahead and vote on your favorites, or nominate new ones.
Voting closes at 11:59p Nov 8. Rules posted above.
November: Tied for first place, David Baillie's charcoal tractor and Joe Hauler's truck. Since David tied last month too, I think he deserves a break! Good on ya David!
Wow, forgot about this… as usual, vote for your favorites, or nominate new ones. Click the "heart" icon to like the post, that's how you vote. Two candidates on this round, one for December and one for January.
Voting closes at 11:59p Jan 11. Rules posted above.