Here is the walk around video of the pocket rocket conversion of the bucket-a-day.
Over the next few days I'll post the videos of this thing here.
That way they will be all in one spot.
Two more.
And two more to go.
Last two and that's it for this one.
This weekend I'll see if I can find the large tlud boiler hybrid compost heat video.
This was a hybrid compost heat and TLUD heated boiler and charcoal maker. 2000 gallon tank covered in compost and heat added by the boiler above the large TLUD.
Tower below.

Compost below.
Boiler made from 55 gallon drum below.
And a really old video…
Jeff; That pile of hot compost reminds me of cleaning out a cow lot. The Farmer had those plastic bags filled with silage and when the silage was used up there was a lot of waste still on the ground of the lot. My boss bull dozed it all into one big pile. Later he sent me down with the excavator and dump truck to haul it away. It looked like it would be easier to load the truck with the excavator on top of the pile, So that is what I did. When I first scoop into the pile the smoke started rolling so bad I couldn't see the truck to drop the load. I thought for a minute I might loose the excavator. TomC
I called this the Twister. Also had a version that I put on the top of the large TLUD in the above. It was meant to burn chopped switch grass and sawdust but it also made charcoal. The charcoal would build up in the bottom. Feed the fuel into the blower and the fuel and air went round and round burning up and charcoal ending up in the bottom. Started a normal fire in the bottom then started up the blower/fuel.
photo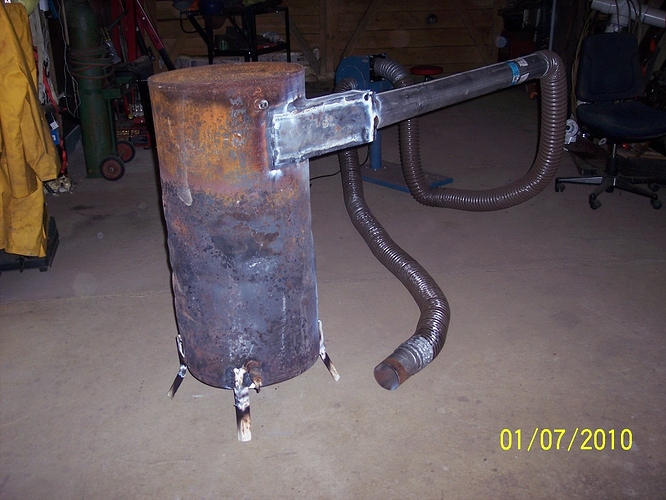 ended up using a leaf blower
photo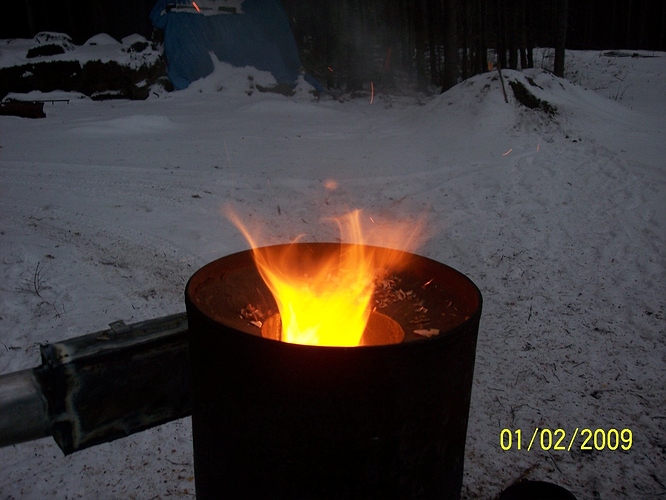 photo
Jeff
I think you are inexhaustible imagination
Thierry
Thanks Thierry for the kind words. The spirit might be inexhaustible but I feel the body is starting the exhaustible journey.
Gasifying/carbonizing straw can be performed with little or no
additional air. Slow go method. Once some activation energy (like a lite
match) is applied there is enough air in the stem and around it to keep
it smoldering or gasifying slowly for a long time.
Why not use the Roger Sampson Rice Husk Carbonizer method to make
biochar in the field with no equipment…?? I did. Here's the method…
Make a tin fire box with a chimmeny. Chop and blow or pile your straw
around the ignitor you made. When you get the time drop some fuel down
the chemmeny and into the box. Some diesel and drop a lighted rag down
the hole. Hose it down when fire shows up on the surface. Better yet
wait till winter with a few feet of snow on it… That's what I wanted
to try but got out of weed before I had the time. Make sure you don't do
this under electric lines the first time. You will need to spray water on the pile at the right time in order to keep the fire from burning up the charcoal.
Wet weed or rain… No problem because the compost bugs will dry it
out. Plus you will have a nice 8" layer of wet weed or straw to help
stop the burn.
Fire box and stack.
Opps, that was a large photo… Anybody know if I can delete that…???
next.
next
next
next
next
next
next
Years later when I drag a log over this area it turns up nice black soil. But it is interesting that you could not tell from the vegetation that is growing in this area.
Mr. Charcoal was made from an old hot water heater. The shell and fiberglass was kept for insulation. The top was cut out and used as a grate for the bottom. An electric blower blew in below that. It did make charcoal from switchgrass to wood but I did not have a good way to cap the top. It was also too heavy to tip over but maybe if it was like a cement mixer with a handle to dump it. For those two reasons it had low charcoal yields.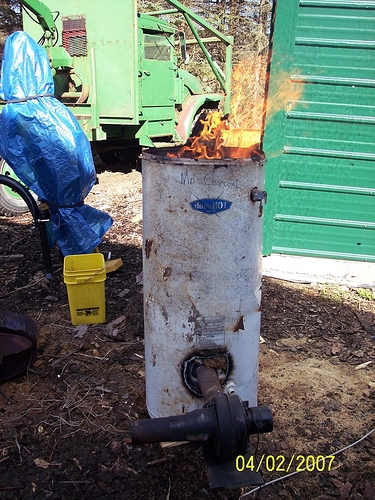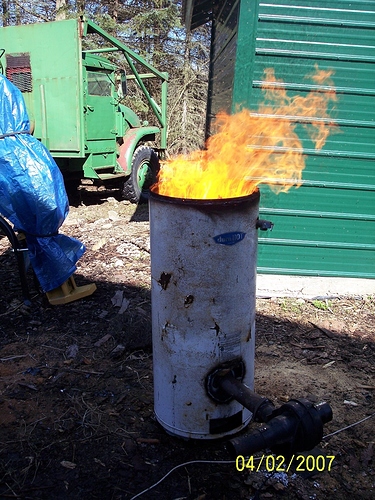 Thought I'd give the Kemp one more try. Stole the engine for another project last year. But, I had this electric motor with a small pully. Used vise grips because I didn't think duck tape would hold it in place…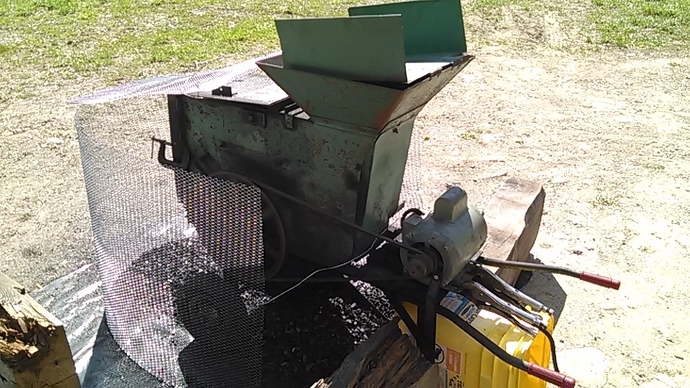 Reducing the rpm was a big help. Also used some plaster cloth to keep most of the charcoal from flinging away.
Next made a screen for the front.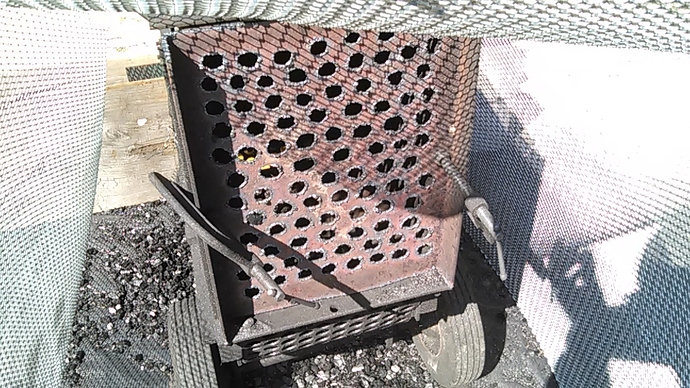 That also helped. Need to open up the holes some more. Also the rear needs a screen. Right now it has a flapper adjustment that really changes particle size.
P.S. the Kemp is a hammer mill.
And then there is the Gilmore/English and others large TLUD method.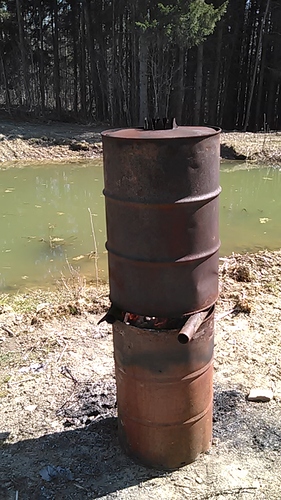 Below it is capped.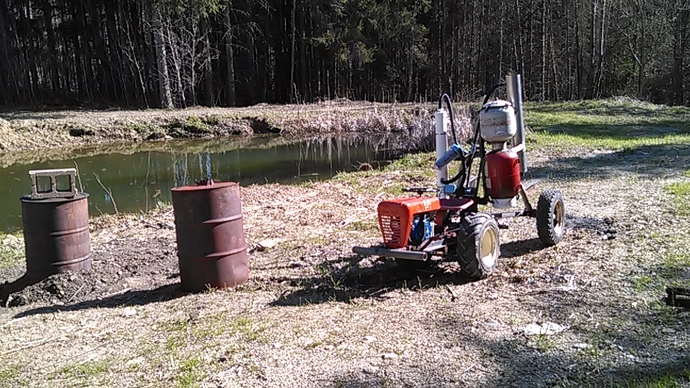 Check out the Merry-Go-Round. PDF can be found at the end of the link.
http://stoves.bioenergylists.org/content/6-Barrel-TLUD-MerryGoRound
awesome Jeff and a lot of wow's
Thierry's right, and i ad: you beat me in imagination and building…

Thanks Koen, but to be honest - I think you have me beat and I can't keep up. I would like to think that we all feed off of each other…
one inspires the other…
A lot we can learn from each other…
Hey Jeff,
I just noticed your website puffer.com
I really like the skidder you built. It's amazing a little 6.5hp engine can tug those logs through the woods on charcoal. That puts you at just above 3hp?
I think most of us would enjoy a video of a walk around of what you did there, if you don't mind sharing your info? I am really interested in how the steering works as well. You are a very creative man.
Will you be going to Argos? If so, will you be bringing this machine?
Hi Bill,
Thanks for the kind words. No idea of the HP, I need to make a prony brake. Later I could shoot a better walk around video. I should be at Argos with the machine if things go well. The steering seems to be working well.
I was hoping to hear that you will be at Argos. Even better that you're bringing your machine.
One of the biggest spring auctions that I remember. I'm getting old because I was beat after about 6 hours. Missed a lot of tanks and a few cub cadet garden tractors. One had the creeper gear. I was also out of ammo after winning the 14" Chomper.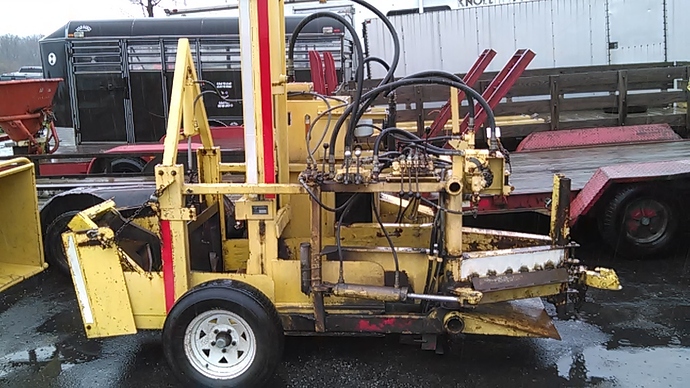 Now how to get it home…
Okay I'll bite, what is a chomper?