I'm new to woodgas. Do I need to have a flex fuel engine?
Welcome to the site.
No.
Gasoline internal combustion is easiest. Diesel is possible but more work to convert. You need a large cc engine because woodgas is more voluminous than gasoline/air volume.
It is easiest to use one with aluminum/steel intake manifold/etc. so you don't melt a plastic one when it burns out the soot upon backfire or cleanout eventually.
Engines already set up for propane have been easiest for us to convert. But that's basically just a gasoline engine with a different fuel delivery system, which you will convert anyway.
Probably the most commonly used gasifier on this site is the Wayne Keith. And the most commonly used engine for that gasifier is probably the 318 Dodge v-8 in the early 1990's Dakotas.
Hello Mark and welcome to the site .
Below is some reading on the subject .
No. Flexfuel usually means it is E85 capable. Woodgas is it's own beast. However, a LOT of e85 vehicles are naturally aspirated, which could make it a lot easier to convert a vehicle.
Factory flex-fuel vehicles do have a lot more ignition timing advance pre-programmed into them. This was to without better higher compression ratios to get back as much power on 85% alcohol as possible.
I only a few times operated the wife's 99 Plymouth mini-van on E-85. It; out and about, ran just fine. Even highway tripped, just fine. Boo! 30% higher fuel consumption. On fuel that cost, out here far-Left-coast, 50 cents a gallon more.
Her's had no in-the-fuel-line alcohol detector sensor. So it had to use enhanced knock sensor information, with quicker responses, to use the wider range timing mapping.
Later systems DO have in-the-line alcohol % sensors. Great. Spoof the sensor when on woodgas to get your more advanced ignition timings.
Factory, Fex-fuel systems offers better woodgasing possibilities imho.
S.U.
I think the original ones used fuel sensor too. but it was an either/or so if it detected you had e85, it would change the timing, but any mix inbetween, it would revert to gas settings, and maybe that was just the anti-knock sensor.
The newer ones the detection shifts based on a percentage. The problem being that e85 can contain 'up to' 85% ethanol'
Ethanol was cheaper then gas on the wholesale market by over a dollar a gallon a week or so ago when I looked. But yeah I only use e85 when it is cheaper then the 25% spread, and that isn't always the case. I haven't seen it MORE then gas in about 10 years, but I think we still waive some of the road tax on it in our state.
What about a Ford 5.8l 1990? I have no experience with this.
I ran a 93 F-150 4x4 on wood, it ran really well on wood. Fords are a lot easier to plumb to the air plenum.
Thanks for the reply Al, unfortunately, that ship sailed.
You know I thought the same thing. Then I started opening tune tables for gm, ford and Chrysler… Common theme appeared especially with gm… They actually pull up to 5 degrees of timing until higher airmass and rpm…then in upper rpm a d load they add up to 15 degrees. Started digging into it…well vehicles with alcohol sensors have a linear timing equivalence blend table… So they range from 0 percent to 90 percent ethanol content… It gets confusing and technical but basically at lower rpm they pull timing due to differences in stoich for fuels and lack of compression I would guess…but they don't add timing until power enrichment tables are reached … Even when I made my video I was thinking they added timing everywhere… well they don't. It's easy to 0 out Those negative numbers or even add timing with software… It to be 100 percent honest one would be better off timing wise in stock form to put non ethanol blend in the car or truck so the vehicle uses the higher timing tables when on woodgas . Unless one has a way and knowledge to rework the tune that's how I would do it… Where the vehicles live during cruise and on woodgas we wouldn't see more timing with flex fuel.
It surprised me alot honestly.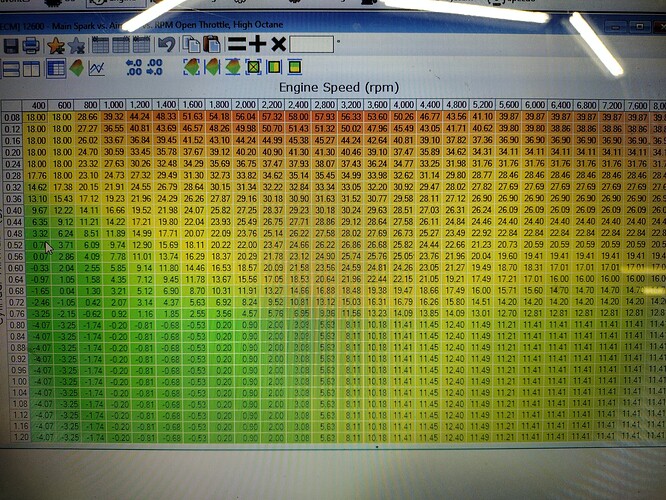 Here is a flex fuel Tahoe… All the green is taking timing away from stock table in 1st pic. The orange in bottom
Left adds 15 plus from 800rpm To 2800 only at high throttle area then flattens out again until 6000 rpm. Caught me off guard as well…lol.
Second pic is the stock timing table and 1st pic is what it adds or takes out in timing based on airmass and rpm
Yes Rob interesting indeed.
I'd like to point out that Chrysler/Dodge(Ram)/Jeep use almost exclusively NO mass air flow meters. Use almost 100% a speed-density strategy.
Gm using almost 100% measured air flow systems.
Ford a mix of measured air versus speed density calculated air in their truck lines.
Then the dramatic differences in cylinder head combustion shaping; maker to maker; engine family to engine family. And these of course based on liquid fuels. Even liquid injected propane.
Then a manufacturers tolerance risk bias for engine pre-ignition safety and engine longevity.
As you know well true power making hot rodding is taking out the compromises and safety margins to a large extent. Building/tuning power output to the life need for the event, or a single racing season. Or for the best crowds pleasing noise and exhaust Ohh-Rah!
A recent blurb I read; the writer acknowledged high-line Tasla's and Rivian trucks DID perform and post up the numbers but were "soulless".
The contrast being engines designed and tuned for heavy truck, industrial and marine. Working powerful, long-life, economical and quiet as the market getting, game to play.
I look forward to what you will be able to achieve with timing mapping for woodgas. A great uncharted only semi-explored so far.
Best Regards
Steve unruh
One of my sons is in the queue for one of the Tesla trucks if they ever actually get produced. I looked over the power and torque specs and begrudgingly had to admit they were impressive. I don't know what kind, if any, relationship electric aficionados develop with their machines. Hard for me to picture. Rob's charts and lap top tuning is obviously the way to ultimate performance out of old tech. Hell, top fuel tuners risk hundreds of thousands of dollars every time they make a qualifying run just to accumulate data. However, maudlin old guy talk, way back when I was drag racing, the relationship between you and the engine got very intimate. Milking a few hundreds off an ET became obsessive. Make a run, listen, feel the vibrations, pull a couple plugs. Read them, Change jets, ice bag your intake like it was a prize thoroughbred after a hard run. It was symbiotic. I ran big blocks and small blocks. I preferred the small blocks. Why? Somehow they were like your favorite dog that was always anxious to find a way to please you. Every little thing got somekind of response. I'm not sure, but I don't think you can get that kind of feeling in these times when a box of wires and microchips has control over your engine. Crazy old man probably needs to be put to sleep.
Hi Tom,
It does happen. Actually piston cars have a tough time competing. The ancestor of Tesla is the T-Zero by Alan Cocconi arguably fastest car in the world. That White Zombie is crazy too. A kid in NoCal, I think, took a motor out of an an electric fork lift and rewound it by hand… Electrons instead of gasoline, but the mindset is the same.
Warning & disclaimer: Watch out dude them guys will eat your lunch.
Rindert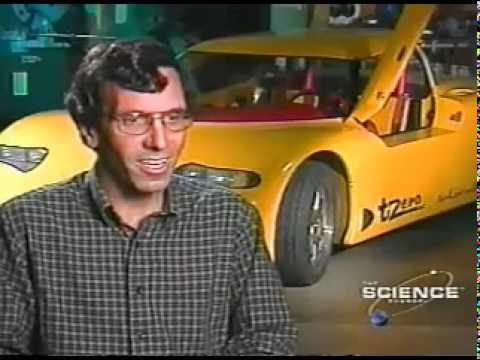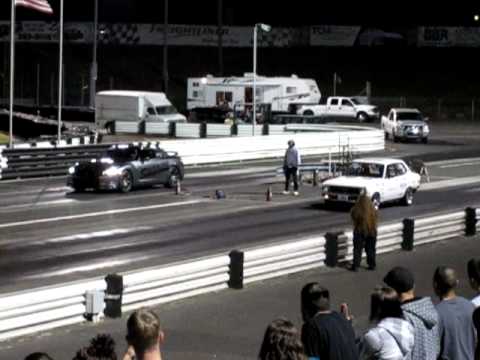 0 to 60 mph in 3.9 seems fast to alot of folks… My old street strip car would do 0 to 140 in 5.2 seconds and current build I'm shooting for 4.3ish 0 to 165mph… Not many people can handle even a ride in something that fast. The gforces almost take the air out of you lungs. My bucket list is a top fuel ride… 0 to 330mph in 3.6 seconds. That would be ultimate rush.
But 3.9sexonds 0 to 60 is pretty respectable. And I seen the white zombie a few times at Woodburn dragstrip in Oregon…guy was pretty cool.
Since you have experience in modifying Diesels Rob I'd like your imput. We have talked a lot about what may be the best engine for wood gas. I've put a lot of thought into it and especially with Tone's success with his tractor, I think the 5.9 12V cummins tops the list for engines that would be reasonably available and within the budget of the average builder. I've never worked on diesels and don't know if one could ever be started on WG but I'd like to hear this batted around some. One consideration is that for hybriding, diesel can be fairly easily made but I can't make gasoline.
Ill have to get back to this later today or tomorrow. There is lots of options out there. Cummins 5.9 12v is my favorite small diesel by far but also one of the most expensive. Id have one for my chevy if i xould find one under 3500.00.
I plan on hybriding my idi 6.5 just to try it. Im almost thinking an idi will work better long term because the prechamber will somewhat protect the injector from getting xlogged and causing piston errosion… and there are tons of super cheap alternatives to cu.mins… 6.9 fords the gm idi…mercedes made tons of straight 6s i. Their cars, ( have seapped a few in toyota 4 runners in place of the gas hog 3.4)
Can you make whiskey? If so you got gasoline covered…lol. in small amounts for painless startups anyhow
Mainly I'm looking at the 17 to 1 CR in an inline six with reasonable amount of displacement.
Can't make whiskey but I am working on building a methanol still using the shavings off my planer for feed stock. Growing food is taking up all my time right now.
It is respectable, but the game has changed. The new HummerEV:
"This 4.5-ton behemoth launched from a standstill to 60 mph in 3.0 seconds."
IMHO crabwalk is still it's coolest feature.